Two similar video reports by Youtube channels Showbiz Fanaticz and SHOWBIZNEWS PINAS carried misleading headlines claiming congressional hearings on ABS-CBN's franchise renewal have been "cancelled" due to a lack of documents.
The nearly five-minute-long videos published June 23 and 24 are inaccurate. The House of Representatives' deliberations on the network's application for its legislative franchise were only postponed by a week — from June 22 to 29 — and have since resumed.
This was not made clear in the two YouTube channels' headlines, which read, "BREAKING NEWS: FRANCHISE HEARING ng ABSCBN KUMPIRMADONG KANSELADO NA dahil sa LACK OF DOCUMENTS (ABS-CBN's franchise hearing confirmed to be cancelled due to a lack of documents)!!!"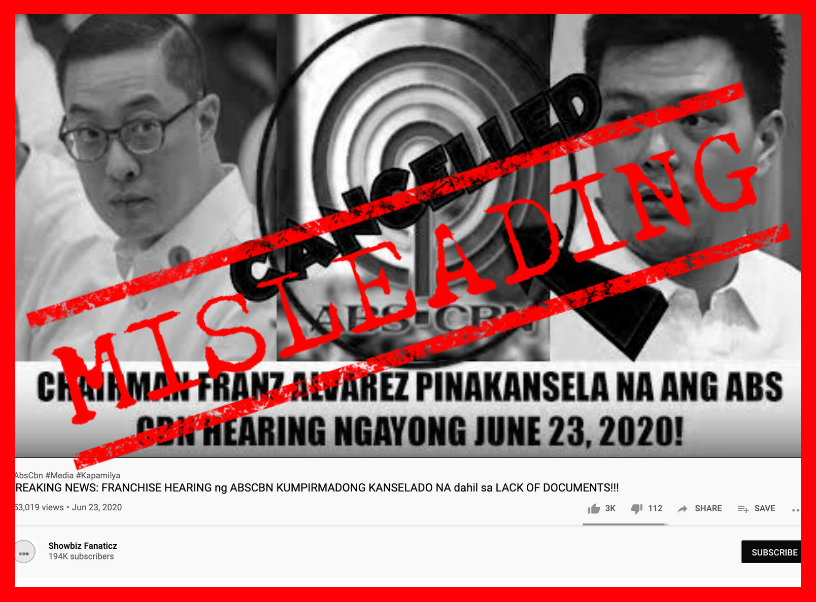 In an attempt to cite a legitimate source, Showbiz Fanaticz and SHOWBIZNEWS PINAS used a June 22 Inquirer.net article.
However, Inquirer.net and several other media outlets, quoting House Committee on Legislative Franchises chair Rep. Franz Alvarez, reported that the proceedings were only postponed to another date — June 29 — in order for ABS-CBN and other concerned agencies to submit documents requested by Congress, and to give time for the House committees involved to study it.
The deceptive uploads, which had identical scripts read by different narrators, surfaced as the media giant continued to face uncertainties regarding its comeback on air.
After its 25-year operational license expired on May 4, the National Telecommunications Commission (NTC) issued a cease and desist order against ABS-CBN's broadcasting operations.
During the June 29 resumption of the House hearings on the franchise, NTC vowed to issue another cease and desist notice to stop the network's broadcasting via its digital service TV Plus, which airs shows through Channel 43, claimed by the agency to be also included in its earlier shut down order. The frequency is owned by a former ABS-CBN affiliate, Amcara Broadcasting Network.
Showbiz Fanaticz and SHOWBIZNEWS PINAS' videos have accumulated a combined total of over 153,000 views from netizens. Showbiz Fanaticz's video was also reposted on website kidstva.com.
Social media tool CrowdTangle shows that top traffic generators of Showbiz Fanaticz's video are FB pages Philippines trendinh news and Duterte News, as well as public group PRESIDENT RODRIGO DUTERTE INTERNATIONAL MOVEMENT.
Showbiz Fanaticz, which has a history of purveying false and misleading information online, was created in November 2017. SHOWBIZNEWS PINAS, on the other hand, was made just last March 17.
(Editor's Note: VERA Files has partnered with Facebook to fight the spread of disinformation. Find out more about this partnership and our methodology.)