Vice Pres. Leonor "Leni" Robredo is no stranger to fake statements and inanities attributed to her. The latest has continuously gone viral for almost a month.
On June 6, Facebook (FB) page Key Tv' posted a fake quote purportedly from Robredo saying, "Karamihan sa nakaexperience ng teen pregnancy ay kabataan (Most of those who experience teen pregnancies are the youth)."
The image used to create the fake graphic was from a March 2017 article by Rappler that used Robredo's photo speaking at a forum at San Beda College. A caption in Cebuano was added, saying sarcastically Mao pod baya ako nabantayan maam, ngano kahan na no (That is what I observed, Ma'am, why is that so)?
Using a keyword search on the web yielded no record from official sources of Robredo ever making that comment. It was in September 2017 that Robredo made a statement on women and reproductive health, including teenage pregnancy for her office's program with the United Nations Population Fund called Babaenihan campaign.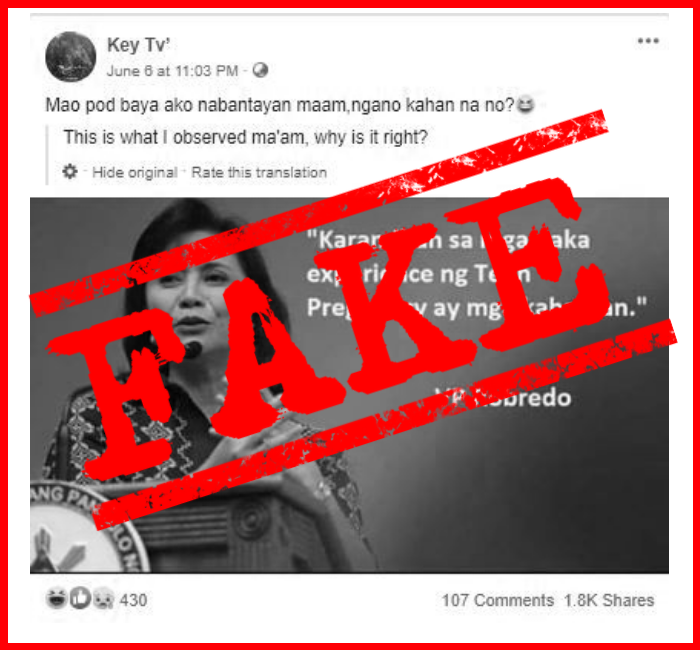 The vice president took to her personal FB account to ask the public to report the fake quote card. "Pls help us report. Including those who shared," her post from June 8 read.
A search through FB shows the fabricated statement has been circulating on the social media platform since October 2019.
The fake quote card was revived after several news reports in early June said the Commission on Population and Development (POPCOM) brought its family planning programs to households during community quarantine. On June 25, POPCOM released a statement saying the stay-at-home order due to the COVID-19 crisis may contribute to about two million births in 2021 in the country.
The fake quote card now has over 1,800 shares. Key Tv' was created on April 28 and has 3,573 followers.
(Editor's Note: VERA Files has partnered with Facebook to fight the spread of disinformation. Find out more about this partnership and our methodology.)