A nine-month-old photo of a trash-filled Manila Bay resurfaced this month and is erroneously being used by an FB page to show the condition of the harbor during the term of former President Benigno Aquino III, who passed away last week.
The misleading June 19 post was published by the FB page SARA Duterte for President Movement, with the caption: "ANG MALAKING KAIBAHAN NG AQUINO AT DUTERTE ADMINISTRATION (The big difference between the Aquino and Duterte administrations)."
It featured two photos: a closeup shot of trash on the bay, and a wide-angle shot of part of the harbor with no trash in sight. Both were taken over the past nine months.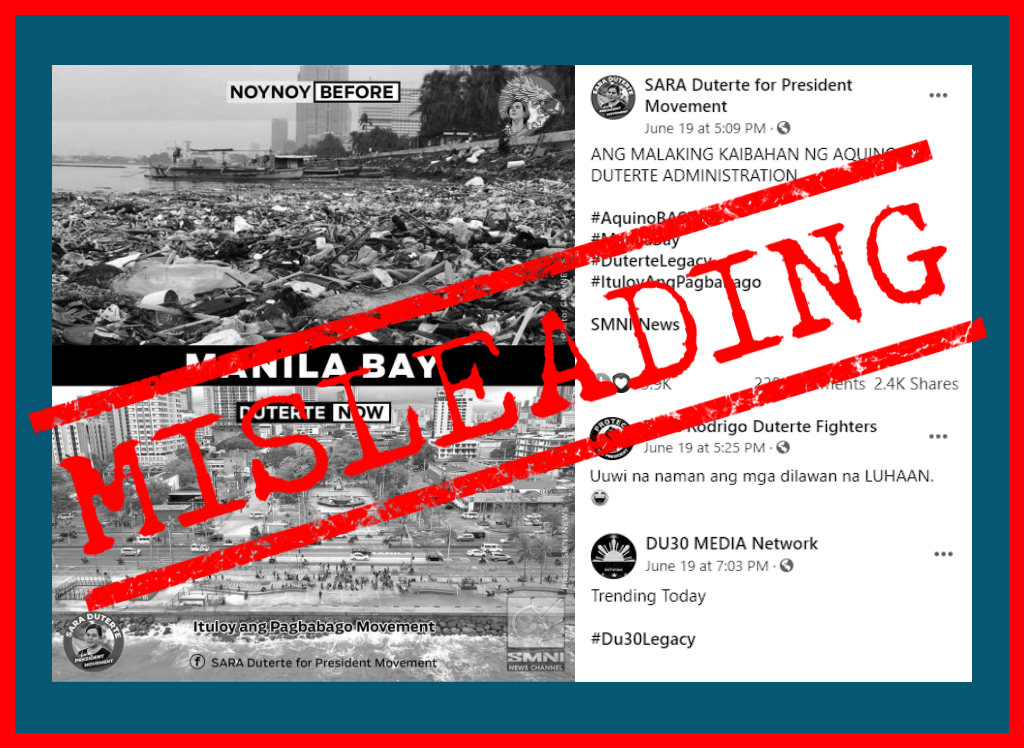 The photo of the rubbish-littered Manila Bay was labeled "NOYNOY | BEFORE," referring to the administration of the former chief executive who died just last June 24. It showed a portion of the bay near the Manila Yacht Club. It was originally posted by the official Facebook page of GMA Public Affairs on Sept. 8, 2020, not during Aquino's term.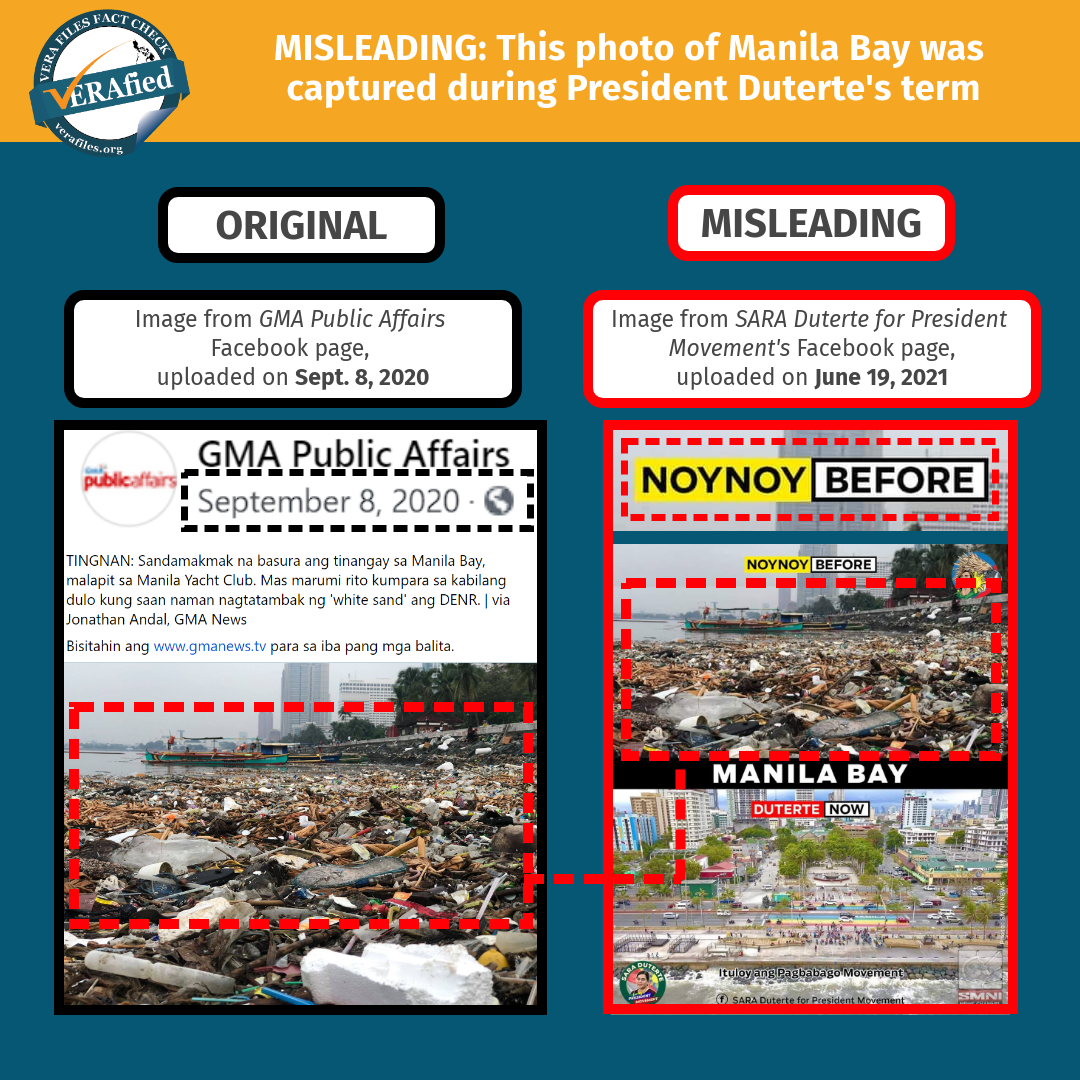 Trash and plastic waste from different areas regularly accumulate in the Manila Bay area from July to September, according to an account by GMA News reporter Jonathan Andal, who took the photo used in the FB post.
Meanwhile, the photo labeled "DUTERTE | NOW" was sourced from a May 24 FB post of SMNI News. It showed the rainbow-colored pedestrian lane on Roxas Boulevard in support of the LGBTQIA+ (lesbian, gay, bisexual, transgender, queer, intersex, and asexual) community.
SARA Duterte for President Movement's misleading post emerged three days after the Department of Environment and Natural Resources planted coconut trees along the Manila baywalk area.
The erroneous post got more than 4,300 reactions, 260 comments, and 3,000 shares. The graphic was also reuploaded by the pages DU30 Media Network and Solid Rodrigo Duterte Fighters, collectively garnering over 1,900 FB interactions.
SARA Duterte for President Movement was created in December 2019, DU30 MEDIA Network in June 2016, and Solid Rodrigo Duterte Fighters in September 2015.
VERA Files Fact Check has flagged at least three other misleading "Duterte-vs-Aquino" photo comparisons of the bay in the past.
(Editor's Note: VERA Files has partnered with Facebook to fight the spread of disinformation. Find out more about this partnership and our methodology.)