(UPDATED) Former broadcaster Jay Sonza, a Facebook (FB) user, and an FB page posted a manipulated photo of Manila Bay's dolomite beach that has been debunked several times by fact-checkers.
They presented the image as true, despite having been disproven by VERA Files Fact Check last month, and Rappler and Agence France-Presse last year.
STATEMENT
On Jan. 31, Sonza uploaded on his personal FB account an image allegedly showcasing the current state of the bay developed under the Department of Environment and Natural Resources' (DENR) beach nourishment program.
Supposedly, the whole stretch of the Manila Bay shoreline from the fence of the US Embassy-Manila up to the Manila Yacht Club breakwater was now covered with crushed dolomite. Sonza's caption read:
"Kapag hindi na bawal lumabas ang mga bata o menor de edad, ipapasyal.ko (sic) rito ang aking mga apo (If children or minors are no longer prohibited from going out, I'll take my grandchildren for a stroll here).

Manila Bay Beach Front.
Roxas Boulevard, Manila."

Source: Jay Sonza official Facebook account, "Kapag hindi na bawal lumabas ang mga bata…," Jan. 31, 2021
Less than three hours later, an FB user and FB page Batang Maynila God First – Isko Moreno Supporter re-uploaded Sonza's image, and copied the location indicated in his caption. Both wrote about how the picture is a contrast to Manila Bay's previous state of being filled with trash.
FACT
Sonza's post is wrong. The original photo, posted Sept. 17, 2020 by a netizen, showed that the actual dolomite beachfront was less than half the width and length of what was shown in the manipulated image.
The netizen's unaltered photo was reposted by media organizations like GMA News and News5.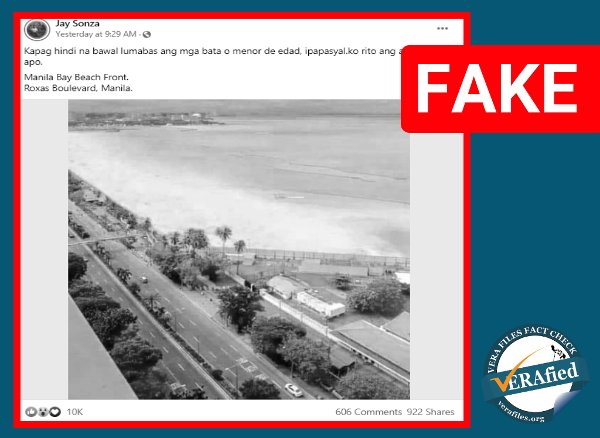 To make it appear like the man-made beach currently covers a longer and wider area, white sand was digitally added along the shoreline in the photo. Elements present in the original picture, such as a sea vessel, two excavators, and floating booms, were removed.
The fake photo's contrast was also increased to make the sky look bluer and the trees greener. Sonza's image is a cropped version of the pictures previously debunked by VERA Files, Rappler, and AFP. Its most recent iteration prior to the former broadcaster's post was from a Jan. 18 upload by FB page DU30 MEDIA Network.
DU30 MEDIA Network was created in June 2016.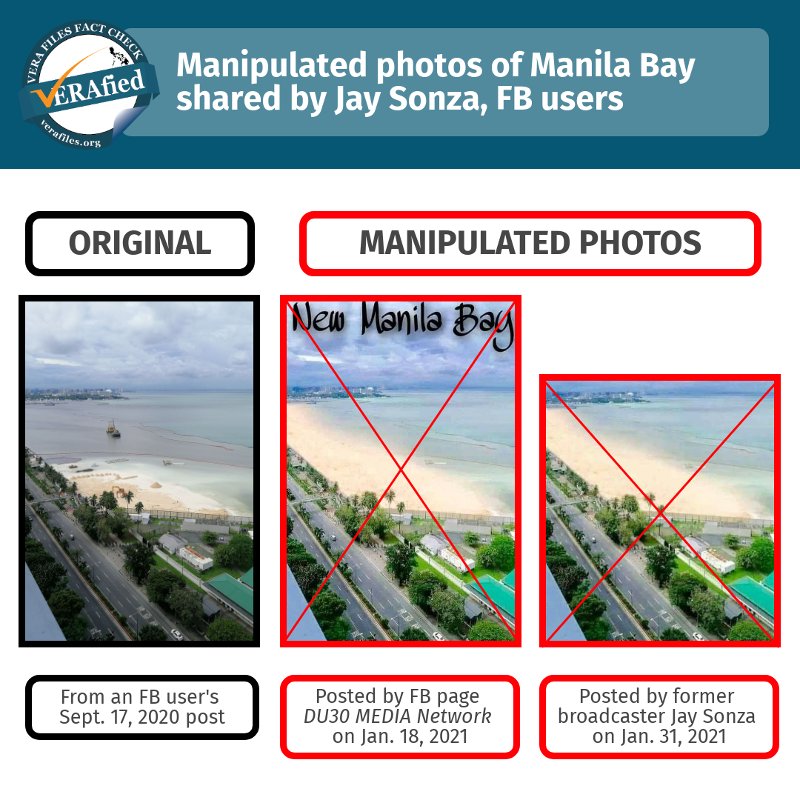 Sonza's erroneous post emerged two days after news organizations reported on Jan. 29 that the DENR has created a task force to fast-track the restoration and rehabilitation of Manila Bay's coastal and marine ecosystem.
The falsehood has gained at least 13,000 reactions and 1,200 comments, and more than 1,600 shares on FB as of Feb. 3.
DENR's rehabilitation of the Manila Bay became controversial last year as its P389 million beach nourishment project was questioned by lawmakers over its safety and sustainability. DENR Undersecretary Benny Antiporda has said the entire rehabilitation project may take seven years to accomplish and cost around P47 billion, a Jan. 12, 2019 Cebu Daily News article reported.
Sonza has been fact-checked by VERA Files multiple times in the past. (See: VERA FILES FACT CHECK: Jay Sonza, FB users amplify doctored 10-year-old photo of ABS-CBN van during 'Ulysses' onslaught; VERA FILES FACT CHECK: Jay Sonza, FB pages mislead with ABS-CBN prayer rally photo)
UPDATE: Sonza, in a Feb. 3 Facebook status, stood by the erroneous post. He said:
"Mga tangang fact checker, ang sinabi ko pag wala ng pandemic ipapasyal ko ang mga apo ako sa Manila Bay. Hindi ko sinabing ubod ng ganda ng picture na kalakip. Bakit kayo masyadong affected? Pati ba naman iyong balak kong ipasyal iyong mga bata, overly concerned kayo"
Read his full response here.
Sources
DU30 MEDIA NETWORK Facebook account, Soon, Jan.18, 2021
VERA Files, VERA FILES FACT CHECK: Photo of 'new Manila Bay' with wider, longer dolomite beach FAKE, Jan. 23, 2021
Rappler, FALSE: Photo of white sand in new Manila Bay, Sept. 21, 2020
Agence France-Presse, This image of Manila Bay has been doctored, Sept. 23, 2020
Jay Sonza official Facebook account, Kapag hindi na bawal lumabas ang mga bata…, Jan. 31, 2021
Facebook user, Tingnan niyo ngayon ang dating basurahan ng maynila…, Jan. 31, 2021
Batang Maynila God First – Isko Moreno Supporter Facebook page, Sana Okay na lahat…, Jan. 31, 2021
Facebook user, Manila Bay., Sept. 17, 2020
GMA News, LOOK: Ang view na ito ng "white sand" sa Manila Bay… Sept. 17, 2020
News5, Kuha ng netizen na si Lester Hezeta sa "white sand" sa Manila Bay… Sept. 17, 2020
Inquirer.net, DENR creates Manila Bay anti-pollution task force, Jan. 29, 2021
Manila Bulletin, Antiporda to head new Manila Bay Anti-Pollution Task Force, Jan. 29, 2021
Daily Tribune, Manila Bay anti-pollution TF created, Jan. 29, 2021
Manila Bulletin, Palace: P389-M white beach project to improve mental health of Filipinos, Sept. 5, 2020
Philstar.com, Palace: P389-M Manila Bay 'white sand' project approved prior to pandemic, Sept. 7, 2020
Inquirer.net, DENR won't stop 'Manila Beach' project despite criticisms, Sept. 9, 2020.
Manila Bulletin, Lawmakers assail Manila Bay 'white sand' project; safety, sustainability raised, Sept. 9, 2020
Cebu Daily News, DENR Undersecretary: Manila Bay rehab to take 7 years, to cost P47B, Jan. 12, 2019
(Guided by the code of principles of the International Fact-Checking Network at Poynter, VERA Files tracks the false claims, flip-flops, misleading statements of public officials and figures, and debunks them with factual evidence. Find out more about this initiative and our methodology.)