Former broadcaster Jay Sonza shared a screenshot of a misleading post that allegedly shows celebrities violating mandatory safety protocols amid the COVID-19 pandemic, while protesting in support of ABS-CBN Corp.
The Facebook (FB) post used a photo taken in a February prayer rally and not recently.
STATEMENT
On July 22, two weeks after the House of Representatives voted to deny a new franchise for ABS-CBN, Sonza shared an image of actor Gerald Anderson with supporters of the media network. The photo included a caption saying:
"This is very irresponsible. Without a mask, ABS-CBN network supporters take for granted Covid-19 and do not even wear masks. Pag nakakita ng artista, balewala ang social distancing at wearing a mask (If they see a celebrity, they disregard social distancing and wearing of masks)."
He then chided the supposed protesters in front of the ABS-CBN compound in Quezon City with his own caption:
"Papaano hindi magkaka-Covid19 any mga tinamaan ng buwenas na pinagra-rally sa Bohol gate ng Kapamilya Network (How can these people not get infected with Covid19, when they're being asked to rally in front of the Bohol gate of the Kapamilya Network)."

Source: Jay Sonza, "Papaano hindi magkaka-Covid19…," July 22, 2020.
The image Sonza shared appears to be a screenshot of a post published July 21 by FB page True News Stories. His misleading post duped netizens; some criticized ABS-CBN supporters for being "selfish" and "hypocrites" and others called for the arrest of the protesters for violating the government's current policy of wearing face masks in public.
FACT
A reverse image search reveals the photo was taken from a Rappler article published on Feb. 28. The article reports on a second prayer rally organized by employees and supporters of ABS-CBN, and attended by celebrities from the network seeking a renewal of its franchise for another 25 years.
The event took place two weeks before the country was placed under a state of calamity to arrest the spread of the novel coronavirus, and more than a month before the Department of Interior and Local Government issued a memo on April 9 requiring the wearing of face masks in public in all areas then under enhanced community quarantine (ECQ), which included Metro Manila.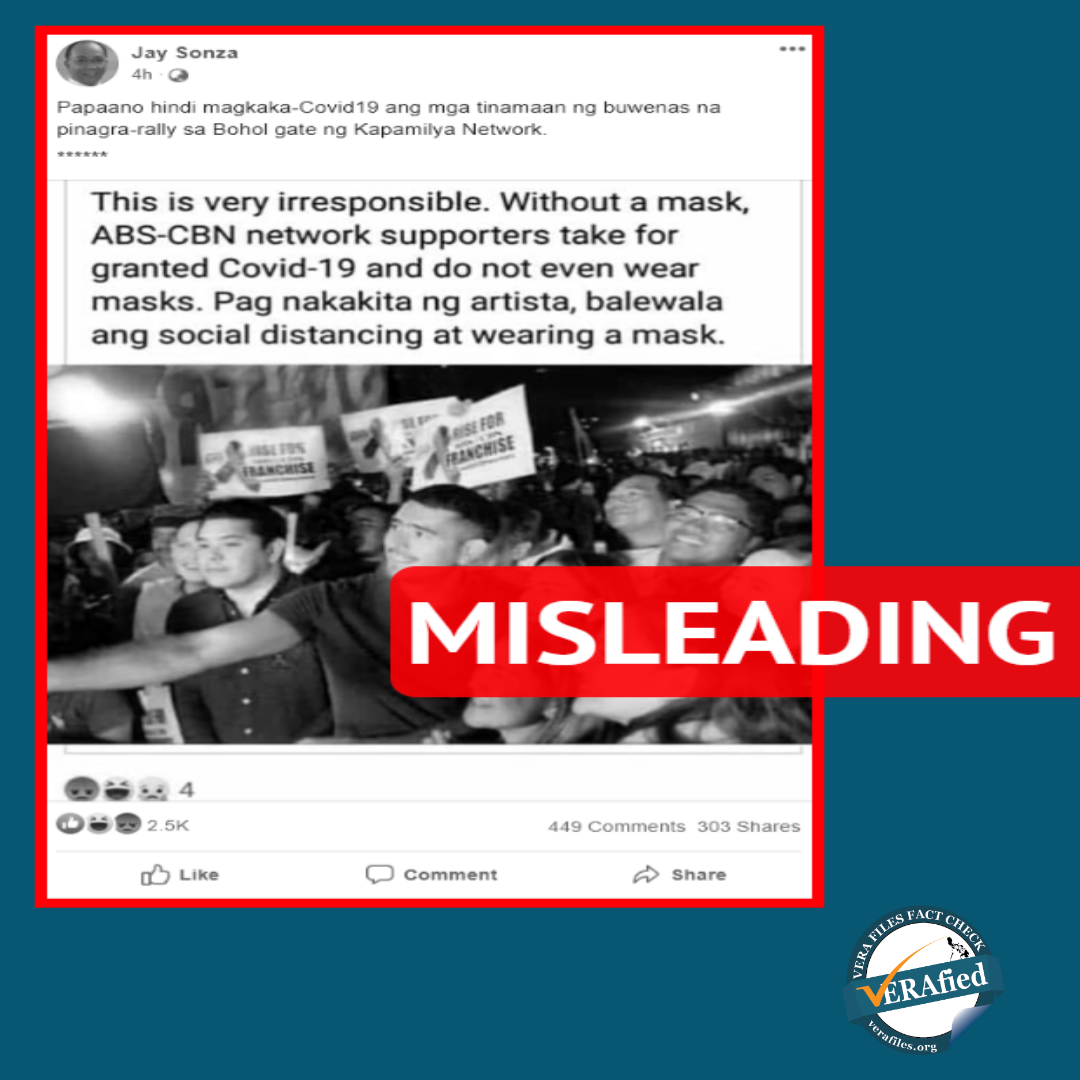 The misleading post emerged days after week-long nationwide protests were held to express anger and dismay over the decision of the House of Representatives on July 10 to deny ABS-CBN's franchise bid .
ABS-CBN has begun a massive retrenchment process for its employees. Several of its businesses and subsidiaries will also stop operations by the end of August.
Social media monitoring tool CrowdTangle recorded 67 other similar posts by various public FB pages and groups, garnering more than 16,000 interactions from July 21 to 22.
FB page True News Stories was created on June 13, 2015.
Sources
ANC 24/7, "Protests calling for ABS-CBN's return to air enter second week," July 20, 2020.
CNN Philippines, "House panel denies ABS-CBN's bid for fresh franchise," July 10, 2020.
Department of Health, "DOH BACKS 11TH IATF RESOLUTIONS; REPORTS 12 NEW COVID-19 CASES IN PH," March 13, 2020.
Inquirer.net, "House panel closes down ABS-CBN," July 10, 2020.
Jay Sonza, "Paano hindi magkaka-Covid19…," July 22, 2020.
House of Representatives, "Comm on Legislative Franchises Joint with Comm on Good Government and Public Accountability Day 14," July 10, 2020.
Manila Bulletin, "ABS-CBN franchise bid junked," July 10, 2020.
True News Stories, "This is very irresponsible.," July 21, 2020.
Philstar.com, "Groups to wage noise barrage, motorcade vs anti-terror law, ABS-CBN franchise denial," July 18, 2020.
Abs-cbn.com, "READ: ABS-CBN statement on layoff of workers," July 15, 2020
Rappler, "Duterte issues statement on Philippines' coronavirus situation," March 12, 2020.
Rappler, "IN PHOTOS: Filipinos make noise nationwide to protest ABS-CBN shutdown," July 19, 2020.
Rappler, "LOOK: Stars attend prayer rally for ABS-CBN franchise renewal," Feb. 28, 2020.
Rappler, "Senate hearing on ABS-CBN franchise," Feb. 23, 2020.
(Guided by the code of principles of the International Fact-Checking Network at Poynter, VERA Files tracks the false claims, flip-flops, misleading statements of public officials and figures, and debunks them with factual evidence. Find out more about this initiative and our methodology.)