There might be truth to his claim that he savages the Philippine Daily Inquirer and ABS-CBN, but Pres. Duterte is wrong in bragging he is the only president to have attacked both outfits.
STATEMENT
In an Aug. 24 speech in Marawi City, Duterte said:
"Kaya ako lang ang Presidente na bumibira ng Inquirer pati ABS-CBN. Binababoy ko talaga. Kasi alam nila basura eh (That's why I'm the only president who attacks the Inquirer and ABS-CBN. I really savage them, because they're trash)."

Source: Speech of Pres. Rodrigo Roa Duterte during his Visit to Marawi City, watch from 7:19 to 7:27
Typical of his speeches, the president used two colloquialisms, "bumibira" and "binababoy." The first could be translated as -to attack, the second comes close to the verb -to savage.
FACT
Contrary to his claim, Duterte is not the first president to have attacked the Inquirer or ABS-CBN.
Former Pres. Joseph Estrada, now mayor of Manila, has been linked to an advertising boycott against the Inquirer, which had published reports critical of his administration.
The Committee to Protect Journalists, in its report Attacks on the Press 1999: Philippines, notes:
"The presidential palace was also widely implicated in an advertising boycott organized against the country's largest daily, The Philippine Daily Inquirer, which had covered a wide range of government scandals. In July, virtually all Filipino movie producers canceled their advertisements in the Inquirer following a meeting with the president, who was a popular film star before entering politics. Sources present at the meeting told Manila newspapers that Estrada asked them to withdraw their ads as a quid pro quo for granting tax breaks to the movie industry."
The same CPJ report adds:
"At around the same time, a number of government corporations and pro-Estrada businesses also pulled their advertising from the paper."
A similar version of this episode also appears in a chapter of the book Southeast Asian Affairs 2000 written by political science professor Miriam Colonel-Ferrer, and in an article published by the Center for Media Freedom and Responsibility.
A decade later, former Pres. Benigno Aquino III would on several occasions attack ABS-CBN, calling out what he described was its "negativism."
Aquino, in a speech during the 25th anniversary celebration of ABS-CBN's flagship evening news show TV Patrol, criticized its anchor, former vice president Noli De Castro, for taking jabs at his administration.
Aquino said:
"Anim na taon ang ipinagkaloob sa kanya para tumulong sa mismong pagsasa-ayos ng inirereklamo niya, pero ngayon tayo na nga ang may bitbit na problema, tayo na nga ang tutugon dito pero ang masakit nga ho, may gana pa tayong hiniritan nung nagpamana (He was given six years to solve the problems he now complains about. Now, we carry the weight of these problems, we are being criticized)."

Source: Speech of former Pres. Benigno Aquino III during the 25th Anniversary of TV Patrol, watch 5:11 to 5:28
Aquino would again hit De Castro, popularly known as "Kabayan," in a 2014 speech in Oriental Mindoro, the broadcaster's hometown. He said:
"At ngayon, bagaman tinutugunan na natin ang mga problemang ipinamana sa atin, hindi pa rin nagsawa sa paghirit ang itinuturing kayong 'kabayan'(Even if we respond to problems, critics like whom you call 'kabayan' do not cease at taking jabs)."

Source: Speech of President Aquino at the briefing on major infrastructure projects in Mindoro Island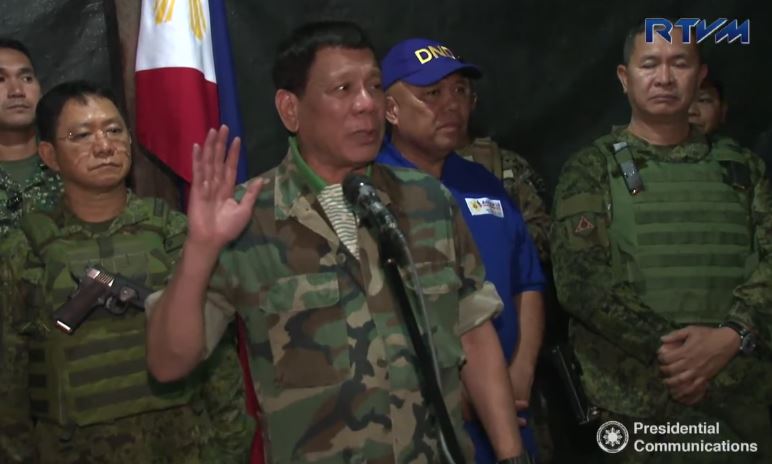 Pres. Duterte in an Aug. 24 speech in Marawi City claims he is the only president to attack the Inquirer and ABS-CBN.

BACKSTORY
On all appearances, and per his own description, however, Duterte has been savaging the Inquirer and ABS-CBN, threatening to use government resources against both.
In a speech April 27, he threatened to block ABS-CBN's franchise renewal, accusing the network of "swindling" him and other candidates by not airing their ads during the 2016 elections.
Various news reports quote Duterte saying:
"Inocho ninyo. Pu**** *na harap-harapan mag-kolekta kayo, tapos i-estafa ninyo kami (You swindled us. Son of a bi***h). So, I will file a complaint. Congress, no need to renew it."

Sources: Rappler, SunStar, BusinessWorld
ABS-CBN has earlier issued a statement saying its franchise to operate television and radio stations expires in 2020, and that claims the franchise will not be extended is "purely speculative."
In another speech Aug. 16, Duterte threatened an economic sabotage case for alleged unsettled taxes against the owners of the Inquirer, which he said has been publishing unflattering editorials about him.
Duterte said:
"Kayo 'yung pu**** *na nakatira diyan sa gobyerno, 50 years (You sons of bi****es who occupy government property for 50 years) … Tapos, you never paid government any taxes. And then you collected diyan sa Mile Long. Alam mo kung ano 'yan? Pareho 'yan kay (You know what that is? That's the same as) Mighty King. Mag-pay ka ng stamps? That is economic sabotage. 'Pag 'yan ang finile ni Aguirre sa inyo, pasok kayong lahat. Kasama kayo ni (When Justice Sec. Aguirre files that case against you, you'll end up in jail just like Sen. Leila) De Lima. No bail 'yan."

Source:
Speech of President Rodrigo Roa Duterte during the 19th Founding Anniversary of the Volunteers against Crime and Corruption, watch from 38:53 to 39:44
Mile Long refers to a property previously occupied by Sunvar Realty, a real estate agency owned by the Prieto-Rufinos, also Inquirer's owners.
Business tycoon Ramon Ang currently holds the majority stakes in the broadsheet. Duterte once claimed in a speech that Ang offered to buy him a jet.
Sources:
Speech of President Rodrigo Roa Duterte during the 19th Founding Anniversary of the Volunteers against Crime and Corruption
Database on the Killing of Journalists in the Philippines since 1986
Manila Bulletin. Ramon Ang buys out Prietos from PDI
CNN Philippines. Ramon Ang accepts offer to invest in Inquirer Group
ABS-CBN News. Ramon Ang to buy majority stake in Inquirer
Speech of President Rodrigo Roa Duterte during the Groundbreaking Ceremony of Biyaya ng Pagbabago Housing Project
Arrival Statement and Press Conference by President Rodrigo Roa Duterte on his visits to Cambodia, Hong Kong, and China
Speech of President Rodrigo Duterte during the Cine Lokal Grand Launch, watch from 13:45 to 14:18
Press Conference, Davao City, June 2, 2016, watch from 27:34-31:30
Sunstar. Duterte threatens to block renewal of ABS-CBN's congressional franchise
Businessworld. Duterte nixes ABS-CBN franchise renewal
Rappler. Duterte to block renewal of ABS-CBN franchise
Speech of President Aquino at the briefing on major infrastructure projects in Mindoro Island
GMA Network. PNoy calls out media for negative reporting, defends Cabinet members
The Manila Standard. Aquino slams 'negativism' in media, draws fire in turn
DZRH News. Media told: remove 'negativism'
Speech of President Benigno Aquino III during the 25th Anniversary of TV Patrol, watch 4:55 to 5:28
The Media and Political Change in Southeast Asia
Philippine Press Freedom Report 2007
Back to the past: A timeline of press freedom
Attacks on the Press 1999: Philippines
(Guided by the code of principles of the International Fact-Checking Network at Poynter, VERA Files tracks the false claims, flip-flops, misleading statements of public officials and figures, and debunks them with factual evidence. Find out more about this initiative.)