Rights defender Rosemarie Trajano got the shock of her life when news broke that Caloocan City police got their information about Kian Loyd Delos Santos' alleged drug running only from social media.
The 52-year-old advocate is no stranger to threats. A human rights defender (HRD) for 30 years, her name appears in police lists as a person of interest. But the fact that a 17-year-old student was killed over unfounded information gave her the chills. She calls it "disturbing, unprofessional."
The secretary-general of the Philippine Alliance of Human Rights Advocates (PAHRA), Trajano says she's more scared about what might happen to the lesser known rights campaigners. "Kilala ako so less takot ako. Mas natatakot ako sa HRDs na hindi pa kilala (I'm a prominent defender so I'm not so scared for myself as I am for other HRDs)."
Indeed, times have worsened for rights campaigners, who have been demonized by Pres. Rodrigo Duterte himself because of their condemnation of the extra-judicial killings that have marked the government's war on illegal drugs.
In his second State of the Nation Address, the president went as far as to call for the abolition of the Commission on Human Rights (CHR), accusing it of defending criminals. (See VERA FILES FACT SHEET: The Commission on Human Rights, explained)
He later claimed it was only a joke, but his allies have since taken the cue from his statement, with House Speaker Pantaleon Alvarez calling to defund the CHR.
So it is no surprise that attacks against rights campaigners are all over cyberspace. Rape and death threats populate an HRD's inbox and comment sections, the palpable result of Duterte's continuing tirades against the CHR, which are often met with applause by his supporters.
"We are being vilified, demonized," said Trajano. "Iniiba talaga ang konsepto ng karapatang pantao (The concept of human rights is being changed)."
At a time when defenders themselves need protection, ending harassment against HRDs, online or offline, is what the Human Rights Online Philippines aims to do through its project, "Protect Freedom of Expression Campaign," which it launched Aug. 31 before an audience of human rights groups, media practitioners and bloggers at the University of the Philippines Diliman.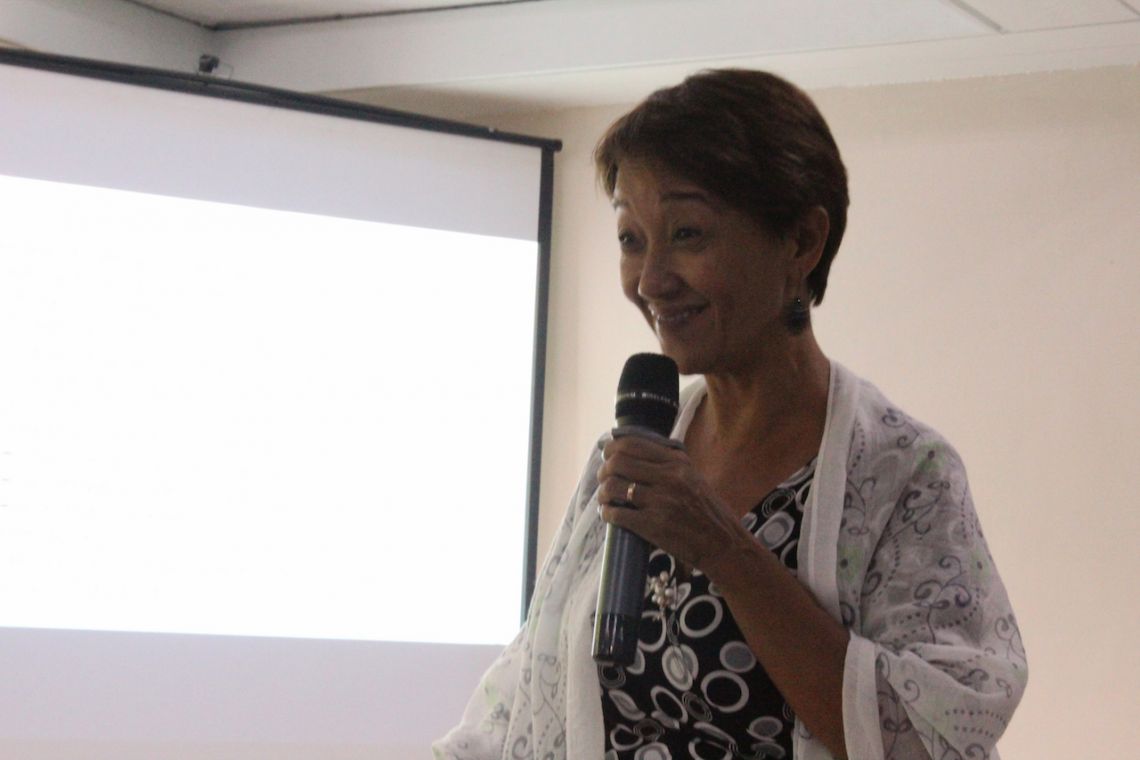 Rosemarie Trajano shares her thoughts during the launch of the HR Online Philippines project.

"May cyberwar na nangyayari pero sa mga biktima, walang venue para ilahad iyong mga insidente ng harassment at pambubully (A cyberwar is happening, but the victims have no venue to divulge the harassment and bullying they're experiencing)," Edgardo Cabalitan Jr. of HR Online Philippines said.
Funded by the British Embassy, the seven-month project will document 10 cases of abuses that stifle HRDs' freedom of opinion and expression.
Cases may range from defenders being bashed by alleged state-funded trolls, Cabalitan said, to someone being stalked in person after revealing on social media the killing of a family.
"Ang nakakatakot iyong online, mag-offline na (What's scary is that threats online might actually happen)," he said. "Marami pong pagbabanta, nagsulputan ang fake accounts na ang mga profile pic ay may hawak na baril at magbabanta na hahanapin kita (Threats and fake accounts have sprouted, with profile photos showing guns and a warning they will find you)."
HR Online has already received a number of cases, but Jerbert Briola, the project manager, said they prioritize those found most alarming. "We need to determine kung systemic, kung may pattern (if it's systemic, if there's a pattern)," he said.
The group aims to complete a national report detailing the HRDs' experiences and its own recommendations to the United Nations, which, it added, will help increase pressure on the government to take action.
The project will use documentation tools that comply with among others, the 1998 UN Declaration on Human Rights Defenders, to which the Philippines is a signatory.
The treaty provides support and protection for HRDs, which they need given the climate of fear in the country right now. Yet even the UN, which has been calling on the government to adhere to the rule of law in its drug campaign, has not been spared from criticism by the Duterte government.
"Marami ding HRDs ngayon ang tumitiklop, natatakot magsasalita (Many HRDs have yielded, scared to talk)," Trajano said. "Dati, tukoy mo ang kalaban kung sino ang pwedeng manakit sa iyo, ngayon magsulat ka lang nang kaunti, lahat na ay babakbak sa iyo (Before, you knew who the enemy was, but now you write up a short report and everyone will attack you)."
With the HR Online project, of which PAHRA is a partner, the ultimate goal is to enhance protection mechanisms and generate public support to create a safe environment for HRDs. Grouped together, HRDs have power, she said.
She shared how a human rights group in Germany monitors any harassment by trolls. The "internet warriors," she said, turn the tide by coming to the defense of the HRDs and building their sense of security while intimidating the perpetrators.
"Baka pwede nating gawin dito (Perhaps we can do it here)," she suggested.
After all, the arena has always been the public, said Briola. "That's one of the challenges. We need to sway the public opinion," he added. "We need to create a critical public."
The group dreams of a time when people who defend human rights will be known as supporters, not of criminals or drug addicts, but of society.
In the meantime, rights groups will continue to denounce violations when such occur, and will work to reclaim social media.
Reiterating the group's banner call, Briola said at the forum, "'Wag matakot magpahayag (Don't be afraid to speak up)!"