The rising death toll from the war on illegal drugs is already grim enough, but a human rights group has called attention to an even more sinister outcome of the Duterte administration's centerpiece program.
Just as it is a peace and order issue, killings in anti-drugs operations are also a grave public health concern, affecting families in profound ways and causing dangerous psychological distress that could lead to a host of other problems, said Edeliza Hernandez, executive director of nonprofit Medical Action Group (MAG).
If 12,000 were killed in the war on drugs, for instance, multiply that by three, the minimum family member count, and one gets a total of 36,000 affected individuals, explained Hernandez during a forum Sept. 5 at the Commission on Human Rights (CHR) in Quezon City.
According to government data, some 3,811 people were killed in anti-drug operations from July 1, 2016 to Aug. 29, 2017. The figure includes teenagers Carl Arnaiz and Kian Delos Santos, whose deaths are being investigated by the government.
"What future are we waiting for, if there's only resentment in the end?" Hernandez said in Filipino, before an audience of rights defenders, medical professionals and survivors of human rights violations.
What is worse is that the Department of Health appears to silent about the problem, she added.
Sought for her response, Health Secretary Jean Ubial said in a text message, "(Extrajudicial killing) is a human rights issue! Why is it a public health issue? Contagious ba? Lifestyle related? In the first place disease ba iyon (Is that a disease)?"
When asked to clarify, Ubial agreed all affected families should undergo psychosocial debriefing. "We will remind local government units to do this because they are the first responders."
Hernandez explained that children who lose their parents in unthinkable ways often feel mistrust and anger toward society. Soon, they may become criminals themselves.
"It's not just poverty that's the cause of criminality," she said. "It's anger built inside you."
Edel Parducho, case coordinator at MAG, has examined six families since they began documenting victims of summary killings early this year. He said all found it hard to sleep, some had manic attacks, while others felt sad, irritable and experienced bouts of anxiety.
Those who lose family members often feel confused, shocked, angry or fearful, all symptoms of trauma, which, Parducho added, may develop into mental illnesses.
Anthony Abala, an adult psychiatrist, said there are criteria for one to say a person has a disorder. The experience may vary from one to another, its cause coming not only from a one-time encounter, but may also be through repetitive exposure to stress.
Sister Evelyn Jose has seen what being orphaned by killing does to a child. Music therapy did not work for a five-year-old girl, she said, who pounded a drum without letup until a hole tore through the instrument. She lost both her mother and father to summary killings.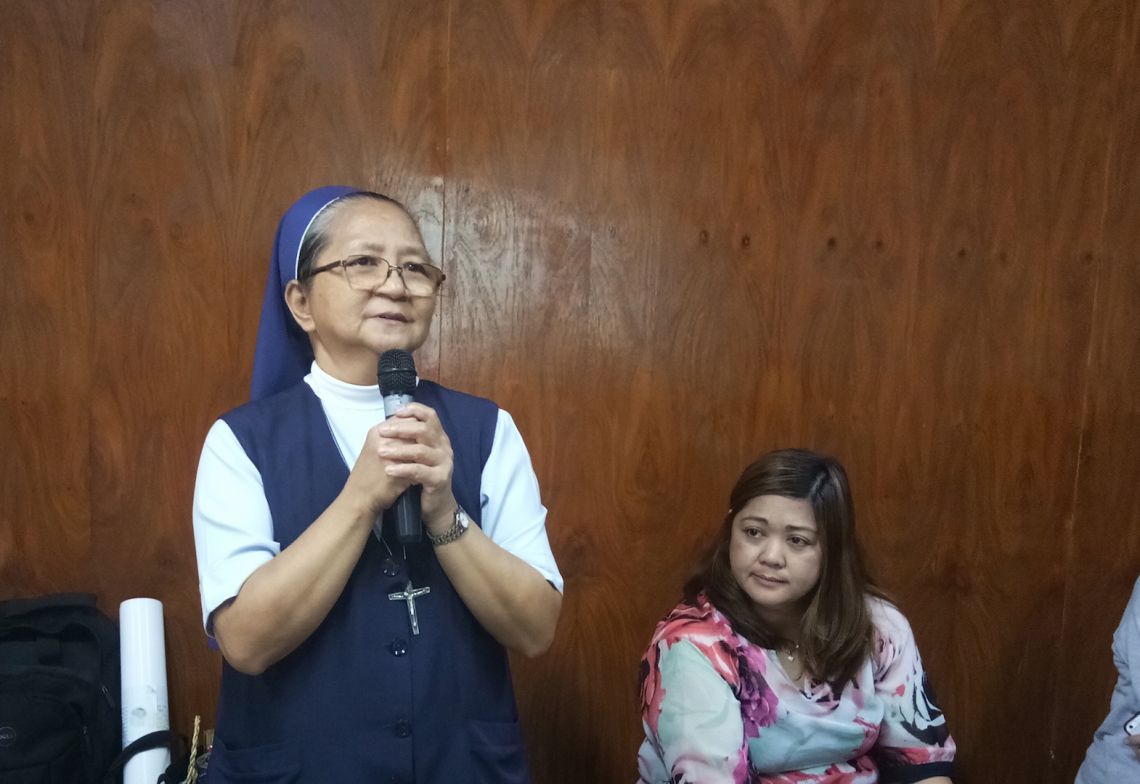 Sister Evelyn Jose shares her experience with children orphaned by war on drugs killings.
"I saw the children suffering," said Jose, a nun at the Holy Spirit Congregation in Quezon City. "Where will their future head to? How?"
But the question may as well be for human rights defenders themselves, who are first in line to reach out to victims for help. "Vicarious traumatization" happens when people imbibe trauma from another person, Parducho explained.
Compassion fatigue is also common, he added, where rights defenders no longer want to help after being overwhelmed by appeals. It is a dangerous pitfall anyone must know, lest they give more trouble than help, the case handler said.
At the forum, a rape survivor from her father's abuse admitted experiencing all forms of trauma discussed in the session. "When I see someone who looks like my father, I want to shout, I want to punch him, kill him."
"How do I help other women when I still feel (angry)?" asked the woman, a leader of a rape survivors' group.
Because of her experience, Abala explained, she can better empathize with the people she tries to help. "You lived through something similar. It's a useful way of helping people," he said.
"We are helping because those we help are survivors, not victims," Parducho added.
Surviving is what drug users try hard to do, said Peggy Candare, a social worker at CHR, who often visits highly congested jails. She swears that not all substance users are criminals. Many, she said, only use it out of necessity.
This is a claim apparently supported by a study from the Ateneo de Manila University, which shows drugs are used by tricycle drivers and vendors who need to stay awake for their jobs. (See In Payatas, cops do house-to-house drug testing)
"I hope the President and PNP understand it, and not just kill," Candare said.
Hernandez said the drug war has been flawed from the start, but added: "We are concerned less for the dead, God forbid. What we should worry about is the future."
In the absence of rehabilitation centers for traumatized families, Parducho said places like the one being offered by the Holy Spirit Congregation that takes in children who lost their parents due to extra-judicial killings, serve as sanctuaries. It is where they can talk about their grief and anger without fear.
Jose said there are no plans to stop the congregation's efforts, referring to activities like the three-day youth camp where 25 boys and girls, who, while still reeling from the trauma of having their parents killed, share and connect with other children who went through the same.
"We are trying to listen to their stories," she said, so "they would feel they are not alone in that experience." Until there is proper way to address the problem, her efforts will continue.
"If all of us will think of helping these children and we try to put our resources, talents and time, we can do something for the future of these children," Jose said. "It's a small drop, but if you don't start doing something for them…"
The nun did not finish her thought.