Human rights group National Union of Peoples' Lawyers has warned the public that information they provide when filling up survey forms as part of the government's campaign against illegal drugs may be used against them. It said they cannot be compelled and can refuse to take part in the survey.
In August, purok leaders of Barangay Payatas-A, along with armed policemen from Quezon City, were reported to be knocking on doors and distributing survey forms to residents. Aside from details concerning the household, the survey form also asks respondents if they have family members or neighbors involved in illegal drug activities.
These questions force residents to produce evidence that the police can use against them, thus violating their right against self-incrimination, NUPL lawyer Kristina Conti said.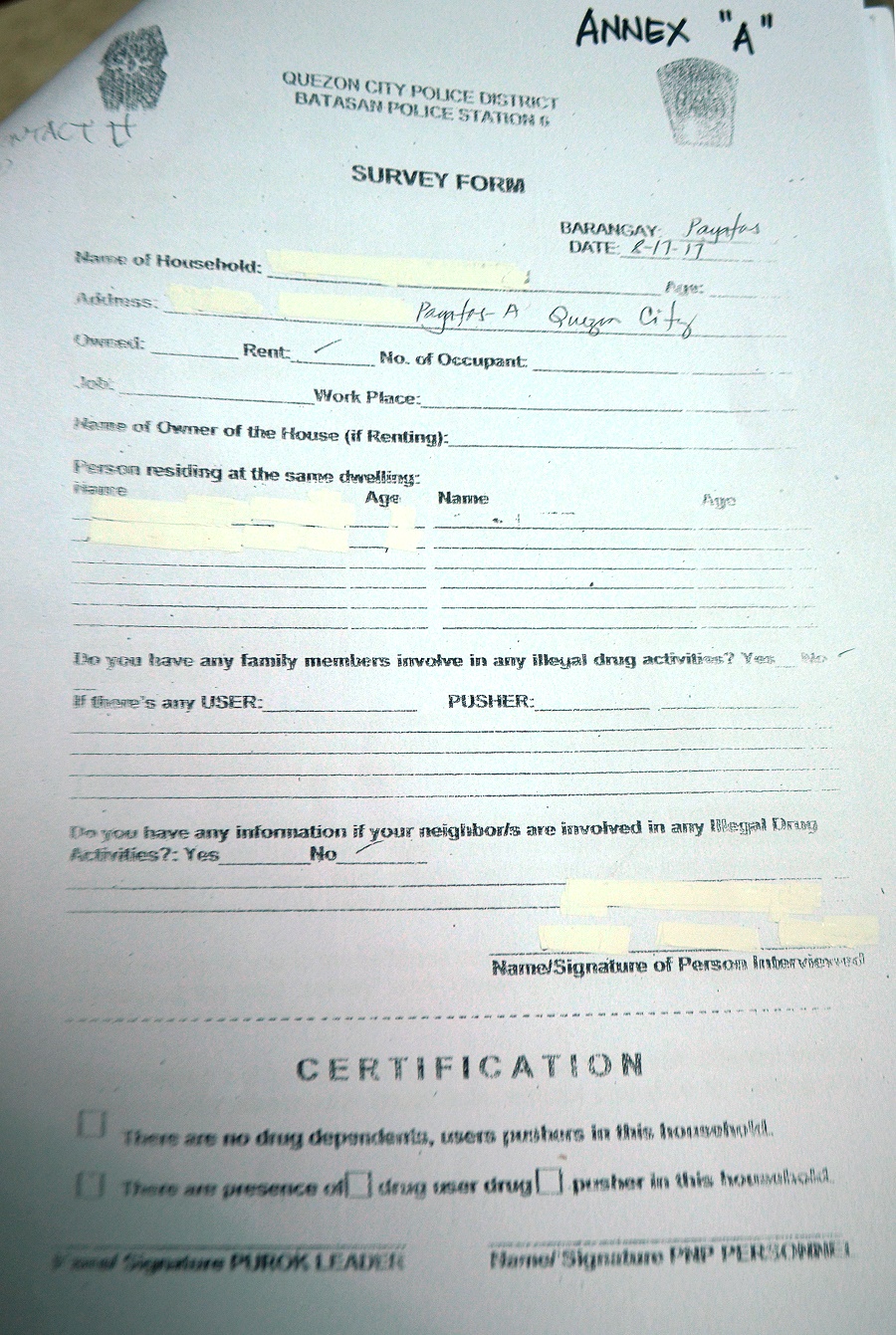 A copy of the reported survey form distributed to residents of Barangay Payatas asking about the involvement of their family members and neighbors in illegal drugs.
On Aug. 30, NUPL filed a petition asking the Quezon City Regional Trial Court to issue a temporary restraining order (TRO) and/or writ of injunction to stop the police from conducting house-to-house surveys and community drug testing. Ultimately, they hope the court declares the operation illegal and unconstitutional.
"Sinasabi namin na una, ayaw ng mga residente at pangalawa, ito ay labag sa Constitution. Pag labag sa Konstitusyon, ibig sabihin, hindi na nila pwedeng ulitin sa kahit na anong lugar. (What we're saying is first, the residents are not comfortable with it and second, it violates the Constitution. And if it's against the Constitution, it means they cannot do this in other places either)," Conti said.
The petition was filed on behalf of the residents of Brgy. Payatas-A and Brgy. South Triangle in Quezon City.
Conti reminded the residents it is within their rights not to answer these survey forms, especially in the absence of a directive delegating the power to the police to collect such information.
"They can say no politely, even without stating a reason," she advised.
Some residents submitted the completed forms to the police, saying they have no reason to worry since they are not involved in illegal drugs.
One of the petitioners, however, was at work when the police visited his home and was not able to fill in the form. A few days later, he was summoned to the barangay hall for an on-the-spot drug testing.
Having tested positive, he was directed to report to the Barangay Anti-Drug Abuse Council (BADAC) once a week for counselling. In the next two weeks, he went back to the barangay hall and reported to BADAC twice, "gripped by fear for his life," the petition stated.
Upon arrival, however, he was only asked to sign the logbook for attendance and "wait for the general counseling session to be organized by Quezon City Vice Mayor Josefina "Joy" G. Belmonte-Alimurung."
Sought for comment, Philippine National Police spokesperson Senior Supt. Dionardo Carlos in a text message said the PNP does not conduct house-to-house surveys.
QC Police Station 10 Commander Supt. Pedro Sanchez denied that police lead the house-to-house surveys in Brgy. South Triangle. He said they merely accompany barangay officials as part of Brgy. South Triangle's drug-clearing program.
Brgy. South Triangle officials have yet to reply to VERA Files' calls as of press time.
Officers of QCPD Station 6 also have not commented on the petition. Station 6 covers the Payatas area.
Early on, groups of policemen were also going house-to-house in Payatas and Batasan Hills, looking for specific individuals. They were armed with do-it-yourself drug testing kits that show, within seconds, if a person is using illegal drugs.
If the person they were looking for was not at home at the time of the visit, they asked a relative to take the test instead. (See In Payatas, cops do house-to-house drug testing).
The police said the drug testing is voluntary but they suspended the practice after concerns were expressed that it was unlawful.
The Commission on Human Rights says no provision under Republic Act 9165 or the Dangerous Act of 2002 states that police forces can conduct drug tests. (See House-to-house drug testing unlawful)
However, QC Police Director Senior Supt. Guillermo Eleazar told the media the program was initiated and funded by the barangays, and police were not violating any law.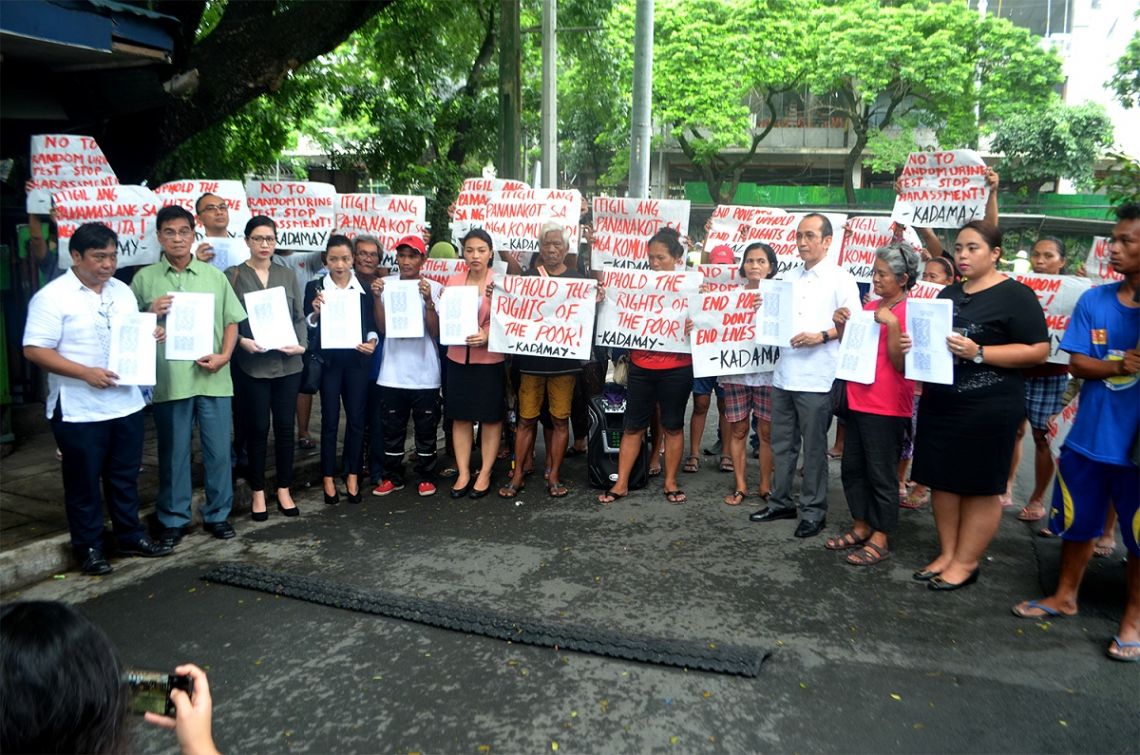 The National Union of Peoples' Lawyers hold up the petition they filed at the Quezon City Regional Trial Court
NUPL however, argues that the house-to-house drug testing and the survey violate the residents' right to privacy and their right against unreasonable searches and seizures guaranteed in the 1987 Constitution.
"Kahit pa may alam ka o wala kang alam, kung ayaw mong sabihin or kaya hindi bukal sa loob mong sabihin 'yun, eh hindi ka dapat pilitin ng pulis (Whether or not you are aware of something, if you don't want to speak about it, then the police should not force you to do so)," Conti argued.
Refusal to answer the form may be interpreted as an admission of guilt, she pointed out, with the police threatening the residents that they would come back.
"Tandaan natin na iyang mga listahan ay (Let us remember that these lists) virtually, these are kill lists. Parang (Like) order of battle," Conti adds, asserting that these lists are not only a legal issue, but also a matter of security of the residents.
Lawyer Josalee Deinla, also from NUPL, said the intimidation stems from the fact that it is the police conducting the survey.
"Nagkakaroon ng ibang meaning, lalo na kapag (It conveys a different meaning, especially when) taken against the context of Oplan Tokhang," Josalee Deinla, another NUPL lawyer, said.