A reader asked VERA Files Fact Check to verify a Sept. 13 post by pro-Duterte Facebook (FB) page Hugpong ng Pagbabago featuring a photo of a clean beach with white sand. It was superimposed with the words "MANILA BAY," and below it was text that read: "Update Manila Bay: World Class Pagkatapos Ng (after the) Rehabilitation."
The image, however, was of a beach in Nice, a city in France.
The false post came as the Philippine government faced criticism over its decision to dump crushed dolomite rocks, which look like white sand, along Manila Bay as part of its rehabilitation.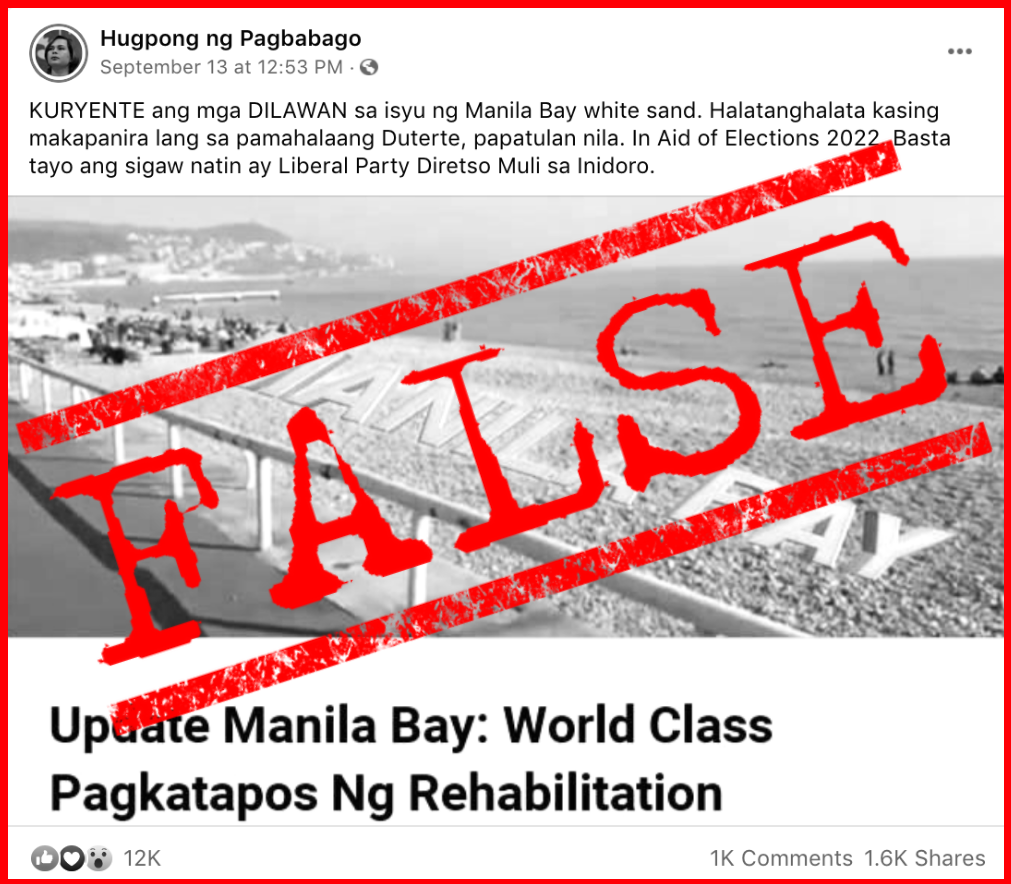 Hugpong ng Pagbabago's spurious post appears to be an edited screenshot of a March 2019 YouTube video uploaded by the channel Bahay Probinsya as seen when shared on social media.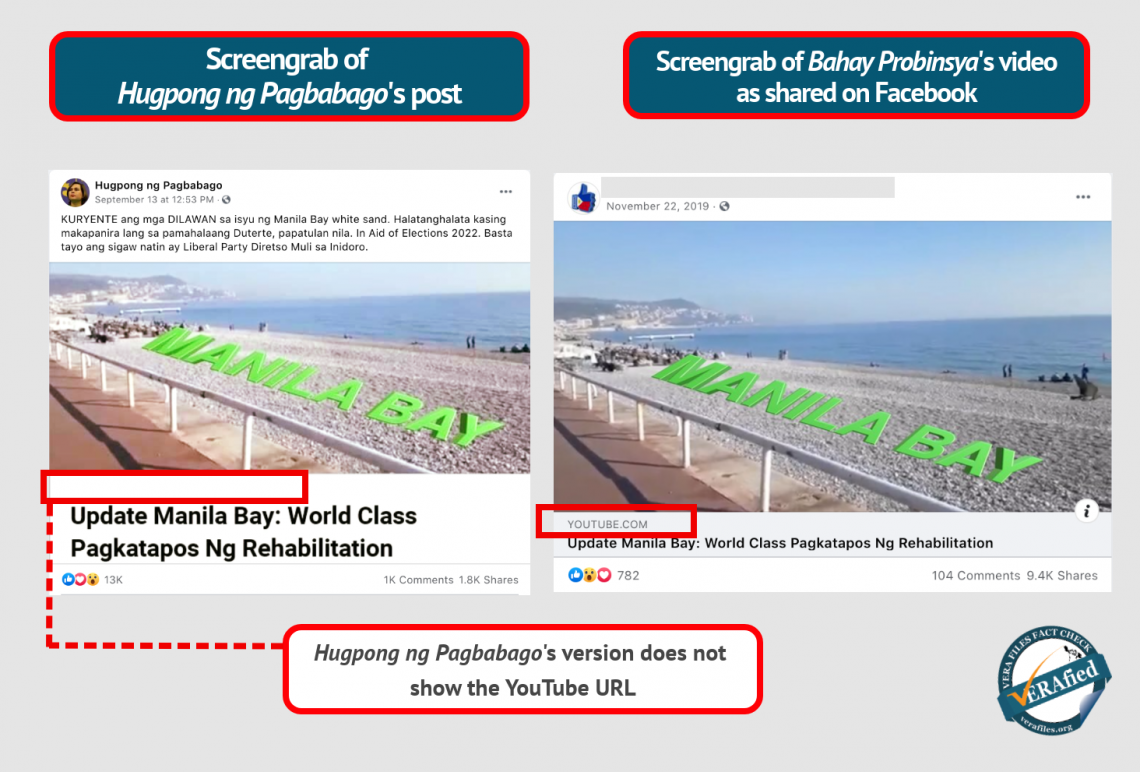 Bahay Probinsya's video features two clips: one showing a seawall construction project on a portion of Manila Bay near the United States Embassy, and another of a noticeably clean beach viewed from a paved baywalk. A male voiceover described the latter as what Manila Bay "would look like after it is rehabilitated," although it does not state where the clip was taken.
Netizens in the YouTube video's comments section said the post was "deceiving," with several speculating that the second clip was taken in Europe, specifically in Nice in France, while another said it looks like a bay area in California.
A reverse image search of the second clip's frames, which include the "white sand" beach shown in Hugpong ng Pagbabago's photo, pointed VERA Files Fact Check to Promenade des Anglais—a beachside boulevard in Nice, located in the southeastern part of France along the Mediterranean Sea.
A comparison of screen grabs from Bahay Probinsya's video and Google Maps' Street View of Promenade des Anglais confirms that the baywalk is indeed situated in Nice. It shows a number of features and infrastructures present in both the video and in the Street View of the promenade.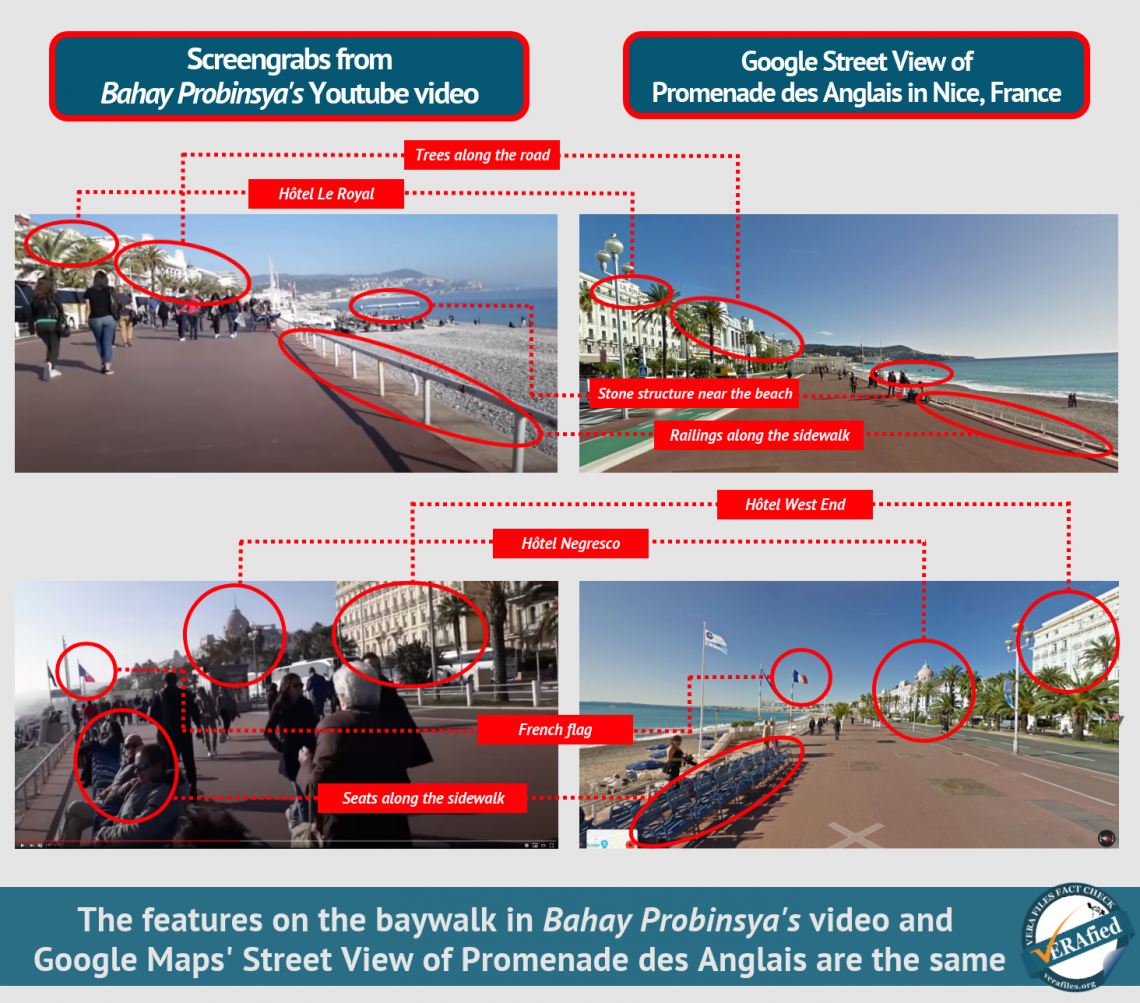 The earliest retrievable copy of the Promenade des Anglais clip was uploaded in February 2019 by Youtube channel Danford Louie Quijalvo. The video was titled "Manila Bay [How it should be]," — with its description stating that the video was taken in "Nice, South of France."
Hugpong ng Pagbabago's untrue post has gotten almost 20,000 interactions from FB netizens and could have reached over 1.2 million social media users, according to social media tool CrowdTangle. Traffic to the post largely came from Hugpong ng Pagbabago itself, as well as public FB group SOLID DU30 ako ; bawal ang dilawan and page Gising Pilipinas with Ser Rye.
Hugpong ng Pagbabago was created in February 2018.
(Editor's Note: VERA Files has partnered with Facebook to fight the spread of disinformation. Find out more about this partnership and our methodology.)