A viral Sept. 14 post by Facebook (FB) page No to Liberal Party is falsely claiming that the Palm Jumeirah, a man-made island in Dubai, in the United Arab Emirates (UAE), was made using "million(s) of metric tons of dolomite."
Not true. Multiple sources state the palm-shaped offshore island, a product of land reclamation, was made using sea sand and rocks.
No resources mentioned dolomite, whose crushed form was recently dumped on the Manila Baywalk as part of the cleanup and rehabilitation of the waterway. A toxicologist has warned that it may cause health problems.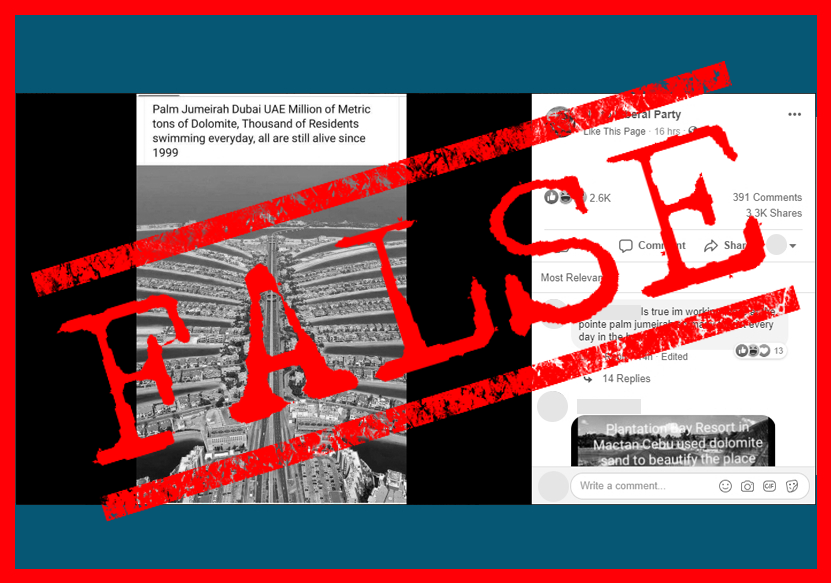 An archived version of the Palm Jumeirah website said the project used "a total of 92,234,000 cubic meters of sand" to build the land mass. The sand was dredged from the bottom of the Persian Gulf, according to the Britannica Encyclopaedia, a 2005 National Geographic documentary on the megastructure, and several feature articles.
The Gulf's sand was used because it was "coarse, packed densely, and is more resistant to wave impact," compared to desert sand which was too fine, the documentary explained.
Meanwhile, 5.5 million cubic meters of rock from 16 quarries across the UAE were used to create the breakwater surrounding the island.
VERA Files Fact Check also sought comment from Nakheel, the project's developer, regarding the materials used to construct the Palm Jumeirah. It has not yet replied as of publication.
Ostensibly to refute claims that dolomite is unsafe, No to Liberal Party's post also stated thousands of residents have been swimming in the Palm Jumeirah "since 1999" and claimed "all are still alive."
The claim is based on wrong information, as construction of the artificial islands did not start until 2001, while the first residents arrived in 2007, according to the Britannica Encyclopaedia.
The image of the Palm Jumeirah carried by the erroneous post was originally uploaded by travel blogger Gelo Santos (@iamdocgelo) on Instagram in March 2019.
The untrue FB post circulated on social media a week after environmental groups slammed the Department of Environment and Natural Resources for extracting and transporting dolomite from Cebu and using it to rehabilitate Manila Bay.
Health Undersecretary Maria Rosario Vergeire warned that fine dolomite dust being used as "white sand" to beautify the scenic bay may cause respiratory problems. This was refuted by Interior Secretary Eduardo Año, vice-chairman of the Manila Bay Task Force and two days later, the health official clarified that dolomite in bulk form is not a health hazard.
According to social media monitoring tool CrowdTangle, the false post could have reached over a million people. Traffic to the story largely came from the page itself and FB groups Foreigners & Philippines looking for relationship and Solid Sarah Z Duterte 2022. It has also been re-uploaded by several FB accounts.
No to Liberal Party was created in July 2015.
(Editor's Note: VERA Files has partnered with Facebook to fight the spread of disinformation. Find out more about this partnership and our methodology.)