Three days after environmental groups slammed the Department of Environment and Natural Resources (DENR) for dumping white sand on Manila Bay, netizens revived an image showing the body of water filled with trash and claimed it was what it looked like in the past five administrations before President Rodrigo Duterte's. This is misleading.
The photo used was shot following a powerful typhoon in 2018, or over two years after Duterte took office.
At least three Facebook (FB) users uploaded the deceptive post on Sept. 6, which used The Philippine Star's file photo of the Manila Bay taken after Typhoon Ompong (international name: Mangkhut) ravaged parts of Luzon in September 2018.
It was superimposed with the words "Manila Bay Before" and bore insets showing former presidents Corazon Aquino, Fidel V. Ramos, Joseph Estrada, Gloria Macapagal-Arroyo, and Benigno Aquino III.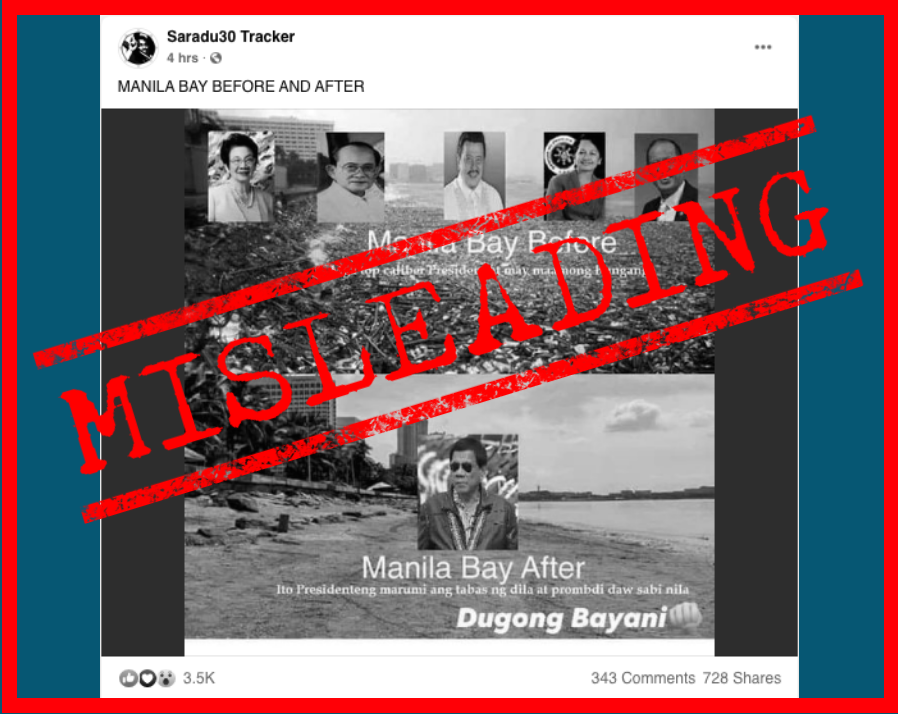 Below it was a "Manila Bay After" picture featuring an image of Duterte overlaid on a cleaned-up version of the bay that was originally published on FB by a netizen named Alex Tigno on Jan. 27, 2019, and featured on Inquirer.net two days later.
This is not the first time VERA Files Fact Check debunked posts that misrepresented the 2018 The Philippine Star photo of the bay. (See: VERA FILES FACT CHECK: Viral 'disente vs bastos time' photos MISLEAD; all taken under Duterte administration, VERA FILES FACT CHECK: FB post MISLEADS with 'before and after' rehab photo of Manila Bay; both were taken under Duterte's watch and VERA FILES FACT CHECK: Viral post contrasting Manila Bay during Duterte, Aquino terms makes FALSE claims)
The controversial artificial beach, made from crushed dolomite sourced from Cebu that looks like light-colored sand, was opened to the public on Sept. 19. A toxicologist has warned that the material may cause health problems.
The three netizens' posts have collectively gotten more than 2,000 interactions on FB.
(Editor's Note: VERA Files has partnered with Facebook to fight the spread of disinformation. Find out more about this partnership and our methodology.)