A collage posted on Sept. 4 by Facebook (FB) page No To Liberal Party comparing photos of a polluted Manila Bay supposedly taken during the Aquino administration with a cleaned-up bay during the current administration, propagates false claims.
Both photos were taken after President Rodrigo Duterte took office in 2016 and show different parts of the bay. But contrary to what the post says, it is not true that nobody complained about pollution in the Manila Bay during Benigno "Noynoy" Aquino III's term.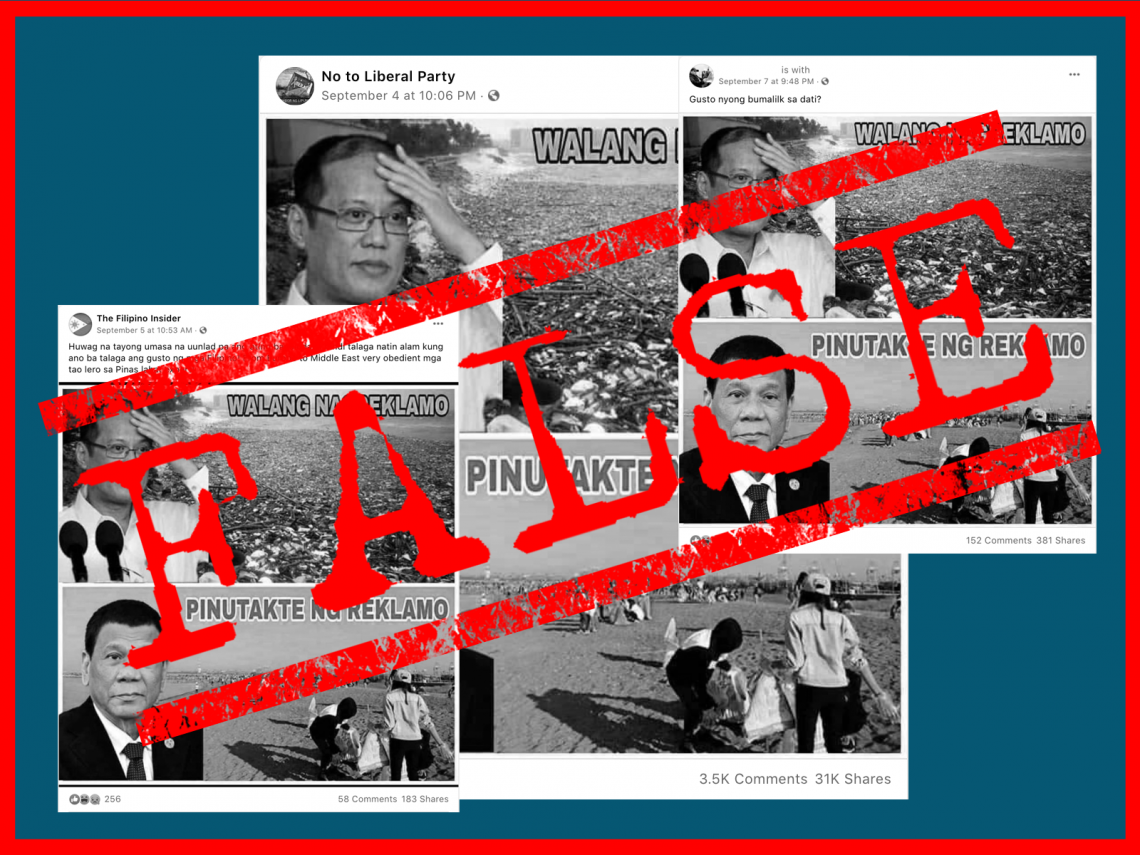 The top photo, which has an image of Aquino and the text "WALANG NAGREKLAMO (None complained)" superimposed on it, is a file photo of The Philippine Star showing trash and driftwood on a portion of Manila Bay after Typhoon Ompong (international name: Mangkhut) struck Luzon in September 2018. It was uploaded in December that year.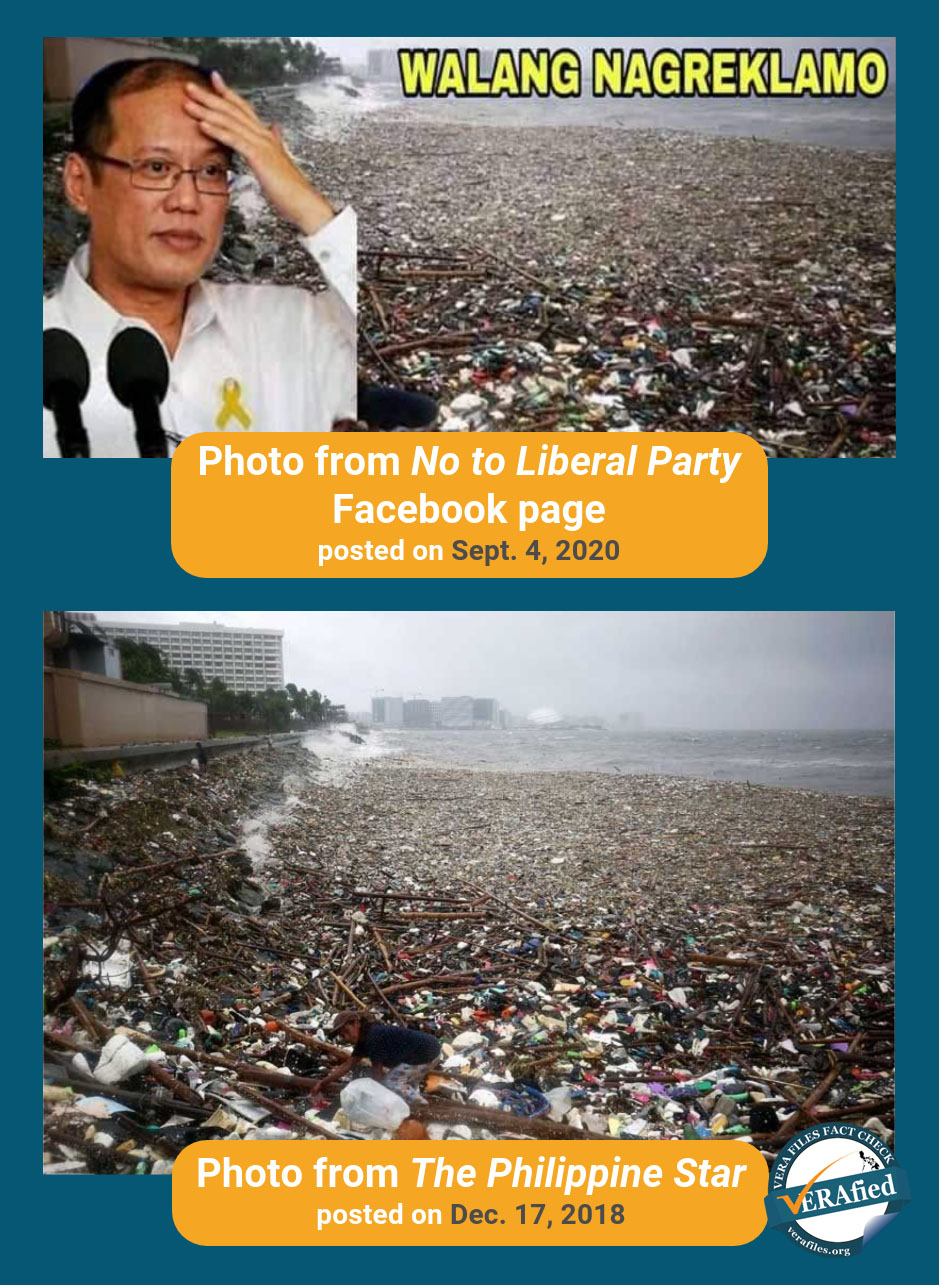 The bottom picture, with an inset of Duterte and the text "PINUTAKTE NG REKLAMO (Bombarded with complaints)," is an image of Baseco Beach taken during a clean up drive.
This particular photo first made the rounds on the Web in February 2019, published by FB page Duterte Manila Bay Rehabilitation and well-known pro-Duterte blogger Thinking Pinoy.
A look at photos of Baseco Beach on the official FB page of the Department of Environment and Natural Resources confirms the location of the clean beach photo in the inaccurate FB post.
The tall infrastructures seen from a distance reveal the photo was shot in Barangay 20 in Tondo, Manila.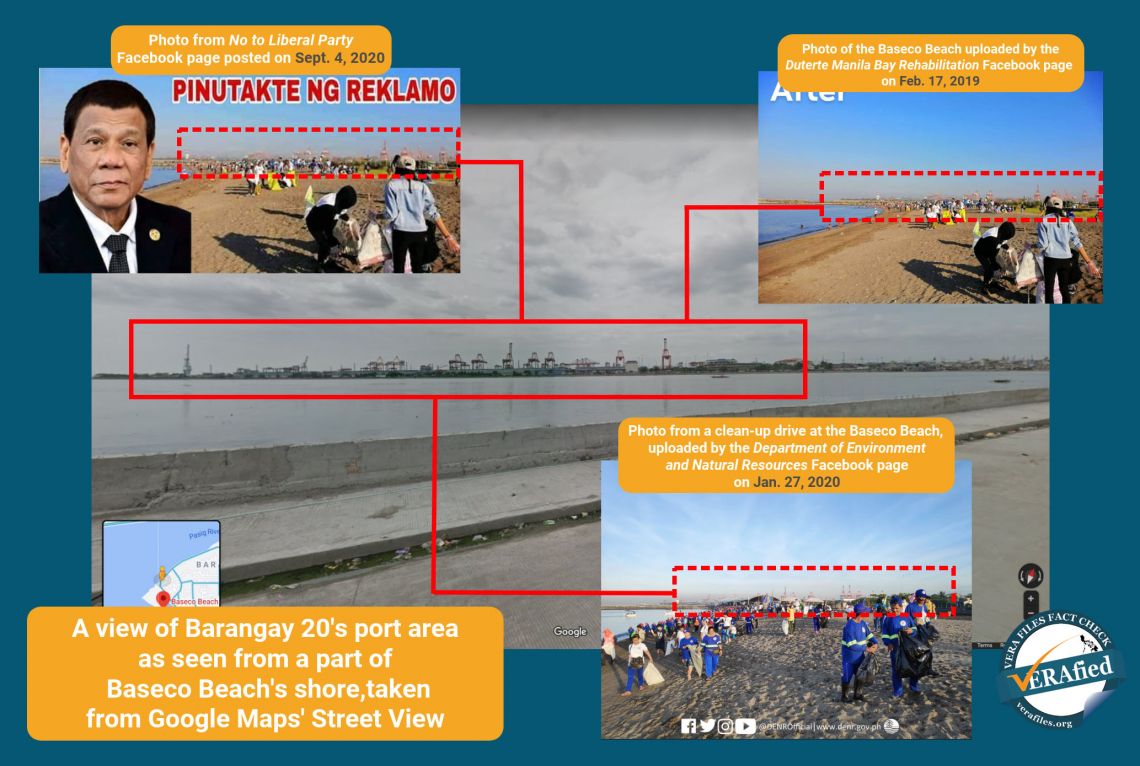 This is approximately 4.5 kilometers away from where The Philippine Star's photo was shot—likely near the Sofitel Plaza Walkway, which shows the same seawall structure and buildings in the background, according to Google Maps.
Contrary to No to Liberal Party's untrue claim, several rallies and demonstrations were held during Aquino's term calling for the rehabilitation of Manila Bay and opposing illegal activities that contributed to its pollution. Among others:
In August 2012, environmental group EcoWaste Coalition called for all sectors of society, including the government, "to actively work for the full enforcement" of the Ecological Solid Waste Management Act after the group saw massive piles of garbage along Roxas Boulevard brought by Typhoon Gener.
In December the same year, the Advocacy for the Development of Central Luzon rallied to uphold and echo a Supreme Court decision directing 14 government agencies to clean and rehabilitate Manila Bay.
No To Liberal Party's false collage, re-published by at least four netizens and FB pages The Filipino Insider and VIRAL TODAY, circulated online as the government faced criticism in its decision to dump tons of crushed dolomite along Manila Baywalk, as part of the bay's beautification efforts. It continues to be shared nearly three weeks after its first publication.
Social media tool CrowdTangle shows the post already got over 56,000 interactions and could have reached around 3.5 million netizens. Its top traffic generators are No To Liberal Party itself, and public groups BTS Funny Moments and REAL PHILIPPINE HISTORY.
No To Liberal Party was created in July 2015.
(Editor's Note: VERA Files has partnered with Facebook to fight the spread of disinformation. Find out more about this partnership and our methodology.)