A TikTok video misused photos showing Manila Bay full of garbage to claim that this was the state of the body of water under five presidents before Rodrigo Duterte. 
Through reverse image search, VERA Files Fact Check found that six of these photos were from 2018, within the term of Duterte, who took office in June 2016 and stepped down the same month this year.
Meanwhile, two other images were said to have been taken during ex-president Joseph "Erap" Estrada's term. They were shot during the presidency of the late Benigno "Noynoy" Aquino III.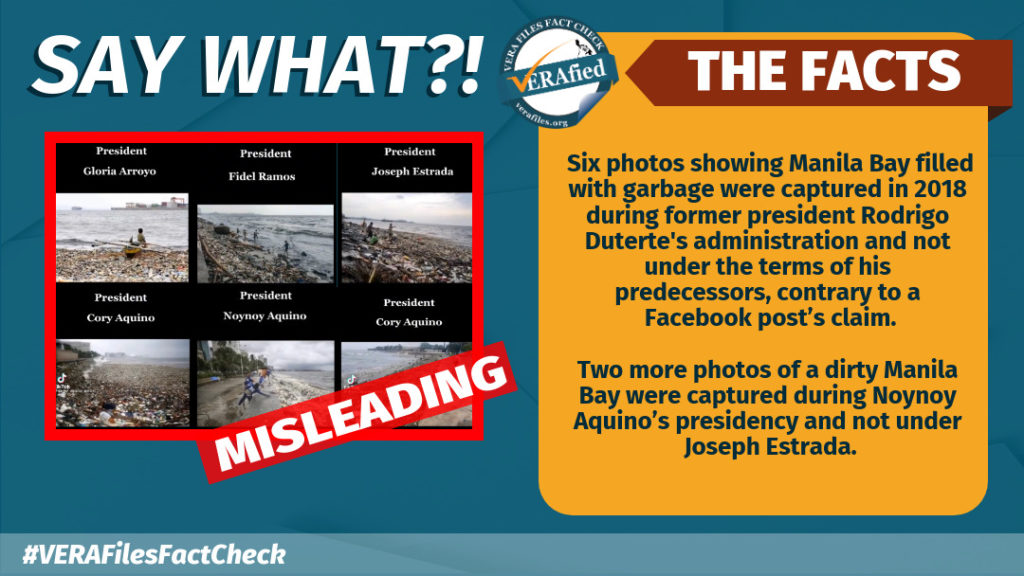 The misleading 30-second TikTok video, now deleted on the platform, was reuploaded by a Facebook (FB) user on June 10. It regained interaction on July 8 as rain showers and thunderstorms fell in Luzon and Metro Manila. Heavy rains usually lead to garbage being washed ashore along Manila Bay's coastline.
After showing the photos of the "dirty" Manila Bay, these were followed by images of the dolomite beachwalk in the area created under the Duterte administration.
 It is not the first time photos were misrepresented in social media posts to prop up Duterte's clean-up efforts in the bay. (READ: VERA FILES FACT CHECK: 2018 photo FALSELY described yet again as Manila Bay 'before' Duterte; VERA FILES FACT CHECK: Another 'before vs. during Duterte' post MISLEADS with 2018 Manila Bay photo)
VERA Files Fact Check debunks the misleading photos in the circulating video here: 
Two photos of the Manila Bay were captured in 2013 and 2014 during Aquino III's term and not Estrada's. 
The misleading clip got 71,000 reactions and 3,000 more comments on FB. Most of the netizens who engaged with the post praised Duterte for supposedly cleaning the bay.
Have you seen any dubious claims, photos, memes, or online posts that you want us to verify? Fill out this reader request form or send it to 'VERA, the truth bot' on Viber.
(Editor's Note: VERA Files has partnered with Facebook to fight the spread of disinformation. Find out more about this partnership and our methodology.)