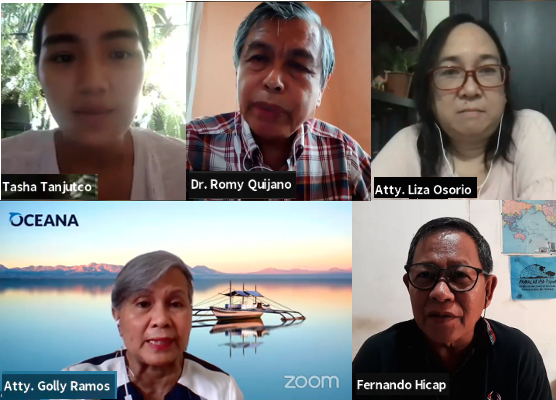 The possible presence of toxic heavy metals and silica dust in the crushed dolomite rocks dumped at the Manila Baywalk may cause cancer, respiratory and kidney problems and subsequently weaken the immune system, a toxicologist had warned.
"Sa usapin ng possible toxicity, malinaw naman sa siyentipikong ebidensya na merong potential toxicity 'yang itinatambak na buhangin dyan [sa Manila Bay]," toxicology expert Romeo Quijano said on Thursday in an online public forum organized by Oceana Philippines with De La Salle University, Archdiocese of Manila's Ministry of Ecology, and Living Laudato Si' Philippines (LLS).
(Regarding possible toxicity, it is clear in scientific evidence that it has potential toxicity, those sands being dumped [on Manila Bay].)
The statement somehow jibed with the initial statement of Heath Undersecretary Maria Rosario Vergeire that inhaling dusts of the crushed dolomite on the baywalk along Roxas Boulevard would have adverse reaction to the respiratory system.
However, the Department of Health issued a statement two days later, saying that "dolomite in its bulk state is not a known health hazard and dolomite in dust form, like any other dust particle, can lead to symptoms such as chest discomfort, shortness of breath, and coughing" as the human body's "normal reaction to irritants."
In the public forum –titled "Is dolomite dumping in Manila Bay legal, safe and necessary?"—Quijano, a professor of toxicology and pharmacology at the University of the Philippine-Manila College of Medicine, disputed claims that dolomite does not have potential health effects.
"Tingin ko, dahil nga ginawa na nila 'yan at wala man lang konsultasyon, jina-justify na lang nila ang kanilang action at binabalewala nila 'yung mga scientific evidence na nagpapakita na hindi totoo yung mga sinasabi nila sa health aspects," he said.
"In my view, because they were already implementing (the project) without any consultation, they're justifying their action and setting aside scientific evidence disputing their statements on the health aspects.)
Quijano asserted that the most poisonous particles from the dolomite are silica quartz. "Ýung maliliit na particles na silica ang pangunahing greatest concern d'yan, bukod sa 'yan ang karaniwang makikita sa mga dolomite o limestone o sand," Quijano said.
(The tiny particles of silica is of greatest concern, and that's commonly found in dolomite, limestone, or sand.)
A 2012 Safety and Data Sheet from United States' (U.S.) Lehigh Hanson stated in its toxicological information that repeatedly inhaling Respirable Crystalline Silica (RCS) "may cause adverse health effects including lung and kidney cancer." It added that frequent inhalation of silica particles "may cause silicosis, a fibrosis (scarring) of the lungs." Silicosis, it added, is "irreversible and may be fatal."
The controversy over the health risks posed by dolomite broke out more than a week ago after the Department of Environment and Natural Resources (DENR) and the Department of Public Works and Highways (DPWH) began dumping mounds of artificial white sand on the baywalk near the U.S. Embassy compound on Roxas Boulevard. This was part of a P397.9-million project for "beach nourishment, coastal restoration and enhancement" of the Manila Baywalk area.
Environmental concerns
Fisher group PAMALAKAYA Chair Fernando Hicap said the DOH statements changing its tune on the health risks posed by dolomite indicated an irregularity in the process of implementing the project. "Malinaw na walang plano at ito ay sarili lamang nilang plano at walang dinaanan na proseso," Hicap said.
(It is clear that they (DENR) have no plans and this was their own plan that did not go through the process.)
The DENR had admitted that the Manila Bay rehabilitation project was not in the master list of infrastructure projects of the National Economic and Development Authority (NEDA).
Environmental lawyer Gloria Estenzo-Ramos, vice president of Oceana Philippines, said that dumping on Manila Bay is destruction, not only to a person's health but also to the marine ecosystem.
The forum organizers said they invited government officials including Environment Secretary Roy Cimatu, Agriculture Secretary William Dar, and Manila Mayor Isko Moreno to explain the project and answer health, environmental and legal concerns but none of them showed up.
Halfway through the online forum, Emy Abello, an engineer from DPWH, joined but pointed to the DENR as the main agency responsible for the controversial project.
Netizens and various groups have not only raised health and environmental concerns over the Manila Baywalk project but also questioned the timing of implementing the multi-million peso beautification project as it comes when President Rodrigo Duterte has repeatedly complained about budget constraints for COVID response and when most Filipinos are still grappling with the pandemic.
Long before the coronavirus disease (COVID-19) pandemic, a Supreme Court ruling tasked government agencies such as the DENR, the DOH and the DPWH, among others, to rehabilitate Manila Bay. That was in 2008.
It designated the DENR "as the primary government agency responsible for its enforcement and implementation." It added that "the DENR is directed to fully implement its Operational Plan for the Manila Bay Coastal Strategy for the rehabilitation, restoration, and conservation of the Manila Bay at the earliest possible time."
But according to Estenzo-Ramos, "the DPWH cannot be passive… [and would] make sure that all consultations had been done" before the project is carried out. She said public funds are being used for the project and that the people have a right to a healthy environment.
Dolomite mined in Cebu
Estenzo-Ramos lamented that the government was reported to have not complied with pertinent laws protecting Manila Bay and the environment.
One of the processes that the DENR has not complied with is getting dolomite from the province of Cebu and transporting it to Manila, according to environmental lawyer and University of Cebu law professor Rose Liza Osorio.
"Ang sabi ng probinsya natin dito sa Cebu, wala silang alam na kinuha yung dolomite dito at dinala doon sa Manila," said Osorio.
(Our province here in Cebu said they were not aware of the extraction of dolomite here and then sent to Manila.)
Osorio, a managing trustee of Philippine Earth Justice Center, cited that Cebu province "has a very delicate ecosystem," adding that it has become a source for beach nourishment projects all over the country and as well as for resorts around Cebu.
She commended the efforts of the local government units (LGUs) to stop mining operations in various places in Cebu. "Siguro, it's a huge signal to the LGUs that if they assert their political will, so that the general welfare of the people living within their territory would be looked after, [and] would enjoy the economic benefits that should be derived from an intact ecosystem."
Call to action
Osorio challenged everyone, saying: "This will not be your first pandemic; 'pag hindi natin alagaan ang ating kalikasan hindi ito ang unang pandemyang mararananasan niyo sa buhay ninyo."
(If we don't take care of our natural resources, this won't be the first pandemic you'd experience in your lifetime.)
For Hicap, one of the best ways to conserve and protect Manila Bay's ecosystem is by natural processes such as planting mangrove trees and bringing back sea grasses.
For youth leader Tasha Tanjutco, co-founder of Kids for Kids Philippines, the youth should take the lead in asking the government to save the environment.
"We need to start telling our government that we are here to be heard and we aren't here to be pushed aside, because nowadays we forget that people are affected by this surrounding environment, that we are one on the same," Tanjutco said.
"So, whatever we do to our natural environment, we are doing to ourselves, we are doing to the people," she added.