Several social media users, including former ABS-CBN broadcaster Jay Sonza, shared on Facebook (FB) an altered photo of an ABS-CBN News van, falsely claiming it overturned as Typhoon Ulysses raged over Luzon on Nov. 12.
STATEMENT
In a now-deleted FB post, Sonza, a vocal critic of ABS-CBN, shared a screengrab of a report from the network's primetime newscast TV Patrol about an ABS-CBN van supposedly having tipped over while covering the controversial "dolomite" beach in Manila Bay, as Typhoon Ulysses submerged parts of Metro Manila and neighboring towns. The news ticker in the screengrab read:
"ABS-CBN van tumaob habang binabantayan ang dolomite sa kasagsagan ng Bagyong Ulysses (ABS-CBN van overturned while covering the dolomite (beach) amid Typhoon Ulysses)."

Source: Jay Sonza official Facebook account, Isa lamang ito sa mga iniwang bakas ng Bagyong Ulysses… [Archived], Nov. 13, 2020
Sonza added a caption:
"Isa lamang ito sa mga iniwang bakas ng Bagyong Ulysses (This is just one of the traces of Typhoon Ulysses). One must learn from experience."
At least 40 other FB accounts, including several pages and groups that bear the name "Duterte," also published the doctored photo and cheered on the supposed car crash involving the network's personnel.
FACT
Sonza's post was wrong. A cursory search revealed that the photo is a manipulated copy of the thumbnail of a TV Patrol news report from June 2010.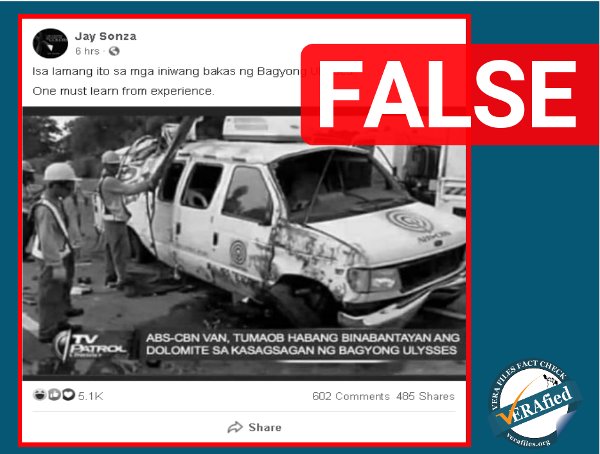 According to the report, the network's van heading to Ilocos Sur tipped over on Subic-Clark-Tarlac Expressway (SCTEX) after a rear wheel blew off. The three ABS-CBN personnel on board the vehicle survived the crash.
In a Nov. 13 tweet, ABS-CBN News called out the circulating image as "disinformation" and said the claim was not true. ABS-CBN reporter Jerome Lantin, who covered the situation at Manila Bay on Nov. 12, did not report involvement in any road crash.
The earliest traceable copy of the doctored photo was posted at 10:03 a.m on Nov. 12 by a FB user, who has a history of posting anti-ABS-CBN content. But the netizen wrote in his caption: "NOTE: EDITED MEDIA SATIRE."
Sonza and many other FB users, groups, and pages posted the altered photo without a similar disclaimer. Among the earliest traceable copies of such versions without a context-giving caption were posted by one Davao City-based FB user in six pro-Duterte and overseas Filipino workers' FB groups, almost an hour and a half after the first post was published, based on social media monitoring tool CrowdTangle.
Sonza's inaccurate post surfaced a day after the impact of Typhoon Ulysses' heavy rains and strong winds became evident, resulting in massive flooding in various parts of Luzon, such as Marikina City and towns in Rizal, Cagayan, and Isabela provinces.
His post gained at least 483 shares, 688 comments, and over 5,300 reactions before he deleted it a few hours after posting. Some of Sonza's followers who commented on the post cheered the fake incident, and questioned ABS-CBN for covering the controversial dolomite beach of Manila Bay at the height of a destructive typhoon.
The so-called dolomite beach, the administration's P28-million beach nourishment project, used crushed dolomite rocks mined from Alcoy town, Cebu to make an artificial white sand beach in a portion of the Manila Bay shoreline near the U.S. Embassy compound. The government began dumping the dolomites in early September.
The project, however, was heavily criticized by environmental groups and experts, such as Oceana Philippines and the University of the Philippines-Marine Science Institute, for being ineffective in addressing Manila Bay's ecological problems like soil erosion and polluted water, and the potential hazard the dolomites may pose on marine life and the people. (See Toxicologist: Dolomite particles may cause cancer, other diseases)
Editor's note: The sources section of this article was updated to correct the spelling of "Saludar" in "Media man Ely Saludar". The earlier version of this article misspelled it as "Saudad". We apologize for the mistake.
Sources
Jay Sonza official Facebook account, Isa lamang ito sa mga iniwang bakas ng Bagyong Ulysses… [Archived], Nov. 13, 2020
ABS-CBN, Two ABS-CBN News crew survive road accident, June 10, 2020
ABS-CBN News official Twitter account, Spreading lies and malicious information at a time of calamity is a disservice to the country. Stop disinformation…, Nov. 13, 2020
ABS-CBN reporter Jerome Lantin, @JeromeLantin official Twitter account, Accessed Nov. 18, 2020
National Disaster Risk Reduction SitRep no. 03 re Preparedness Measures and Effects for TY ULYSSES, Nov. 13, 2020
Department of Environment and Natural Resources, Frequently Ask Questions (FAQs) on the Dolomite and the Beach Nourishment Project for the Rehabilitation of Manila Bay, Accessed Nov. 18, 2020
Department of Environment and natural Resources, Cebu's Dolomite, Sept, 7, 2020
Dolomites dumped in September
Media man Ely Saludar, BiSERBISYOng LENI with Media man Ely | September 6, 2020 – Linggo, 9AM, Sept. 6, 2020
Oceana Philippines, STATEMENT: Oceana Raises Questions on Dumping of White Sand on Roxas Boulevard, Sept. 3, 2020
UP Marine Science Institute, Official Statement…, Sept. 30, 2020
(Guided by the code of principles of the International Fact-Checking Network at Poynter, VERA Files tracks the false claims, flip-flops, misleading statements of public officials and figures, and debunks them with factual evidence. Find out more about this initiative and our methodology.)