Former broadcaster Jay Sonza incorrectly claimed that a daughter of Vice President Leni Robredo skipped community quarantine after arriving from abroad and later testing positive for COVID-19.
Refuting Sonza's claim, Robredo said in a Jan. 5 Facebook post: "Wala po itong katotohanan ito. Sinasadya na lang talaga magsinungaling dahil may mga napapaniwala (There is no truth to this. They deliberately lie because they know there are those who believe them)."
STATEMENT
On the morning of Dec. 31, 2021, Sonza posted a message addressed to a certain "Madam," apparently referring to the vice president:
"Sabi mo Madam, dapat walang palakasan. Bakit iyong anak mong dumating derecho sa bahay, hindi dumaan sa Quarantine Protocol?"

(Madam, you said no one should be exempted. Why did your child who came back (from abroad) go straight to your house and not undergo quarantine protocol?)

Source: Jay Sonza official Facebook account, Sabi mo Madam, dapat walang palakasan,.. (perma.cc), Dec. 31, 2021
Although Sonza did not name Robredo, the vice president did say in a Dec. 26, 2021 segment on her weekly radio program "BISErbisyo Leni" that she would end the "palakasan" system in businesses if she were elected president in the 2022 elections.
Several netizens called out Sonza for spreading "fake news." Others, who thought the claim was true, criticized the vice president.
FACT
Multiple social media posts and videos prove that Robredo and her three daughters observed separate quarantine isolation procedures.
On Dec. 29, Robredo's physician-daughter Tricia announced on Instagram that she tested positive for COVID-19 on Dec. 24, 2021, five days after traveling from New York to Manila with her sisters, Jillian and Aika. She said her request to go on strict home quarantine was not granted.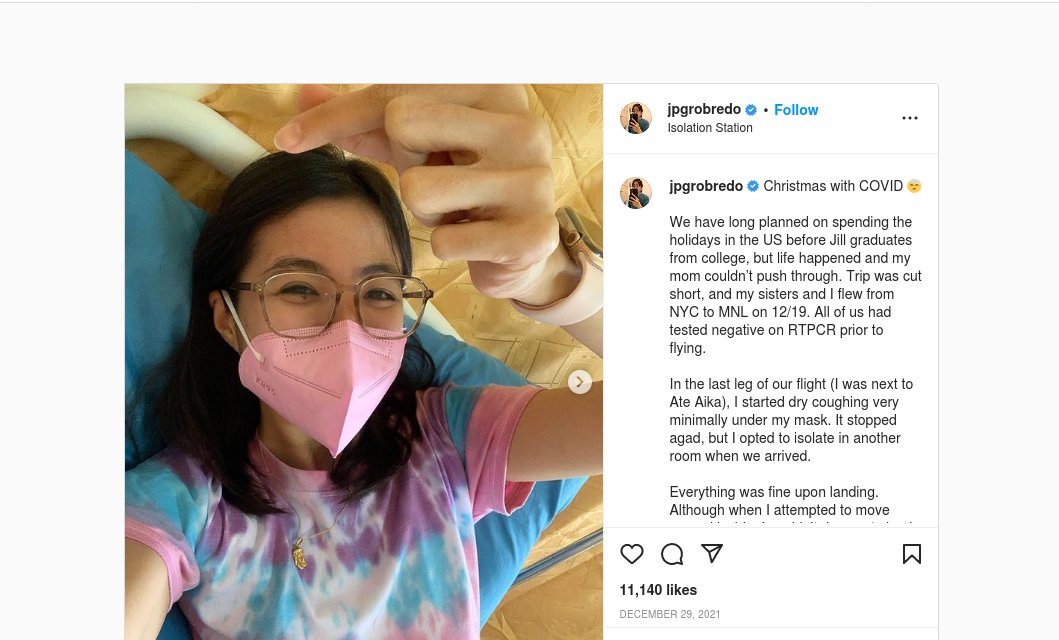 The vice president, in a Dec. 30, 2021 Facebook post, confirmed that Tricia was transferred to an isolation facility after testing positive for the coronavirus. Debunking a rumor, she also denied that her close-in security aide had any contact or was exposed to Tricia.
In a Jan. 5 Facebook post, Robredo clarified that her three daughters underwent a five-day quarantine in a hotel after traveling from abroad. Jillian and Aika, who tested negative in the RT-PCR test, underwent home quarantine until Jan. 3, she added.
The vice president also said that Tricia was released from the quarantine facility only after testing negative from the virus for three consecutive days.
Sonza's erroneous post got a total of 8,700 reactions, 1,400 comments, and 727 shares. It was reshared 14 times by Facebook pages and groups, and could have reached 356,000 people, according to social media monitoring tool CrowdTangle.
Have you seen any dubious claims, photos, memes, or online posts that you want us to verify? Fill out this reader request form.
SOURCES
Leni Gerona Robredo official Facebook account, PLS REPORT THESE FAKE NEWS PEDDLERS…, Jan. 5, 2022
Jay Sonza official Facebook account, Sabi mo Madam, dapat walang palakasan… (perma.cc), Dec. 31, 2021
VP Leni Robredo official Facebook page, BISErbisyong LENI – Episode 242, Dec. 26, 2021
Tricia Robredo official Instagram account, Christmas with COVID…, Dec. 29, 2021
Leni Gerona Robredo official Facebook account, Tricia sent me this and I want to set the record straight…, Dec. 30, 2021
(Guided by the code of principles of the International Fact-Checking Network at Poynter, VERA Files tracks the false claims, flip-flops, misleading statements of public officials and figures, and debunks them with factual evidence. Find out more about this initiative and our methodology.)