A social media post carrying a five-year-old photo of a trash-filled Manila Bay and a recent one featuring the dolomite beach claims the images reflect the contrasting conditions of the famous bay before and during the term of President Rodrigo Duterte. This is misleading.
First, the two shots were taken in two different areas of the Manila Bay. Reverse image search revealed that the photo showing plastic debris was that of Freedom Island, a man-made landmass along Manila Bay which is part of the Las Piñas-Parañaque Critical Habitat and Ecotourism Area. It is 8.6 kms away from the Manila Bay beachwalk that is now covered with crushed dolomite.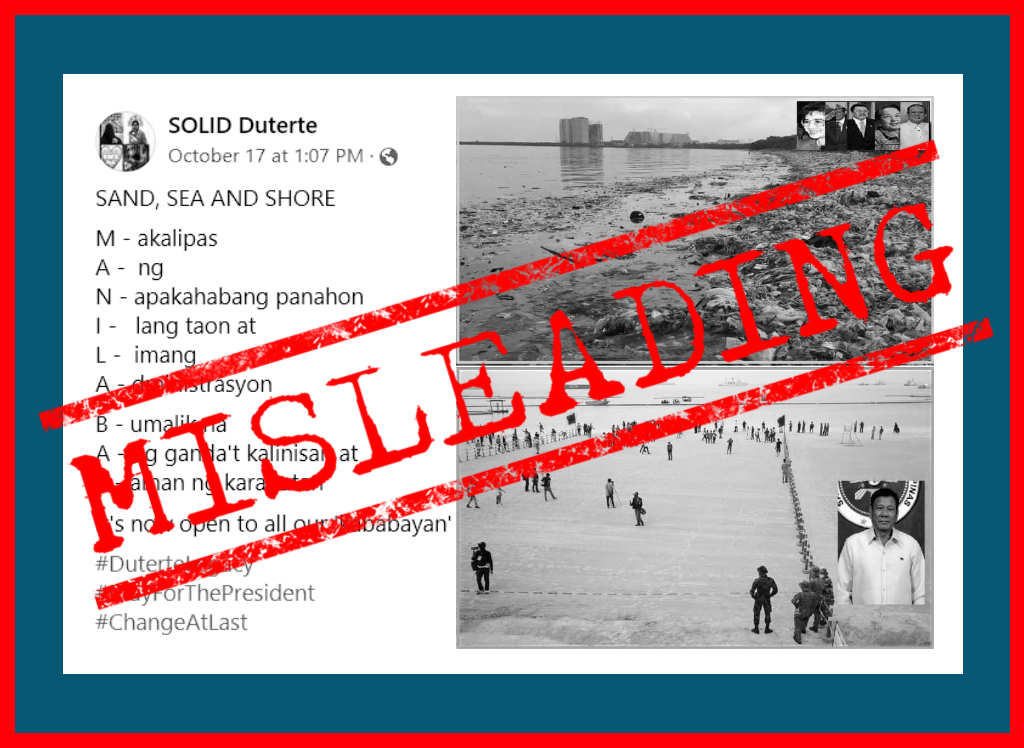 The misleading post claimed the photo of the plastic litter showed Manila Bay's condition prior to Duterte's term. The image bore insets showing former presidents Corazon Aquino, Fidel V. Ramos, Joseph Estrada, Gloria Macapagal-Arroyo, and Benigno Aquino III.
The truth is the photo of Freedom Island awash with waste was featured in a July 19, 2016 article of the advocacy group Plastic Pollution Coalition barely two weeks after Duterte assumed the presidency.
But similar photos taken during clean-up drives around the area conducted by environmental organization Greenpeace in 2017, by forest rangers in 2018 and by multiple volunteers in 2019 showed that the plastic pollution on the island continued through his term.
The second photo of a litter-free bay was a Sept. 19, 2020 image originally published on FB by Rappler. A photo of Duterte was overlaid to imply he was responsible for cleaning it up.
Facebook (FB) page Solid Duterte posted the photo collage on Oct.17, the day after the Manila Bay dolomite beach was reopened to the public.
VERA Files Fact Check has previously debunked similar claims using a 2018 photo to mislead netizens. (Read: VERA FILES FACT CHECK: 2018 photo FALSELY described yet again as Manila Bay 'before' Duterte and VERA FILES FACT CHECK: Another 'before vs during Duterte' post MISLEADS with 2018 Manila Bay photo)
The government's decision to create the controversial man-made beach was criticized for wasting government funds amidst the coronavirus-19 pandemic, and for sourcing dolomite from a mountain in Cebu.
The post by SOLID Duterte, which had shared disinformation about other issues in the past, got around 3,100 interactions. A netizen also uploaded the misleading photo on Oct. 16, garnering over 2,300 interactions.
(Editor's Note: VERA Files has partnered with Facebook to fight the spread of disinformation. Find out more about this partnership and our methodology.)
Have you seen any dubious claims, photos, memes, or online posts that you want us to verify? Send us a message here or here.