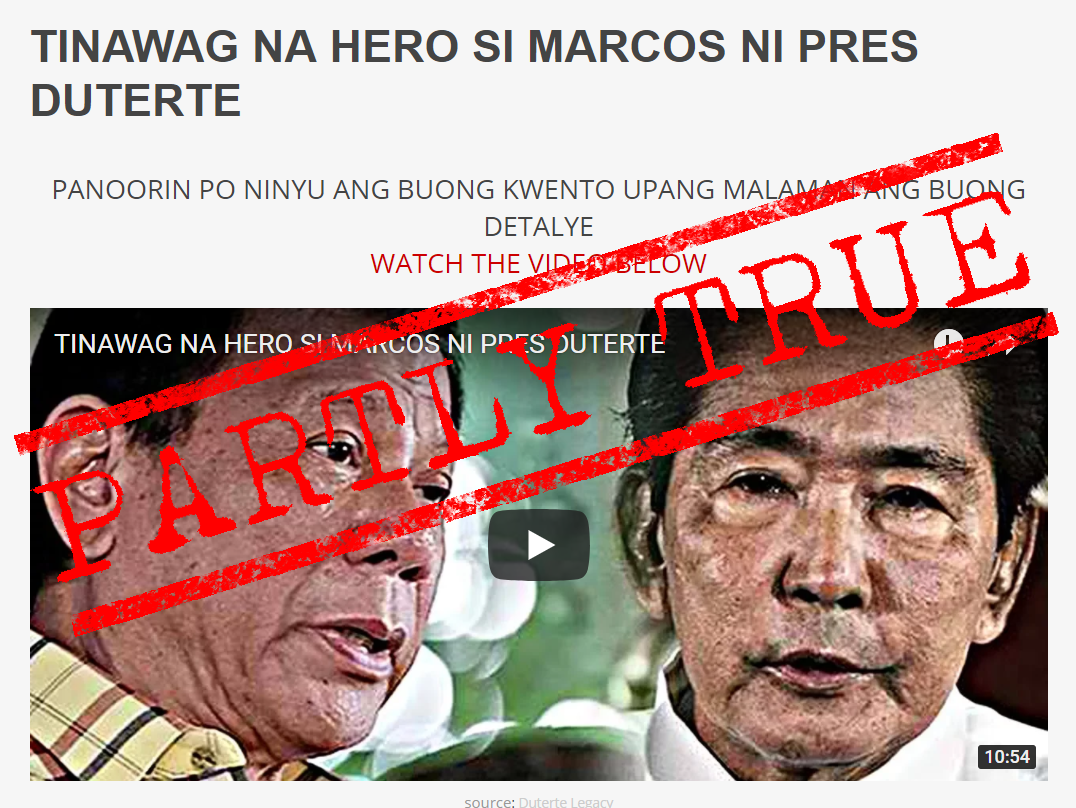 The April 15 story of dutertelegacy.news on President Rodrigo Duterte calling the late President Ferdinand Marcos a "hero" has partly false content.
The article, headlined "Marcos called 'hero' by Pres. Duterte," featured a video by a certain Dante Maravillas of Tarabangan Albay News Television where he quoted Duterte saying Marcos is "a hero to Ilocanos and many Filipinos."
On Sept. 10, 2017, Marcos' 100th death anniversary, Duterte did say: "As far as the Ilocanos are concerned, Marcos is a hero."
In the video, Maravillas ranted against the critics of the dictator and wrongly claimed the Marcoses have no stolen wealth.
The Presidential Commission on Good Government, the agency created to recover the family's ill-gotten wealth, has estimated the value of the family's ill-gotten wealth to be around $5 to $10 billion.
The dutertelegacy.news article was shared by pro-Marcos Facebook page Kilusang Bagong Lipunan, captioned, "Ferdinand Marcos is the true hero and not Ninoy Aquino!"
The story was posted on social media when former President Benigno "Noynoy" Aquino III, son of slain opposition leader Benigno "Ninoy" Aquino Jr., was once again in the news after senators recommended filing graft cases for his alleged involvement in the Dengvaxia vaccine controversy.
Editor's Note: VERA Files has partnered with Facebook to fight the spread of disinformation.