(UPDATED) Several Facebook (FB) pages published a statement attributed to Queen Elizabeth II of Britain, where the monarch supposedly congratulated Ferdinand "Bongbong" Marcos Jr. for winning the presidential elections. It is a satire.
The quote card with the alleged statement, and dated May 11, 2021, read: "Today, I wear red to express my congratulations to the Philippines' President-elect Ferdinand Marcos Jr. I know that he is a good leader. Unfortunately, the oligarchs are destroying his name, and the netizens just keep complaining. Therefore, I can say, Philippines doesn't have the worse governance. It has the worst citizens."
Although posted on May 11, 2022, the date indicated in the fabricated card already raises a red flag since the elections culminated just a few days ago. Further, it bore logos of "horbpQuirer.net" and "HORBP Files," which imitate those of the media organizations Inquirer.net and VERA Files.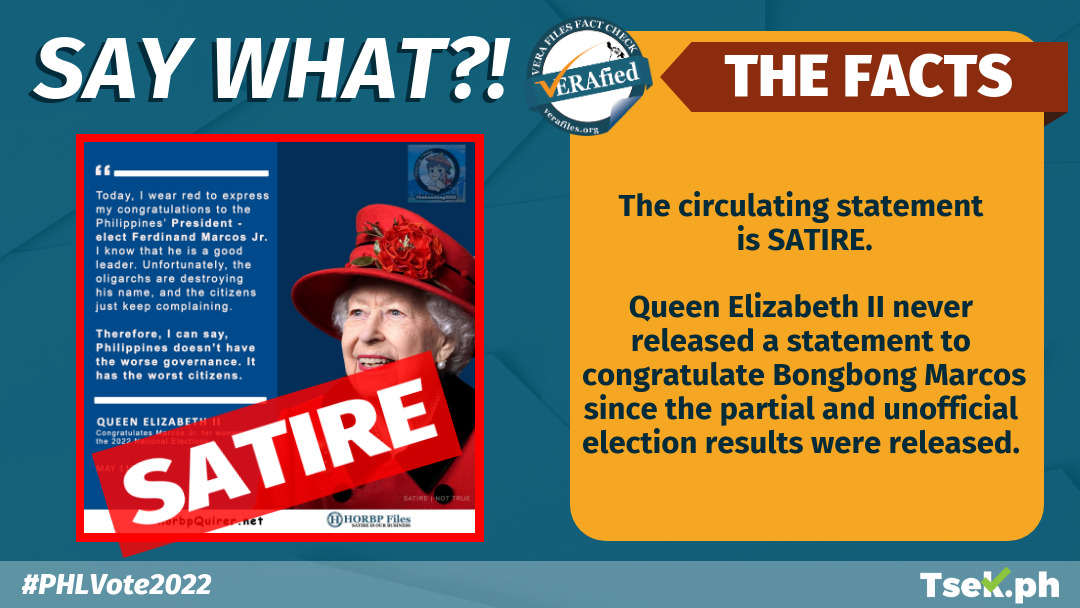 In small print and with letters barely visible are the labels "satire" and "not true" that appear on the lower right corner of the card. Queen Elizabeth never issued such a statement, whether in May 2021, or after the release earlier this week of partial and unofficial vote tallies for the 2022 elections.
The official website of the British monarchy states the Queen must remain strictly neutral with respect to political matters, including sending congratulatory messages to newly-elected heads of state.
In an email message to VERA Files Fact Check on May 14, the British Embassy in Manila made clear that the statement attributed to Queen Elizabeth is erroneous. "Posts claiming that Her Majesty The Queen has released an official statement on the recently-concluded 2022 Philippine National Elections are incorrect," it said. Further, any official statement will only come from verified UK Government accounts.
But the UK Government, through Foreign Secretary Liz Truss, has extended its congratulations to the president-elect via Twitter, and is looking forward to working with the new administration to strengthen bilateral ties.
The quote card was published on May 12 by an FB page managed by Marcos supporters without the satire label, misleading netizens to believe the statement is true. "[M]as mabuti pa Ang ibang lahi nakakaintindi. (Foreigners have a better understanding)," its caption read.
The satirical post appeared a few days after Marcos won by a landslide victory in the presidential race. As of noon of May 12, he received 31 million of the votes, according to the Commission on Elections transparency server that receives electronically transmitted results from vote counting machines.
The satirical statement first appeared on FB group House of Representa-thieves: Butasang Pambulsa (created on Jan. 27, 2021) and was reposted by FB page Solid BBM Supporters (Oct. 8, 2021), FB group Philippine History & Current Events (Aug. 8, 2020) and two other netizens. Collectively these posts have garnered more than 4,020 reactions, 520 comments, and 1,420 shares.
Have you seen any dubious claims, photos, memes, or online posts that you want us to verify? Fill out this reader request form.
(Editor's Note: VERA Files has partnered with Facebook to fight the spread of disinformation. Find out more about this partnership and our methodology.)