A vlogger posted a video with a title incorrectly claiming that outgoing Sen. Francis "Kiko" Pangilinan filed a bill against mis- and disinformation and that he is discrediting social media platforms and bloggers.
On June 8, Facebook page Badong Aratiles posted a video with a title that read: "Kiko Gumawa ng Batas para Proteksyunal [sic] daw sa Mga Misinformation/Disinformation! Patuloy Parin [sic] sa Paninira sa SOCMED at sa mga Bloggers."
(Kiko [Pangilinan] created a law that allegedly protects against misinformation/disinformation! [He] keeps discrediting [social media] and bloggers.)
It is false. The bill the vlogger referred to in the video is actually a Senate resolution filed by Pangilinan and Senate minority leader Franklin Drilon.
There was nothing in the committee report on the resolution where Pangilinan said anything to attack the credibility of vloggers and social media platforms. A Google search and Twitter search also did not show the lawmaker saying anything against them.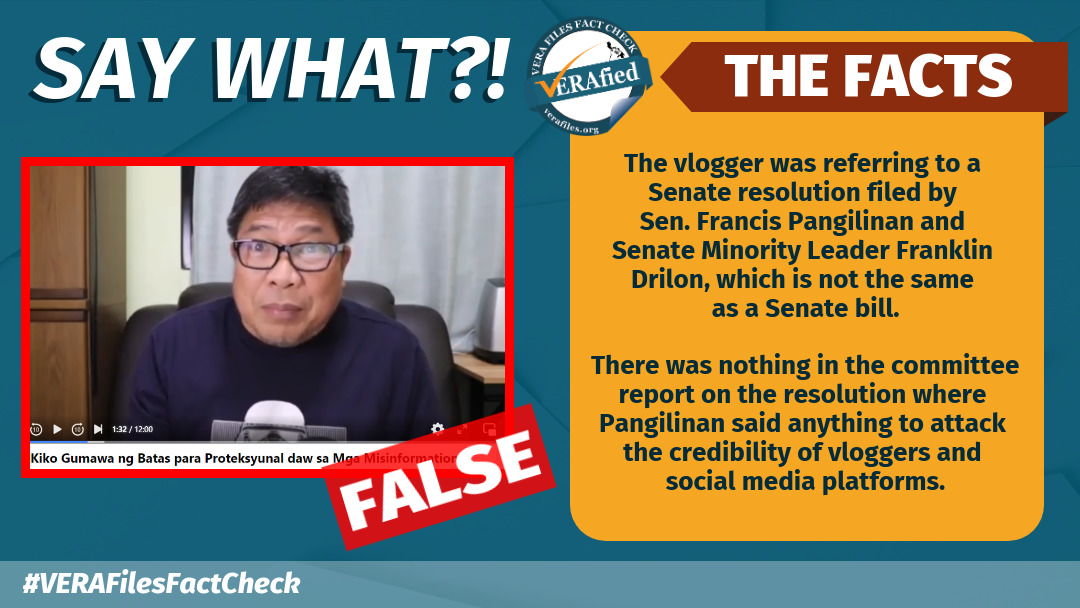 On Nov. 24, 2021, Senators Pangilinan and Drilon filed Senate Resolution No. 953, urging the Senate committee on constitutional amendments to review existing criminal laws amid technological advancements and the rise of new social media platforms.
A Senate resolution, unlike a bill, has "no effect and force of a law" if adopted by the chamber. The Senate's official website states that a resolution calls for congressional action on an issue affecting national interest and is sometimes used to express the Senate's opinion on a particular issue.
The vlogger claimed that Pangilinan filed the resolution to attack bloggers and social media platforms, but Committee Report No. 648 on SR No. 953 stated otherwise.
In the committee report, Sen. Pangilinan said he believes a law is necessary to fight against individuals who abuse the internet "by spreading disinformation, propagating hate speech, and undertaking criminal activities."
Badong Aratiles' false video gained 2,500 reactions, 152 comments, and 31,000 views. It appeared six days after the Senate published on June 2 a press release about the resolution filed by Pangilinan and Drilon.


Have you seen any dubious claims, photos, memes, or online posts that you want us to verify? Fill out this reader request form.
(Editor's Note: VERA Files has partnered with Facebook to fight the spread of disinformation. Find out more about this partnership and our methodology.)