A video circulating online is making claims about the alleged "truth" behind the declaration of Martial Law and another on former senator Benigno "Ninoy" Aquino Jr's supposed ties with communists.
Posted by a TikTok user on May 16 and reshared by FB page Pilipinas Ngayon the following day, the video claims that:
The Communist Party of the Philippines (CPP) conducted several killings and bombings and blamed these on former dictator Ferdinand Marcos Sr.'s administration;

Opposition senator Ninoy Aquino was a member of the CPP; and

The declaration of Martial Law had to undergo approval from Congress.
Not true. Aquino is not a member of the communist party. A Marcos defector revealed the Philippine Army conducted bombings and psyops to blame these on communists and to justify Martial Law. Only the president can declare Martial Law, but Marcos had to hijack Congress to create a new constitution that expanded his powers.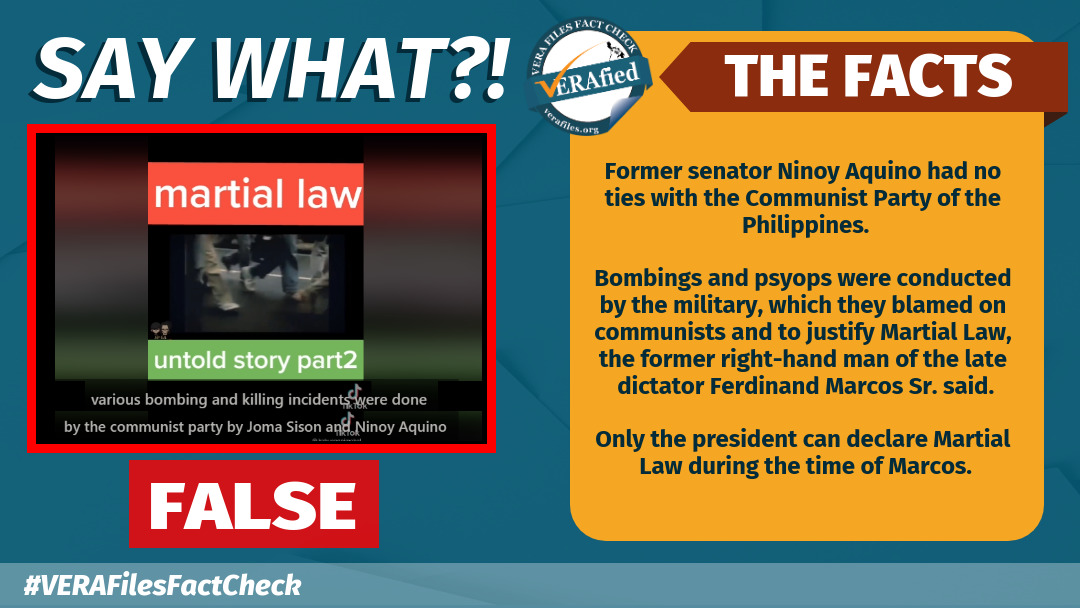 On bombings attributed to "communists"
In his tell-all book Conjugal Dictatorship, Marcos' ex-right hand man Primitivo Mijares said the late dictator hired psy-war experts and the military orchestrated bombings to make it look like the Communists did it.
Mijares, in a 24-page memo, disclosed what he knew about preparations for the implementation of Martial Law:
"Philippine air force infiltrators allegedly lobbed 'heavy explosives in front of the (U.S.) consular offices,' and 'armed forces psychological warfare units conducted bombings on Manila's water system, city hall and the bathroom of the Constitutional Convention,'" Mijares said.
"When a bomb exploded inside a department store, for example, 'a family man who was buying a gift for a child observing its birthday was blown to bits.' A conscience-stricken police sergeant later confessed he had planted the bomb on superior orders," he added.
On Ninoy Aquino being part of the CPP
The claim about Ninoy Aquino being part of the CPP is unproven, and VERA Files Fact Check previously debunked this. CPP founder Jose Maria Sison himself denied the claim, and Aquino was never mentioned in the CPP's history.
Aquino "could not have been a communist or founder of the [CPP]" because he was, among others, "well known as a CIA (Central Intelligence Agency) asset from the time he was a war correspondent in Korea," Sison said.
The CPP founder said Aquino was "not known to be hostile to the NPA," but made clear there was "no formal alliance" between them.
On Martial Law needing congressional approval
Sec. 11 (2) of the 1935 Constitution states only the president has the power to declare Martial Law. It was the working constitution during the term of Marcos.
The late dictator did plant allies in Congress to ensure that the new constitution would be in his favor, according to Raissa Robles' book Marcos Martial Law: Never Again. The 1973 Constitution, which was ratified and implemented as a result, allowed Marcos to:
–  stop any ban on him running for another term;
–  shift from a presidential to a parliamentary form of government; and
–  grant him legislative powers through presidential decrees.
Leyte representative Eduardo Quintero admitted to being bribed, along with his colleagues, to do Marcos' bidding. Robles wrote that Quintero was arrested after the National Bureau of Investigation planted P379,320 during a raid on his house.
The inaccurate video got 106,000 reactions, 8,800 comments, and 1.4 million views on FB, as well as 488,000 views, 30,700 likes, and 1,719 comments on TikTok. It appeared alongside other pro-Marcos disinformation videos appearing on Facebook and Twitter online.
Have you seen any dubious claims, photos, memes, or online posts that you want us to verify? Fill out this reader request form.
(Editor's Note: VERA Files has partnered with Facebook to fight the spread of disinformation. Find out more about this partnership and our methodology.)