Several social media posts are spreading the false claim that Vice President and Education Secretary Sara Duterte-Carpio will scrap the K to 12 education system. 
Posted on Facebook (FB) group random pics from pinterest last June 21, four screenshots of a TikTok video bore the superimposed text: "K-12 tatanggalin na daw gagi na abotan agad ako Ng mga pinsan ko (K-12 to be abolished, damn, my cousins quickly caught up with my [educational level])." The graphic included a photo of Duterte-Carpio and the logo of the news program 24 Oras of GMA.
Two blog posts containing the erroneous claim were also published on June 21 and 27. A brief text in one of them read: "Nakahanda ng tanggalin ng Marcos Admin at ni VP Sara ang K-12 program na ginawa ni PNOY dahil dagdag pasakit lang ito sa magulang at sa estudyante" 
(The administration of [President Ferdinand "Bongbong" Marcos Jr.] and VP Sara are preparing to abolish the K to 12 program created by the [late former President Benigno "Noynoy" Aquino III] because it only added more burden to parents and students.)
Embedded in the spurious website articles are two videos that carried the same untrue claim. One of the headlines read: "JUST IN : FINALLY! APRUBADO NA! PresBBM VPSARA (sic) PINURI ni SEN.RAFFY sa K+12 TAN-GAL NA PRRD BUMILIB (Approved! President Marcos, VP Sara, praised by Senator Raffy [Tulfo] for removing K-12; President Duterte, impressed)"
This claim is untrue. Duterte-Carpio did not say she wanted the K to 12 system abolished but is inclined to conduct a review of its implementation.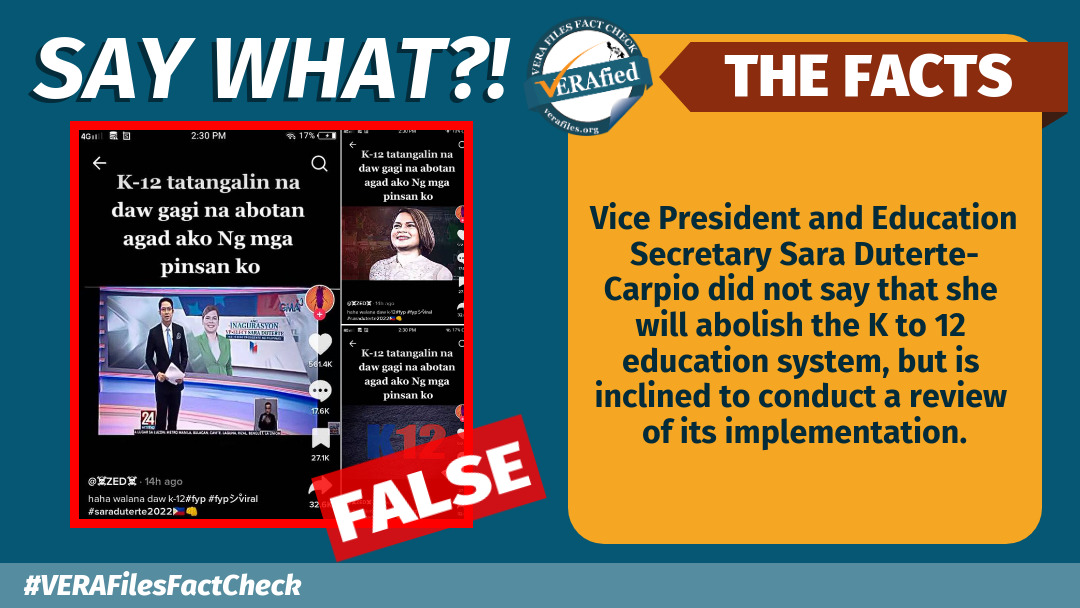 The circulating untrue claim appeared a day after Duterte-Carpio said on June 20: "[Marcos] already gave instructions with regard to the review of the implementation of the K to 12 program of the Department of Education."
Asked about her reaction to teachers and parents' proposal to abolish the K to 12 system, which started in academic year 2012-2013, Duterte-Carpio replied: "That is something na kailangan mapag-usapan (that needs to be discussed). It cannot be decided overnight but initially it is something na napag-usapan namin ni President [Bongbong] Marcos (President Marcos and I talked about)."
The incorrect 21-second TikTok video, which got 5.7 million views, was sourced from a two-and-a-half-minute report by GMA's 24 Oras news program uploaded on June 20. 
The 24 Oras report featured man-on-the-street interviews regarding the abolition of the K to 12 system. There was no mention of Duterte-Carpio saying she favored scrapping the present education system.
The screenshots got over 13,000 reactions in total, 3,000 comments, and 23,000 shares, with most of the comments either pro- or anti- K to 12. The blog posts published by websites Balitang Pinaz and NEWS GLOBAL PH got more than 13,200 interactions. YouTube channels NEWSFILES and BANAT NEWS TV uploaded the videos embedded in the blog posts which collectively received more than 272,000 views.
FB group random pics from pinterest was created on April 4, 2021.
Have you seen any dubious claims, photos, memes, or online posts that you want us to verify? Fill out this reader request form.
(Editor's Note: VERA Files has partnered with Facebook to fight the spread of disinformation. Find out more about this partnership and our methodology.)