A fake quote card attributed to Vice President-elect Sara Duterte-Carpio made it look like she would add two more years to the existing K-12 basic education system. 
The fake graphic is an altered version of a quote card first published on May 15 by Iloilo City-based community paper Daily Guardian that had Duterte-Carpio saying she's "ready to rumble" as education secretary by June 30. 
The social media handles of the Daily Guardian that appear on the bottom of the original image were cropped out.
Baguio Daily Chronicle, a partner of fact-checking coalition Tsek.ph, earlier rated this claim as "partly false."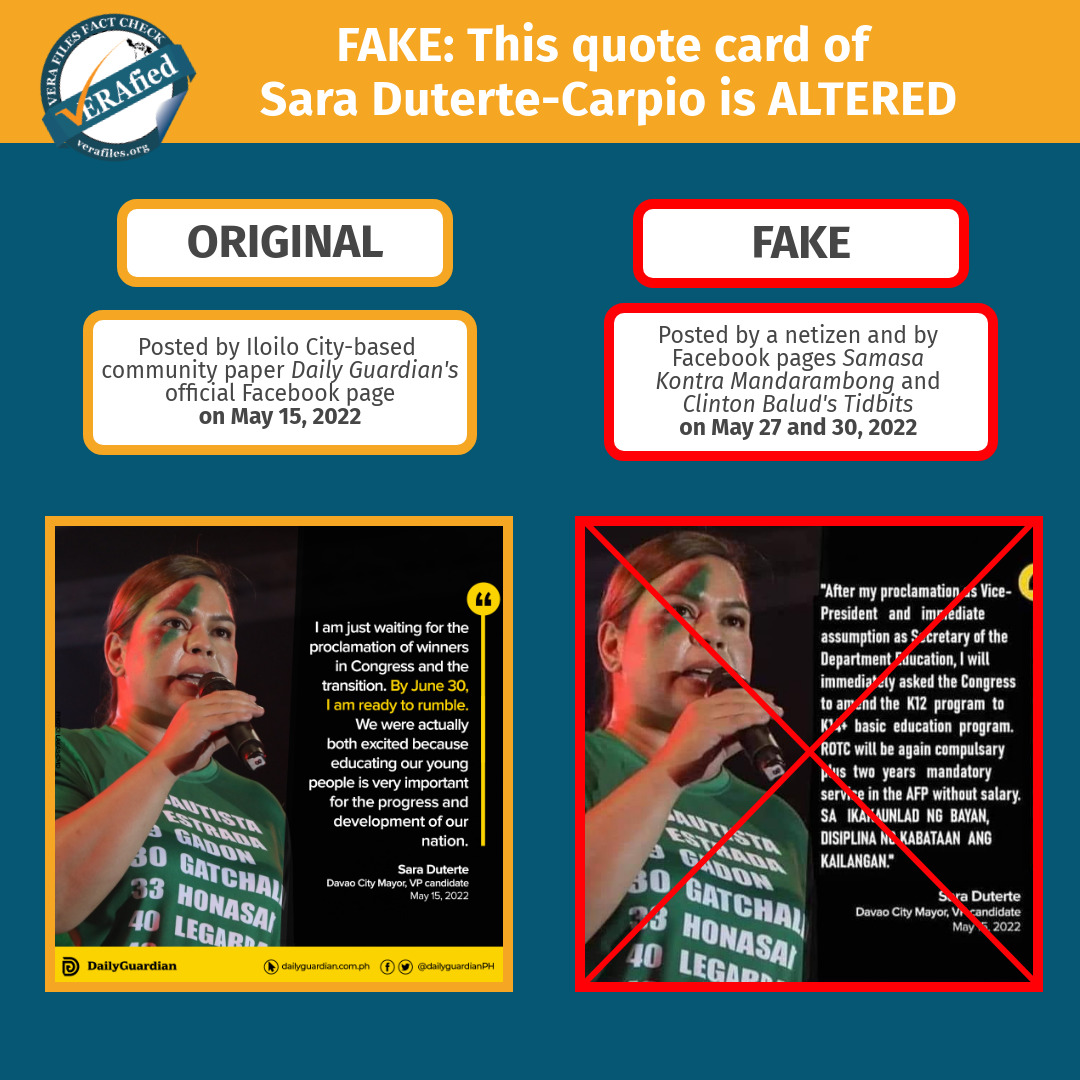 Posted on May 27 by two Facebook (FB) pages and a netizen, the graphic carried spelling and grammatical errors: 
"After my proclamation as Vice-President and immediate assumption as Secretary of the Department Education (sic), I will immediately asked (sic) the Congress to amend the K12 program to K14+ basic education program," the quote read.
"ROTC will be again compulsary (sic) plus two years mandatory service in the AFP without salary."
No news reports came out with Duterte-Carpio saying these statements. A cursory search on Google reveals that the first quote on K-12 is based loosely on a press statement from a senator, while the second quote twisted what the vice president-elect said last January.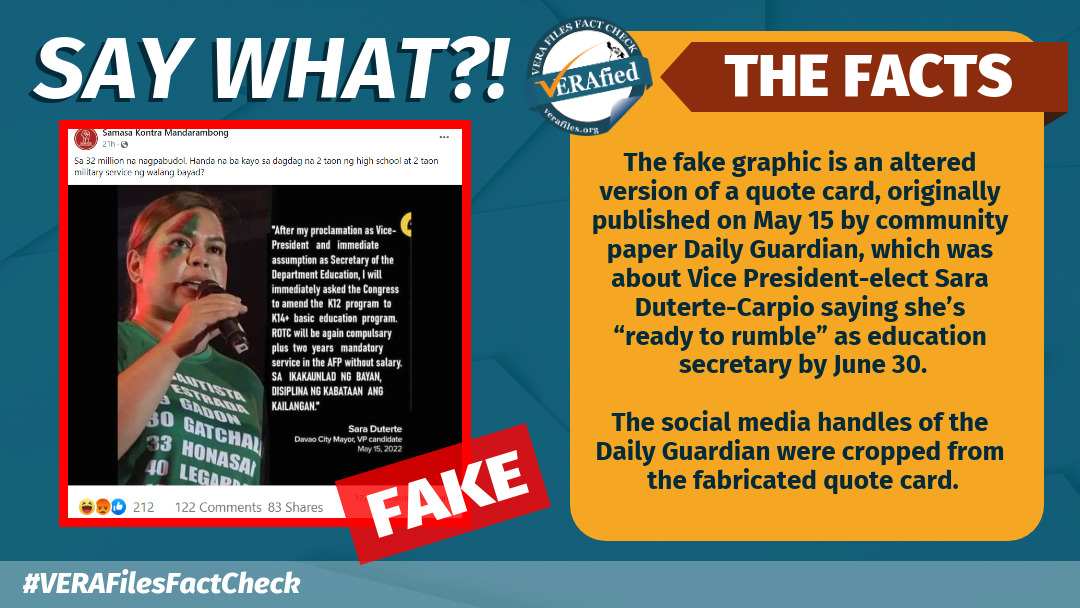 Duterte-Carpio never said anything about adding two more years to the K-12 program or implementing a K14+ education system. The fabricated quote misinterpreted what Senator Sherwin Gatchalian said in a May 12 press release, which read:
"Gatchalian said [Duterte-Carpio] has political capital to ensure that much needed reforms in the education sector–including a review of the K to 12 system–will be implemented."
The second statement about Duterte-Carpio wanting mandatory implementation of Reserve Officers Training Corps (ROTC) training is misleading. During a Jan. 19 Manila virtual caravan, the Davao City mayor said: 
"Gagamitin ko po ang aking opisina sa Office of the Vice President para po kausapin ang ating (I will use my [position] at the Office of the Vice President to talk to our) Congress, both the House of Representatives and the Senate of the Philippines, to make military service for all 18-year-olds, both male and female, mandatory in our country.
"Hindi po ROTC lang na isang subject, o isang weekend, o isang buwan sa isang taon. Dapat po lahat ng ating 18-year-olds… (It will not be ROTC that's just one subject, or [conducted on] a weekend, or a month of a year. All our 18-year-olds)… you will be given a subsidy, you will be asked to serve our country doon sa (in the) Armed Forces of the Philippines." 
The made-up graphic was published by FB pages Samasa Kontra Mandarambong (created in April 9, 2016)  and Clinton Balud's Tidbits (created on Dec. 14, 2016) on May 30 and May 27, respectively, garnering a total of 753 interactions. It was also shared by a netizen on May 27, getting a total of 181 interactions.
Have you seen any dubious claims, photos, memes, or online posts that you want us to verify? Fill out this reader request form.
(Editor's Note: VERA Files has partnered with Facebook to fight the spread of disinformation. Find out more about this partnership and our methodology.)