Several Facebook (FB) pages circulated a blog link claiming Vice President and Education Secretary Sara Duterte-Carpio has ordered the scrapping of the K to 12 education system. This is false. 
First posted on Jan. 14, the blog link carried the headline: 
"GOODNEWS! MATlNDlNG UTOS DEPED K 12 ni PNOY BUBUWAGIN PIRMADO NA (SEVERE ORDER PNOY'S DEPED K 12 WILL BE ABOLISHED ALREADY SIGNED)!" 
The thumbnail featuring images of Duterte, President Ferdinand "Bongbong" Marcos and late president Benigno "Noynoy" Aquino bore the same claim.
Also flashed throughout the video was the text: 
"TAGUMPAY NA! BIGLAAN UTOS NI VPSARA DUTERTE PAHIRAP NA K-12 TINUL DOKAN NA SAWAKAS (SUCCESS! SUDDEN ORDER OF VP SARA DUTERTE, BURDENSOME K-12 ALREADY ENDED FINALLY)!" 
These claims are false. There are no reports of Duterte-Carpio signing an order to terminate the K to 12 program.
It is not the first time that VERA Files Fact Check debunked this claim. (Read related story Claim that Sara Duterte will abolish K to 12 FALSE)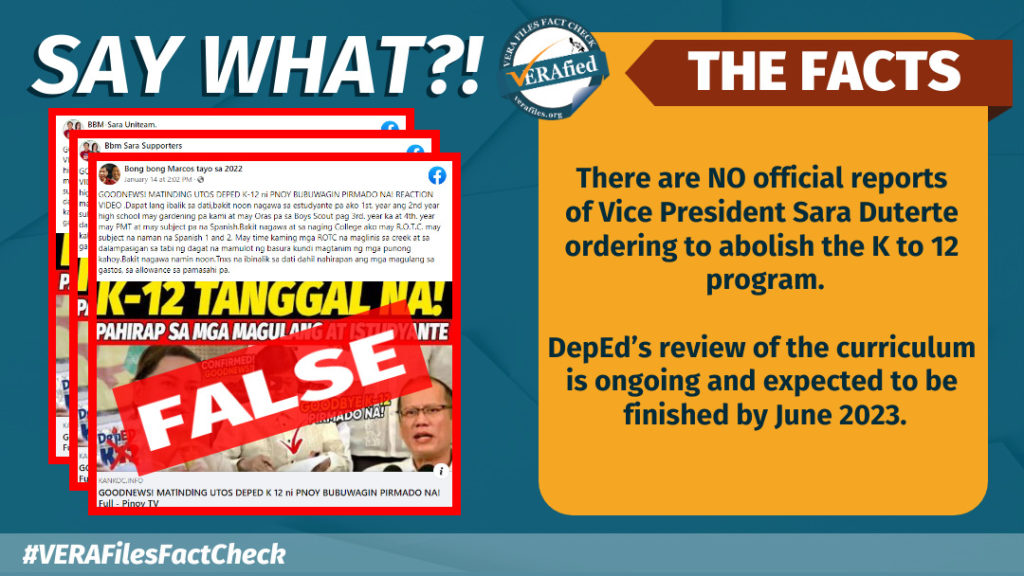 The video content shows a vlogger reacting to a clip published by YouTube channel BANAT NEWS TV, which is notorious for publishing political disinformation.
Contrary to the claim of the circulating video that the basic education program has been "scrapped," the narrator said the program had been "revised" and that military service would replace the last two years of senior high.
This is also not true. The Department of Education (DepEd) has yet to formulate a revised program.
The reaction video came out four days after palace press briefer Daphne Oseña Paez said DepEd "will be presenting a revised K to 12 curriculum for basic ed on Jan. 30."
An official from the Office of the Press Secretary later clarified that DepEd would be presenting the Basic Education Report 2023 to Marcos, not the revised K to 12 program. The report will only "include updates on the ongoing review" of the curriculum expected to be finished by June 2023. 
Duterte-Carpio previously said that abolishing the system "needs to be discussed" and "cannot be decided overnight." In July 2022, the vice president said Marcos gave DepEd one year to "give a final answer" about the program. 
At least 60 public posts carried the blog link with the domain name KANKOC.INFO garnering 1,253 interactions, according to the social media monitoring tool CrowdTangle. FB pages such as Bong bong Marcos tayo sa 2022 (created on Oct. 24, 2021), BBM-Sara Uniteam. (Sept. 5, 2022) and Bbm Sara Supporters (Sept. 5, 2022) were among those that shared the link. 
The reaction video from the YouTube channel XCREW (created on Mar. 18, 2014) garnered 86,614 views, while the original video by BANAT NEWS TV (Dec. 26, 2015) got 317,457 views.
Have you seen any dubious claims, photos, memes, or online posts that you want us to verify? Fill out this reader request form or send it to 'VERA, the truth bot' on Viber.
(Editor's Note: VERA Files has partnered with Facebook to fight the spread of disinformation. Find out more about this partnership and our methodology.)