Following weeks of heated discussions on the request of the Office of the Vice President (OVP) and Department of Education (DepEd) for confidential funds, Vice President Sara Duterte said she has given it up to end the divisiveness it has generated.
This is misleading.
STATEMENT
On Nov. 9, the OVP issued a statement on its official Facebook page which reads:
 "The Office of the Vice President can only propose a budget to support the safe implementation of our programs, activities, and projects to alleviate poverty and promote the general welfare of every Filipino family.

Nonetheless, we will no longer pursue the Confidential Funds. 

Why?

Because this issue is divisive, and as the Vice President, I swore an oath to keep the country peaceful and strong."

Sara Z. Duterte

Vice President of the Philippines

Secretary of the Department of Education
Source: Office of the Vice President official Facebook account, The Office of the Vice President can only propose… (archive), Nov. 9, 2023
FACT
On the same day, however, Duterte, while reiterating her decision to "no longer pursue" the request for confidential funds, asked the senators that the amount be reallocated instead to the DepEd's National Learning Recovery Program.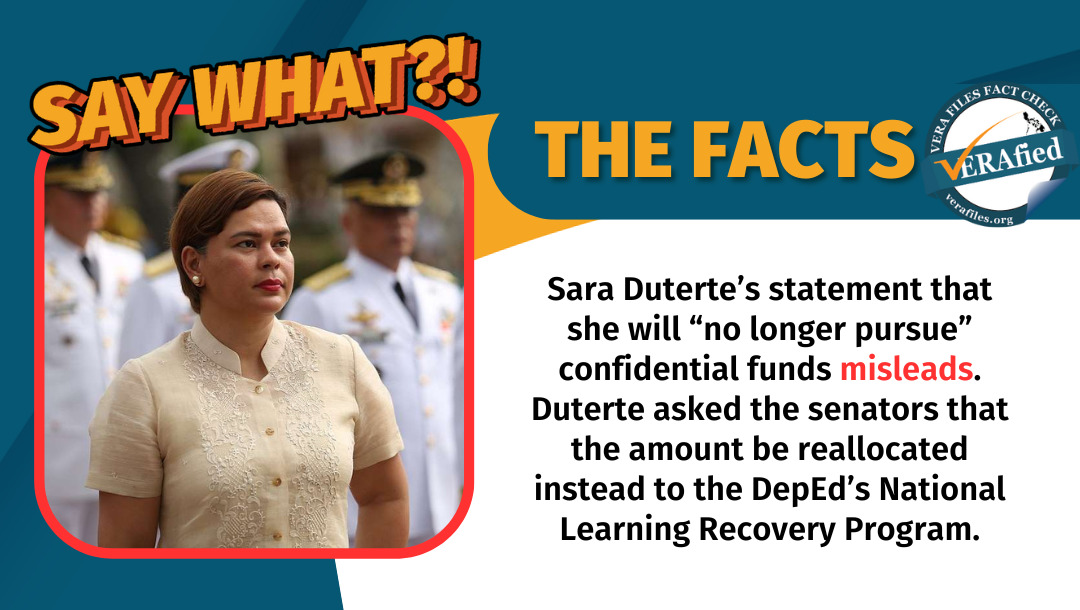 The House of Representatives had removed P1.23 billion confidential funds of five civilian agencies, including the OVP's P500 million and DepEd's P150 million, from the P5.768 trillion proposed budget for 2024 and distributed the amounts largely to agencies involved in protecting the West Philippine Sea.
During the Senate plenary deliberation on the DepEd proposed budget of P758.6 billion for 2024, Sen. Pia Cayetano, who sponsored it, read Duterte's statement, which said in part:
"We humbly request the funds be realigned to the National Learning Recovery Program because we do not expect good scores for the 2022 PISA results coming out this December."
Source: Senate of the Philippines, Senate Session No. 30, Nov. 9, 2023
The Organisation for Economic Co-operation and Development (OECD) conducts the Programme for International Student Assessment (PISA) every three years to evaluate the knowledge and skills of 15-year-old students globally in reading, mathematics and science.
While PISA has been assessing students' competencies internationally since 2000, the Philippines first participated in 2018, ranking the lowest in reading and second-lowest in science and mathematics among 79 countries. PISA is scheduled to release the 2022 scores for all participating countries on Dec. 5.
(See VERA FILES FACT SHEET: Bakit kailangan ang confidential at intelligence funds? and VERA FILES FACT SHEET: Ano ba talaga, Sara?) 
Have you seen any dubious claims, photos, memes, or online posts that you want us to verify? Fill out this reader request form.
Sources 
On the House removing confidential and intelligence funds from five gov't agencies in the proposed 2024 budget
CNN Philippines,

Zero confidential funds in 2024 budget for OVP, DepEd, DICT, DA, DFA

, Oct. 10, 2023

Inquirer.net,

OVP, DepEd, 3 other offices lose P1.2B in secret funds

, Oct. 11, 2023

GMA News Online,

House strips OVP, four other agencies of confidential funds

, Oct. 10, 2023
On PISA Rankings
(Guided by the code of principles of the International Fact-Checking Network at Poynter, VERA Files tracks the false claims, flip-flops, misleading statements of public officials and figures, and debunks them with factual evidence. Find out more about this initiative and our methodology.)