A video erroneously claiming that the Ninoy Aquino International Airport (NAIA) has reverted its name to the Manila International Airport (MIA) has been circulating online via Facebook. The FB posts came out a day before the 39th death anniversary of the opposition leader.
On Aug. 20, a video appeared on social media sites with the headline: "YES! PINALITAN NA! (Renamed!) NAIA TO MANILA INTERNATIONAL AIR PORT! PRES. BBM IDOL RAFFY SARA DU30! GOODNEWS!"
Text superimposed from the 3:30 mark of the nine-minute video read: "Gadon questions legality of 33-year old law renaming MIA to NAIA"
There was no evidence supporting this claim in the video. Instead, it merely showed the opinion of netizens on the proposal to revert NAIA to MIA and the 2020 press conference of lawyer Larry Gadon on his petition to nullify the law that changed the name of the international airport.
The 19th Congress has yet to pass any measure seeking to rename the international gateway where former senator Aquino was assassinated on Aug. 21, 1983 and after whom the airport was renamed years later.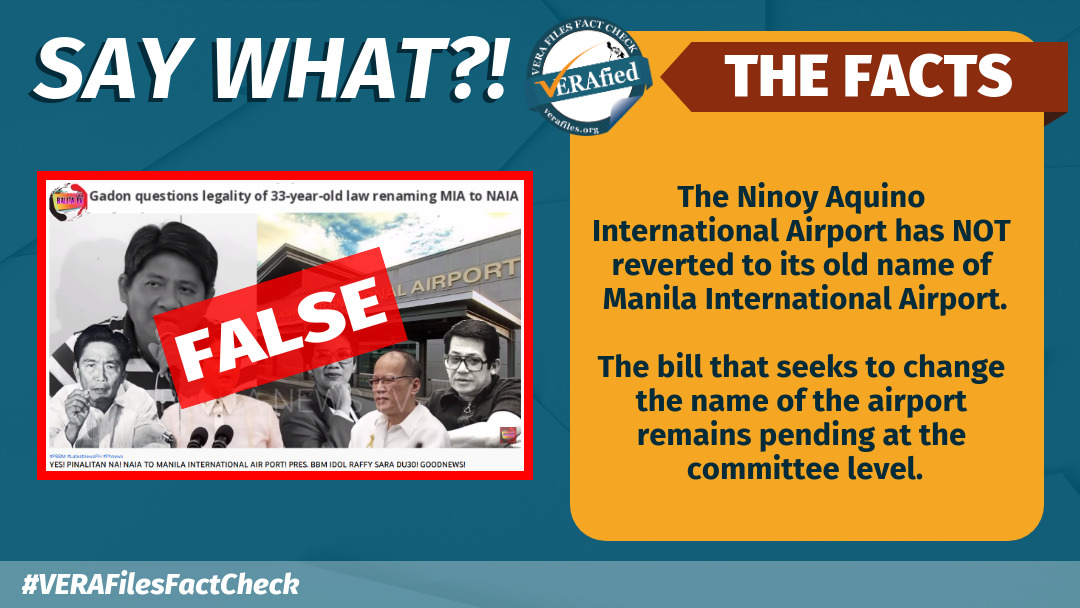 In July, Duterte Youth party-list Rep. Ducielle Cardema refiled the bill for the name change. It remains pending with the House committee on transportation.
The Supreme Court subsequently junked the Gadon petition in September 2020 due to "lack of merit." (Read VERA FILES FACT CHECK: NAIA will NOT be renamed Manila Int'l Airport)
VERA Files Fact Check has debunked this false claim several times. (Read VERA FILES FACT CHECK: NAIA NOT being renamed Manila Int'l Airport and VERA FILES FACT CHECK: Gadon has NOT succeeded in petition to rename NAIA)
YouTube Channel BALITA NEWS TV (created on Jan. 4, 2020) first published the video. The Facebook pages Philippine News TH (May 6, 2020), Philippines Trendinh News TH. (May 20, 2020) and Trending Viral (May 18, 2020) followed. Their videos have collectively garnered more than 1,600 reactions, 590 comments, 200 shares and 62,800 views.
Have you seen any dubious claims, photos, memes, or online posts that you want us to verify? Fill out this reader request form.
(Editor's Note: VERA Files has partnered with Facebook to fight the spread of disinformation. Find out more about this partnership and our methodology.)