Multiple Facebook posts are endorsing a "slimming capsule" called Lishou, which claims to be a doctor-recommended supplement that can effectively remove fat within one week.
It is a false claim. Lishou is not on the Food and Drug Administration's (FDA) official list of verified food and drug products. Both the United States and Australia have warned consumers against using similarly-named products which contain a substance that may cause heart issues.
To encourage netizens to inquire about, and buy the product, the posts' headline read: "Magpadala ng mensahe 50% diskwento (Send a message [for a] 50% discount)." The headline does not mention the dietary supplement's supposed cost.
Rappler has debunked a similar false claim.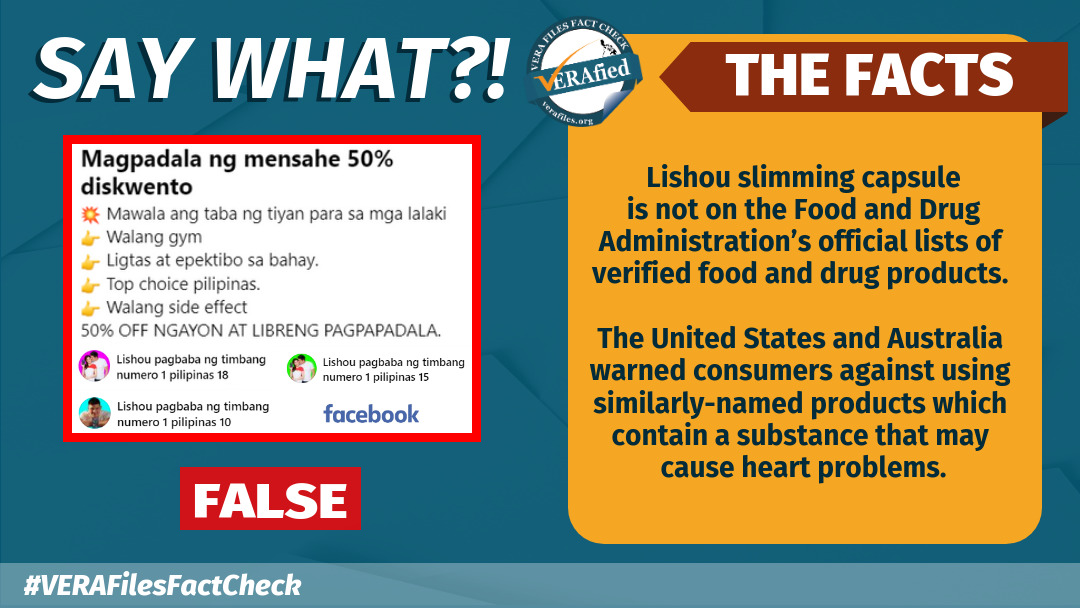 The Philippine FDA previously flagged a capsule and  coffee named "Lishou," advising healthcare professionals and the general public not to purchase and consume such unregistered products.
Both the United States FDA and Australia's Therapeutic Goods Administration (TGA) have flagged products named "Lishou" for containing sibutramine, an appetite suppressant discontinued in several countries for causing a higher risk of cardiovascular conditions.
Products containing sibutramine are not allowed in the Philippines, according to FDA Memorandum Circular No. 2010-019.
Weight loss involves several lifestyle changes such as incorporating more fruits and vegetables in the diet, reducing one's calorie intake, and doing more exercise, according to the United Kingdom's National Health Service, U.S. National Institutes of Health (NIH) 's National Library of Medicine, and the U.S. Department of Health and Human Sciences. 
There is little scientific evidence that weight-loss products work effectively. Many are expensive, some can interfere with medications, while a few may be harmful, the U.S. NIH's Office of Dietary Supplements stated. 
A total of 11 FB pages titled Lishou pagbaba ng timbang numero 1 pilipinas featured the same fake video, garnering a total of 615,000 views.
Have you seen any dubious claims, photos, memes, or online posts that you want us to verify? Fill out this reader request form.
(Editor's Note: VERA Files has partnered with Facebook to fight the spread of disinformation. Find out more about this partnership and our methodology.)