The Ninoy Aquino International Airport (NAIA) is not getting a name change any time soon, but a bogus story that claims otherwise is again making the rounds among thousands of netizens. VERA Files Fact Check debunked a similar claim last month.
The false report currently circulating was published on March 18 by the blog News Global PH (newsglobalph.blogspot.com) with the title, "JUST IN : RENAME ng NAIA TO ng MANILA INTERNATIONAL AIRPORT APRUBADO NA / MGA DILAW4N NA-IYAK (NAIA rename to Manila Int'l Airport approved / Yellows cried)!!"
But its content — a video uploaded the same day by YouTube channel BANAT NEWS TV furthering the untrue claim — merely talks about a four-year-old change.org petition calling for a reversion to the name Manila International Airport (MIA).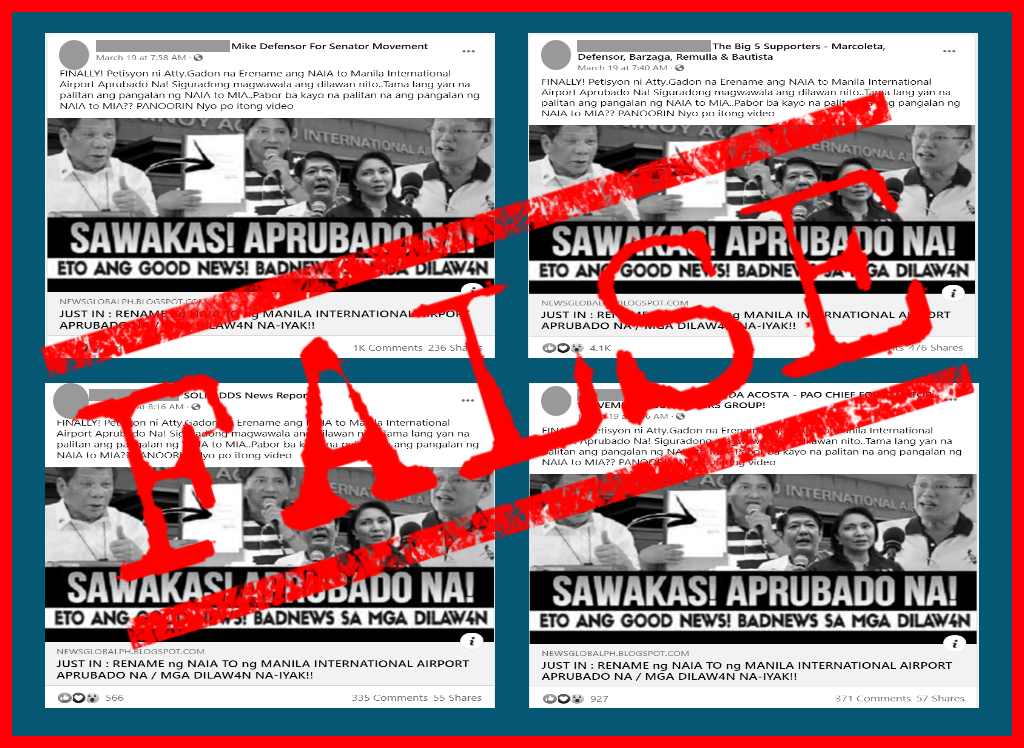 Several FB users who shared the false report wrote a caption alleging that a petition by lawyer Larry Gadon for the name-change "has been approved."
This is also not true; Gadon's motion was dismissed by the Supreme Court in September 2020 for lack of merit.
The changing of the airport's name may only be done through a presidential decree or an act of Congress. One such bill has been filed at the House of Representatives under the current 18th Congress and it remains pending at the committee level.
The narrator of YouTube channel BANAT NEWS TV's video, which has gotten 213,000 views, had a script similar to the video of YouTube channel Showbiz Fanaticz disproved by VERA Files in February. (See: VERA FILES FACT CHECK: NAIA NOT being renamed Manila Int'l Airport)
Blog News Global PH's false post got over 19,100 FB interactions and could have reached almost 1.1 million people, according to social media monitoring tool CrowdTangle. Its top traffic generators were the public groups The Big 5 Supporters – Marcoleta, Defensor, Barzaga, Remulla & Bautista, Mike Defensor For Senator Movement, and Rodante Marcoleta for Senator.
BANAT NEWS TV was created in December 2015.
(Editor's Note: VERA Files has partnered with Facebook to fight the spread of disinformation. Find out more about this partnership and our methodology.)