Showbiz Fanaticz, a YouTube channel that repeatedly churns out disinformation, posted on Feb. 13 a video spuriously claiming that a motion to revert the name of Ninoy Aquino International Airport (NAIA) to Manila International Airport (MIA) has been approved.
The video's title read: "BREAKING NEWS: Rename ng NAIA to ng MANILA INTERNATIONAL AIRPORT APRUBADO NA| NOYNOY AQUINO NAIYAK (Breaking News: Renaming NAIA to Manila International Airport now approved | Noynoy Aquino brought to tears)!"
This is not true. No presidential decree has been issued, nor a congressional act approved, to make the name change.
Such legislation is required under the National Historical Commission of the Philippines' revised guidelines on the naming and renaming of streets, public schools, plazas, buildings, bridges and other public structures.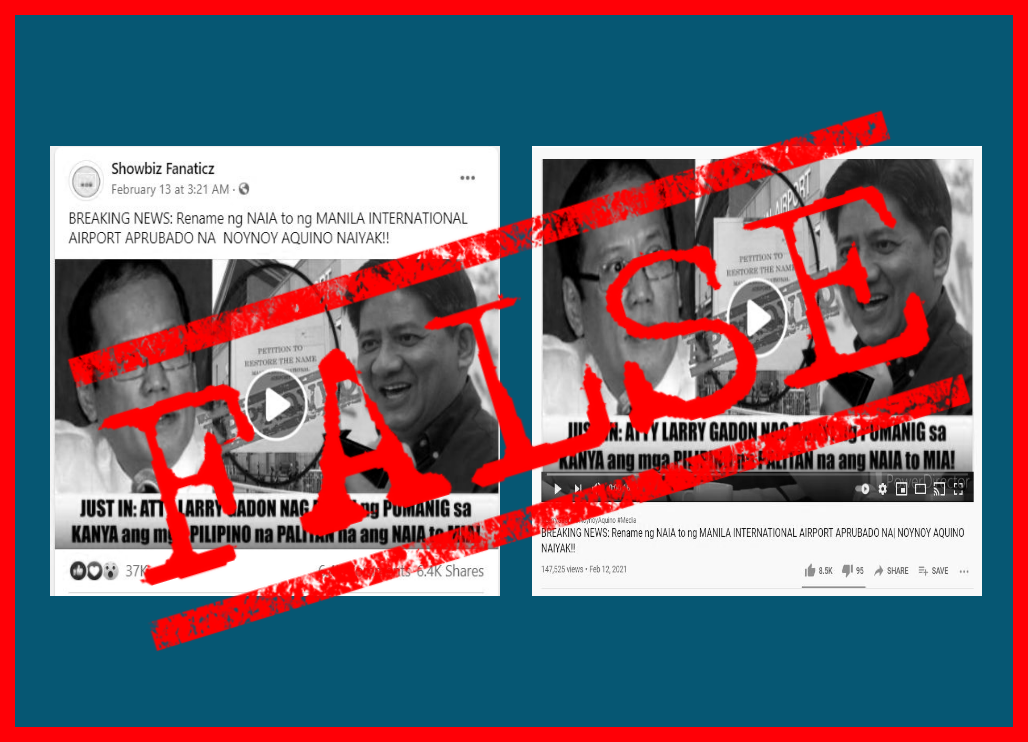 The main international gateway was originally called Manila International Airport but was renamed Ninoy Aquino International Airport in 1987 in honor of the former opposition leader who was shot dead on the tarmac on his return from exile four years earlier. The renaming was made under Republic Act 6639.
Lawyer Larry Gadon filed in August last year a petition to nullify RA 6639 but this was junked by the Supreme Court for "lack of merit," as reported by multiple news organizations. His bid to restore the old name of the airport began in 2017.
In addition, Reps. Eric Yap, Paolo Duterte and Lord Allan Velasco filed House Bill No. 7031 on June 25, 2020, which proposes to change NAIA's name to Pandaigdigang Paliparan ng Pilipinas (International Airport of the Philippines). It remains pending with the House Committee on Transportation since July 28, 2020.
To support its false claim, Showbiz Fanaticz's six-and-a-half-minute video cited a similar signature campaign on change.org, which has more than 142,000 digital signatures as of posting. It also carried a three-and-a-half-minute video originally uploaded by Inquirer.net's YouTube page in May 2018, that shows Gadon explaining the reason behind his petition.
VERA Files Fact Check debunked a similar claim on the airport rename back in 2018. (See: VERA FILES FACT CHECK: NAIA will NOT BE RENAMED Manila Int'l Airport soon)
The latest false video emerged four days after the Department of Transportation's official Facebook (FB) page on Feb. 9 reported about Transportation Secretary Arthur Tugade's inspection of a newly-built taxiway and a rehabilitated and upgraded runway at NAIA.
Showbiz Fanaticz's video got more than 147,000 views on YouTube and 5,250 total FB interactions. The YouTube channel's FB page has also reposted the false clip, which got 37,000 reactions, 6,400 comments, and 6,400 shares on the platform. It could have reached 2.8 million people according to social media monitoring tool CrowdTangle.
Gadon's official FB page also shared Showbiz Fanaticz's video, which earned it another 5,600 reactions, 450 comments and 300 shares.
Showbiz Fanaticz's YouTube channel was created in November 2017, its FB page in July 2020.
(Editor's Note: VERA Files has partnered with Facebook to fight the spread of disinformation. Find out more about this partnership and our methodology.)