Another video erroneously claiming that President Rodrigo Duterte has approved the renaming of the Ninoy Aquino International Airport (NAIA) is being shared on Facebook (FB) again.
VERA Files Fact Check debunked a similar claim earlier this month and in previous months.
The falsehood has been promoted by different groups for nearly three years now.
President Duterte has not talked about renaming the NAIA in his speeches, nor has he signed any official order approving it. Congress has yet to pass the bill proposing to rename NAIA to "Pandaigdigang Paliparan ng Pilipinas (Philippine International Airport).The latest false video was posted by YouTube channel BANAT NEWS TV on Aug. 3 with the title, "JUST IN : FINALLY! APRUBADO na (now approved)! PRES DUTERTE RENAME ng (of) NAIA to MIA PALITAN na (change it now)! TULFO YAP GOODNEWS!"
But its main content — which was from an interview of ACT-CIS Rep. Eric Yap with radio broadcaster Ben Tulfo a year ago — merely talks about the congressman's reason for filing a bill to rename NAIA.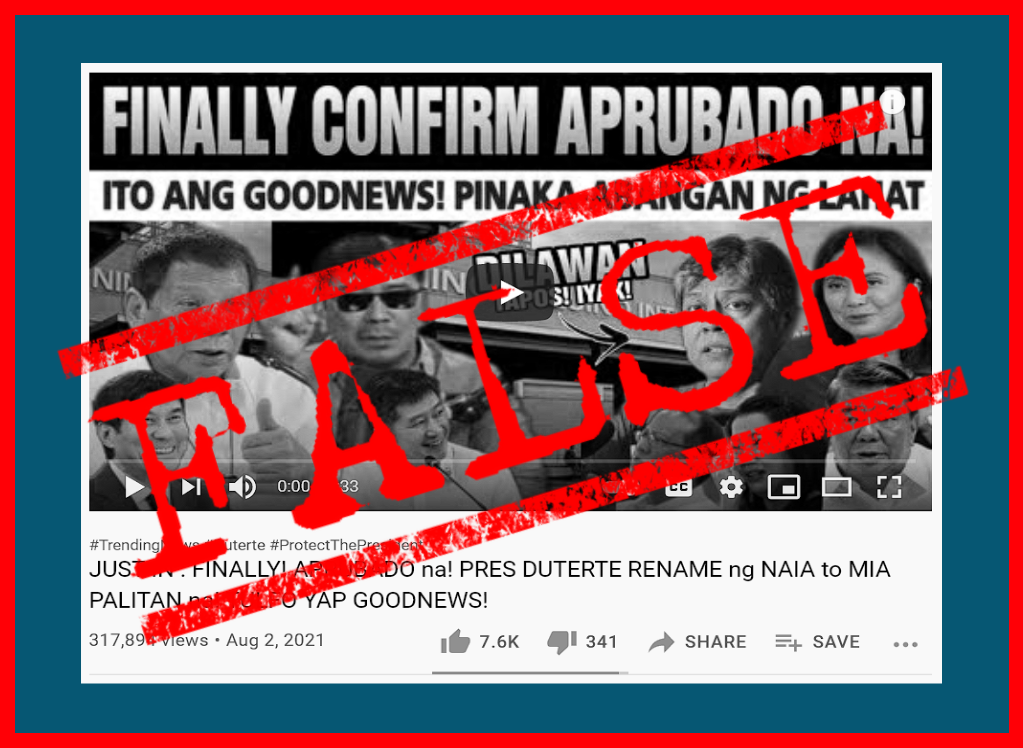 During a 14-minute, June 29, 2020 interview on Tulfo's radio show BITAG LIVE, Yap told Tulfo he and two other congressmen wanted to change NAIA's name to improve the airport's image and to "return it to the Filipino people."
The airport was formerly known as the Manila International Airport but was renamed after opposition leader Benigno "Ninoy" Aquino Jr., who was killed at its tarmac on his arrival from self-exile in the United States in 1983.
In June 2020, House Bill No. 7031 was filed by Yap, Davao City 1st District Rep. Paolo Duterte, and incumbent House Speaker Lord Allan Velasco. It remains pending at the committee level.
Only a law passed by Congress or a presidential decree can enact the renaming of the public airport.
The erroneous video got nearly 317,800 views on YouTube, and was embedded in an article of website NEWS GLOBAL PH.
Garnering nearly 9,000 total interactions on Facebook according to social media monitoring tool CrowdTangle, the video emerged four days after masses were held on July 30 to commemorate the 40th day of former president Benigno "Noynoy" Aquino III's death.
VERA Files Fact Check has debunked three other claims on the renaming of the airport.
BANAT NEWS TV was created in December 2015.
(Editor's Note: VERA Files has partnered with Facebook to fight the spread of disinformation. Find out more about this partnership and our methodology.)