A YouTube channel that has repeatedly published falsehoods is making a bogus claim that United States (U.S.) President Joe Biden "praised" President Rodrigo Duterte's infrastructure projects. It also claims the media does not publish articles about the said projects. This is false.
The untrue post was published by YouTube channel PH BREAKING NEWS on Aug. 3, titled "KAKAPASOK LANG (Just in): BREAKING! GOODNEWS PRES DUTERTE PINA-BILIB PATI ANG NETIZENS AT AMERIKA SA NAGAWA (Pres. Duterte amazes netizens and America with his achievements)."
Its thumbnail showed an image of Biden edited to look like he was giving Duterte a thumbs up and saying: "Galing mo Digong (You're great, Digong)!" In its background was a collage of several infrastructure and transportation projects. A reader asked VERA Files Fact Check to look into the veracity of the video's claim.
A cursory search yielded no record from the U.S. government of Biden saying he was impressed by the Duterte administration's infrastructure initiatives.
There are likewise no international nor local media reports that reflect Biden's supposed praise for his Philippine counterpart.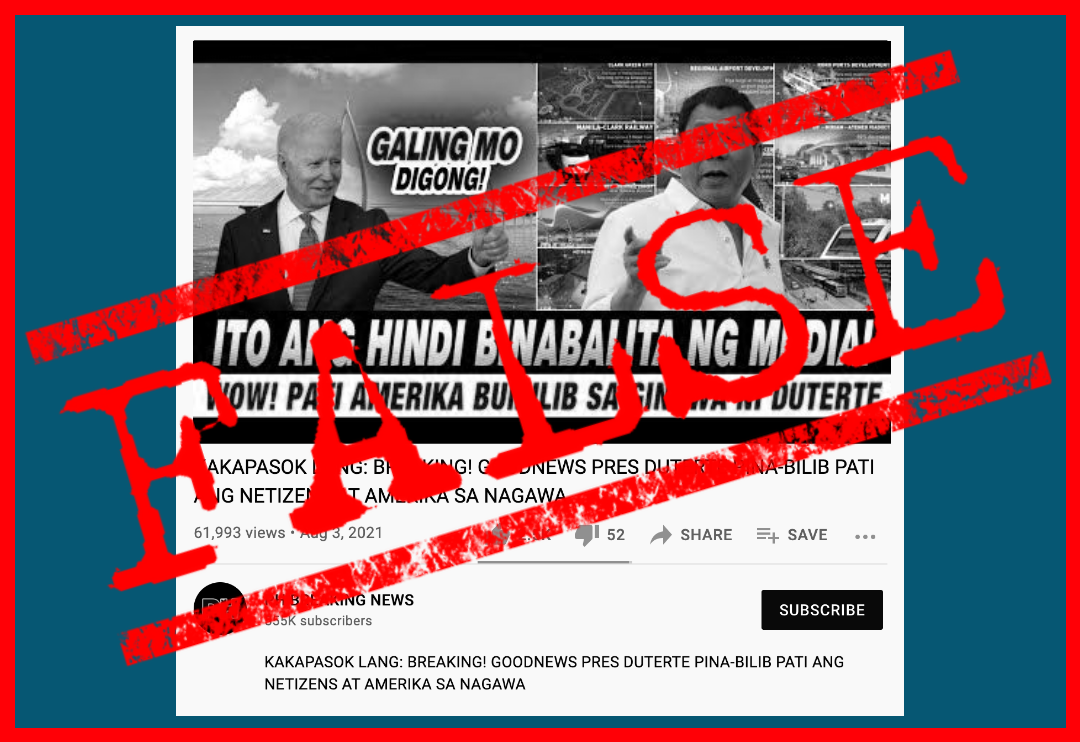 The 16-minute video's content did not support the claim in its headline and thumbnail. It only spliced together clips from two different videos. Some clips were from a 57-minute documentary posted on July 25 by state-owned People's Television Network titled, "5 Years After, Daan Daang Pag-Asenso (A Lot of Accomplishments)."
A longer part of the video featured Public Works and Highways Secretary Mark Villar discussing projects constructed under the administration's flagship program Build, Build, Build. The clip was lifted from Duterte's Aug. 2 Talk to the Nation address.
The YouTube channel was also wrong in claiming in its thumbnail that the media "does not report" on the infrastructure projects of Duterte. A keyword search on the official websites of various media organizations in the country return numerous stories on Build, Build, Build:
The spurious YouTube video was published the same day three million doses of the Moderna COVID-19 vaccine donated by the U.S. arrived in the Philippines and was welcomed by Duterte himself. Five days earlier, the president met with U.S. Defense Secretary Lloyd Austin to discuss U.S.-Philippine ties.
The false Youtube video has been viewed over 72,000 times by netizens. Two Facebook posts carrying the video's link were also published in public groups Rodante Marcoleta for Senator and Inday Sara Duterte for President Movement, collectively receiving around 1,800 reactions, 190 comments, and 340 shares.
PH BREAKING NEWS, a self-proclaimed news channel, joined Youtube in July 2013.
(Editor's Note: VERA Files has partnered with Facebook to fight the spread of disinformation. Find out more about this partnership and our methodology.)