A 14-minute clip making the rounds on social media claiming that the United States (U.S.) "begged" President Rodrigo Duterte to restore the Visiting Forces Agreement (VFA) is not true.
The circulating video was headlined, "JUST IN BALITA (News) : FIRST TIME in HISTORY! AMERIKA NAGMAKA AWA! GRABE ANG LUPIT TALAGA NI PRES. DUTERTE (America pleaded, Pres. Duterte really is tough)." It was published on Aug. 5 by the YouTube channel PH NOW and Facebook page Pinoy Today.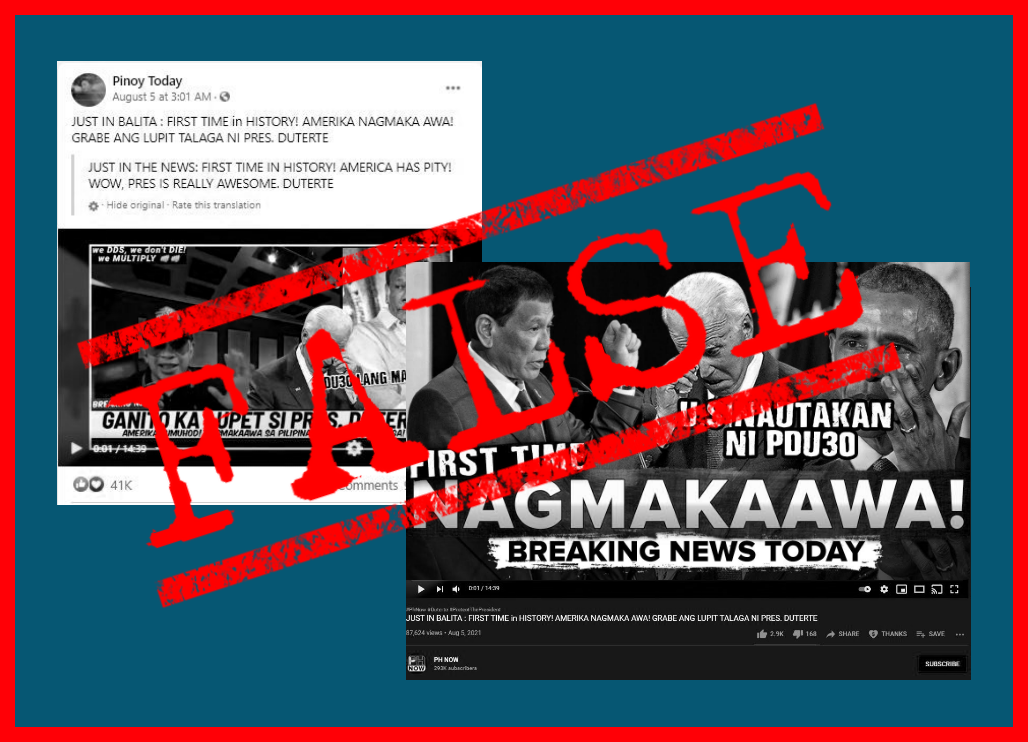 But its content only showed an excerpt of an Aug. 4 video by pro-Duterte vlogger Banat By, who said Duterte used the VFA as "leverage" to get the U.S. to send COVID-19 vaccines to the Philippines.
The VFA is a bilateral agreement between the country and the U.S. to allow American military and civilian personnel to temporarily stay in the Philippines for training and other official activities. (See VERA FILES FACT SHEET: The Visiting Forces Agreement, explained)
After the US cancelled the visa of Sen. Ronald de la Rosa in January 2020 because of his role in the government's drug war when he was chief of the Philippine National Police, Manila informed Washington it was terminating the VFA. But this was suspended that June for further study and in December, Duterte put the U.S. "on notice," telling the superpower to deliver 20 million vaccines against the coronavirus disease 2019 (COVID-19) or else they "better get out" of the country.
Last July 30, the president recalled the abrogation of the agreement following a meeting with U.S. Defense Secretary Lloyd Austin III. (See VERA FILES FACT CHECK: Duterte recalls termination of VFA with US following vaccine donations)
On Aug. 2, Duterte said he kept the agreement as a "concession" to the U.S.' vaccine donations. "Give and take lang tayo… I conceded the continuance of the Visiting Forces Agreement." The vaccine donations arrived shortly after.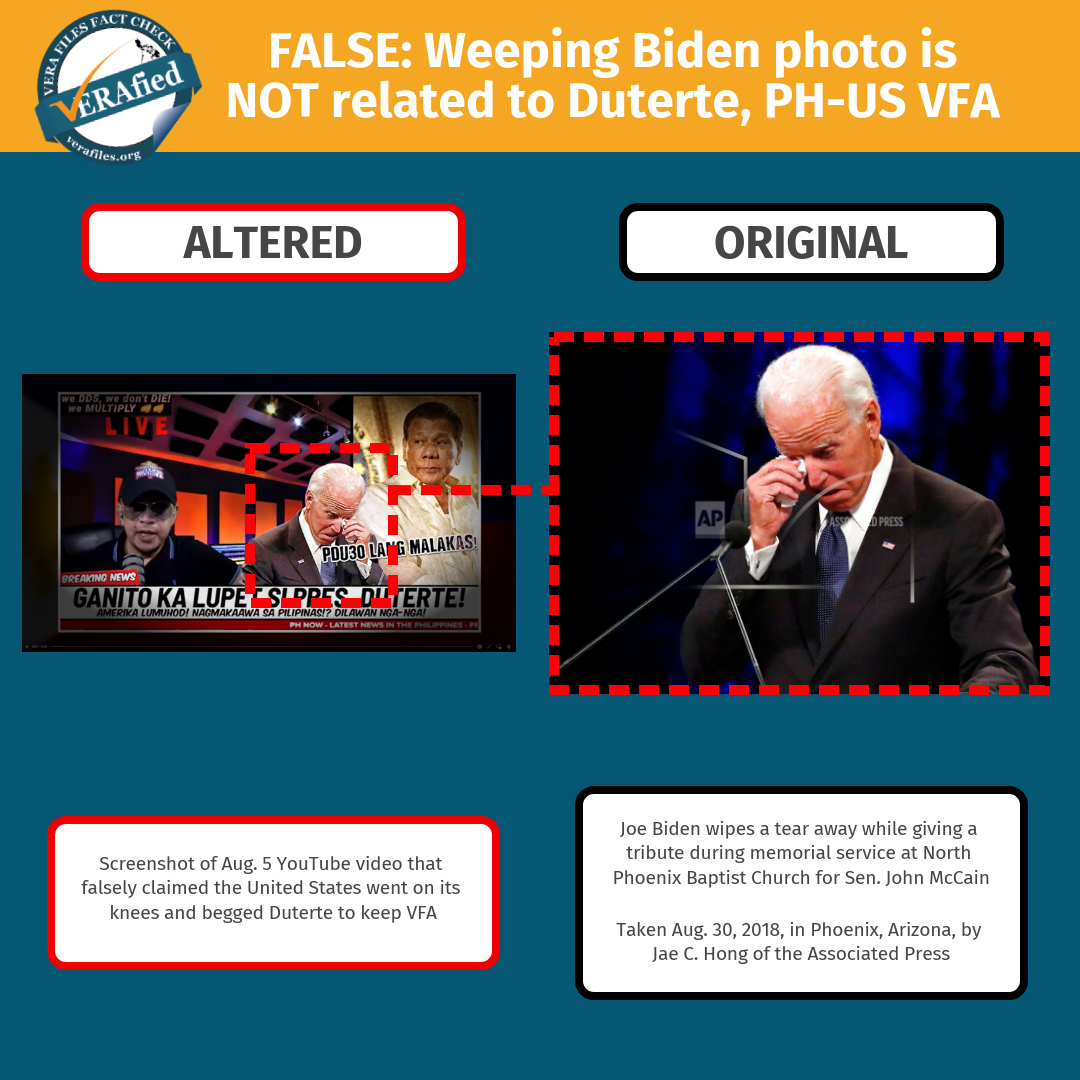 Throughout the video, the YouTube channel and FB page showed a flipped image of U.S. President Joe Biden as he was crying, next to an image of Duterte. But Biden's image had nothing to do with Duterte, the Philippines or the VFA.
Taken by Associated Press photographer Jae C. Hong on Aug. 30, 2018, the photo showed Biden wiping away his tears while giving a tribute during the memorial service for the late U.S. senator John McCain.
The video also carried a news ticker-type of graphic with text, "Ganito ka lupet si Pres. Duterte! Amerika lumuhod! Nagmamakaawa sa Pilipinas!? Dilawan nga-nga! (This is how tough Pres. Duterte is! America kneeled! Begged the Philippines?! Yellows speechless)."
The video emerged two days after three million Moderna vaccines from the US arrived in the Philippines.
PH Now was created on July 31, 2016. Its video has over 118,000 views. Pinoy Today created on June 15, 2020. Its video obtained over 42,000 reactions, 805,000 views, and nearly 10,000 shares.
(Editor's Note: VERA Files has partnered with Facebook to fight the spread of disinformation. Find out more about this partnership and our methodology.)