A Facebook (FB) page has made a misleading claim that the United States was impressed with President Rodrigo Duterte over a certain accomplishment, but a video clip it posted did not support this.
The video posted on Aug. 8 by DU30 News Live carried the headline: BREAKING NEWS AUGUST 8, 2021: MALACANANG UNITED STATES BUMILIB SI DUTERTE LANG NAKAGAWA NG GANITO SA PILIPINAS (Malacañang, United States impressed; only Duterte was able to this in the Philippines)". There was nothing in the video that substantiated the claim.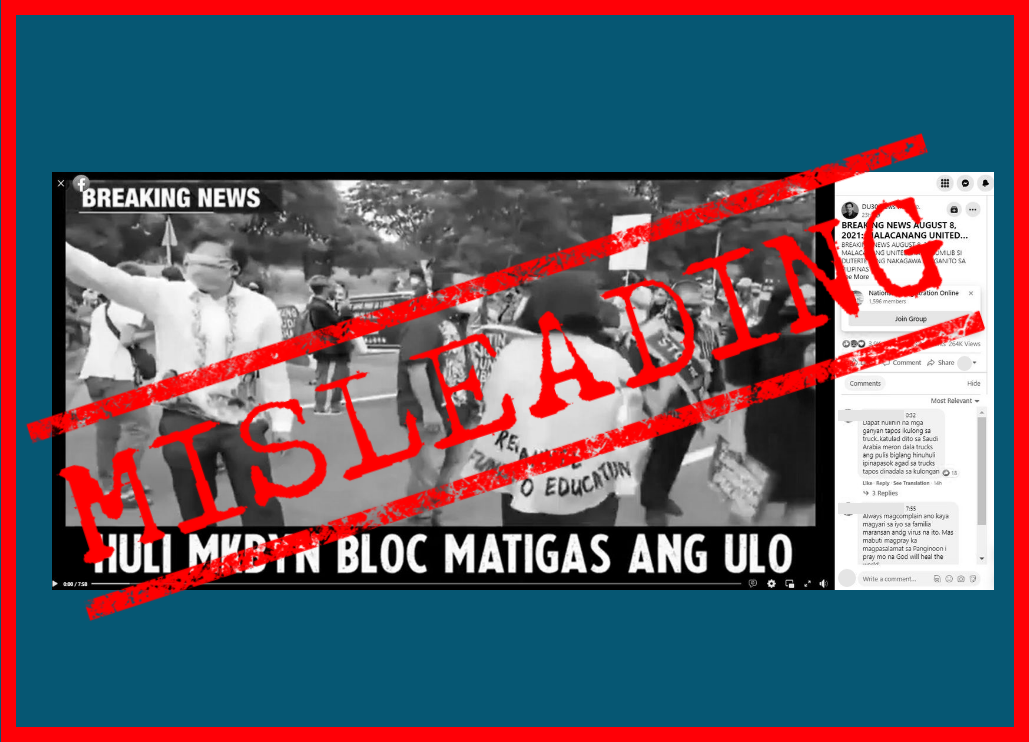 The video did not even mention the United States but instead featured an unrelated clip from a July 26 interview with Philipine National Police (PNP) Chief Guillermo Eleazar on PTV about security plans for the State of the Nation Address (SONA) later that day.
There has been no recent comment from any US official on a supposed achievement by Duterte.
The video appeared a week after Duterte reinstated the Visiting Forces Agreement (VFA) with the US, which he had earlier revoked. He said the decision to keep the pact was a concession out of gratitute for Washington's donation of COVID-19 vaccines. (SEE VERA FILES FACT CHECK: Duterte recalls termination of VFA with US following vaccine donations)
Relations between the two longtime allies have soured the past few years as US lawmakers criticized the government's handling of its war on drugs, while Duterte warmed up to China.
But it may be recalled that Duterte told reporters in December 2016 that then newly elected US president Donald Trump, in a phone call, praised his anti-drug campaign, saying it was being done "the right way." Months later, they had another phone coversation where Trump again congratulated him for "a great job" he was doing.
DU30 News Live's video was viewed over 314,000 times.
The page, created on October 6, 2018, is followed by 78,577 FB users.
(Editor's Note: VERA Files has partnered with Facebook to fight the spread of disinformation. Find out more about this partnership and our methodology.)