A false claim about Ferdinand "Bongbong" Marcos Jr.'s victory in the 2016 vice presidential elections that had been repeatedly debunked found its way again in a video posted on May 5 by Facebook (FB) page Rodante Marcoleta Live.
The erroneous post claimed that President Rodrigo Duterte and Solicitor General Jose Calida announced Marco's win in a video tagged as breaking news. It read: "JUST IN BALITA (news): FINALLY! PRES DUTERTE CONFIRM! si MARCOS ang NANALO HINDI si ROBREDO ([Bongbong] Marcos won, not [Leni] Robredo) – JOSE CALIDA."
This is false. Marcos has not won the vice presidency, and neither Duterte nor Calida has confirmed it. The Supreme Court (SC)'s decision to dismiss Marcos' election protest against vice president Leni Robredo for "lack of merit" is valid.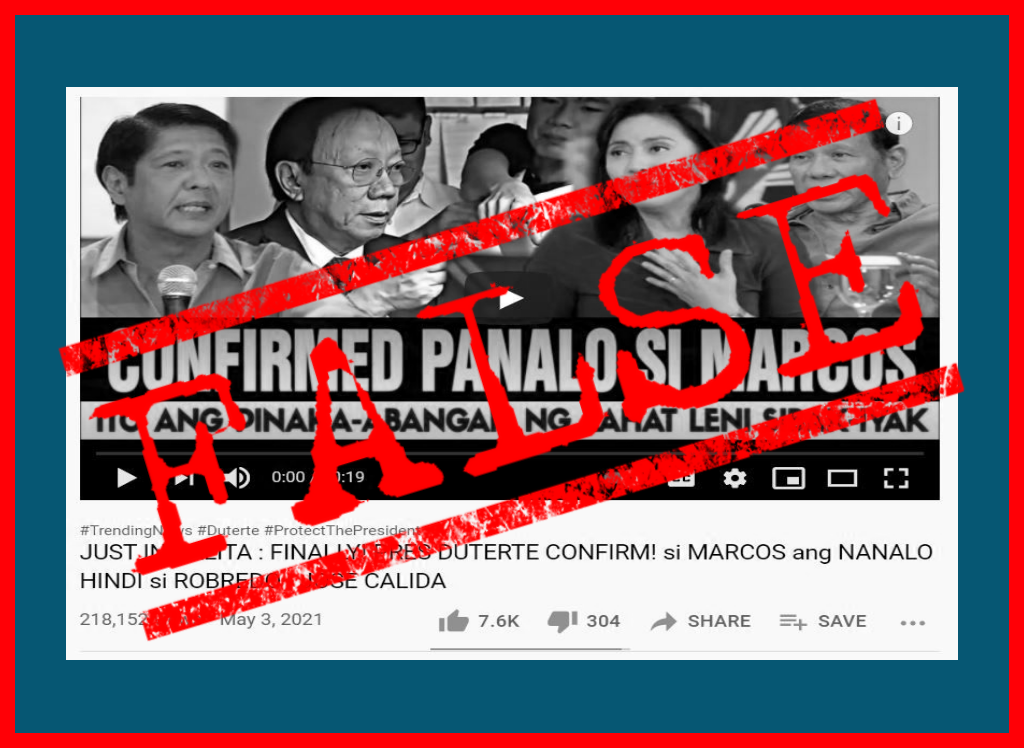 VERA Files Fact Check has repeatedly debunked such claims in March and April 2021, and in December 2020.
To support the incorrect claim, the video flashed almost the entirety of an October 2020 Manila Times article as read by a male voice over.
The news report was about the solicitor general confirming that the SC, acting as the Presidential Electoral Tribunal, had the power to honor the third cause of action in Marcos' election protest by annulling votes or declaring failure of elections in three Mindanao provinces. No part of the article was about Calida announcing Marcos' victory over Robredo.
A clip by YouTube channel Showbiz Fanaticz, which used the same article to spread the same false claim, was uploaded in November 2020.
The spurious video then mentioned that Jeff Ortega, the Region 1 Director of the Department of Tourism, addressed Marcos as "vice president." This happened, however, when he was introducing the former senator during an event back in October 2020.
In response to the SC's decision, Marcos announced that his election protest is still alive. He filed last May 12 a motion for reconsideration asking the PET to set aside the dismissal of his election protest and to annul votes in Maguindanao, Lanao del Sur, and Basilan over claims of fraud and terrorism.
Rodante Marcoleta Live's video got 13,200 likes, 2,400 comments, and 4,600 shares on FB, while an earlier copy uploaded by YouTube channel BANAT NEWS TV got 218,000 views and nearly 1,700 FB interactions.
Netizens continue to share and comment on the video a week after its upload. Some have praised God for letting Marcos win finally, while others called it a "kwentong barbero (made-up tale)".
Rodante Marcoleta Live was created in September 2020, BANAT NEWS TV in December 2015.
(Editor's Note: VERA Files has partnered with Facebook to fight the spread of disinformation. Find out more about this partnership and our methodology.)