A satirical quote attributed to Sen. Imee Marcos, where she addressed the issue of cocaine use by her brother, Bongbong, while hurling an insult at the person who indirectly accused him of drug use, is making the rounds online.
The Nov. 19 graphic carried a photo of Imee and a quote that appeared directed at President Rodrigo Duterte for his innuendo about a presidential aspirant who uses cocaine. It was published with the text "Satire MemesHor."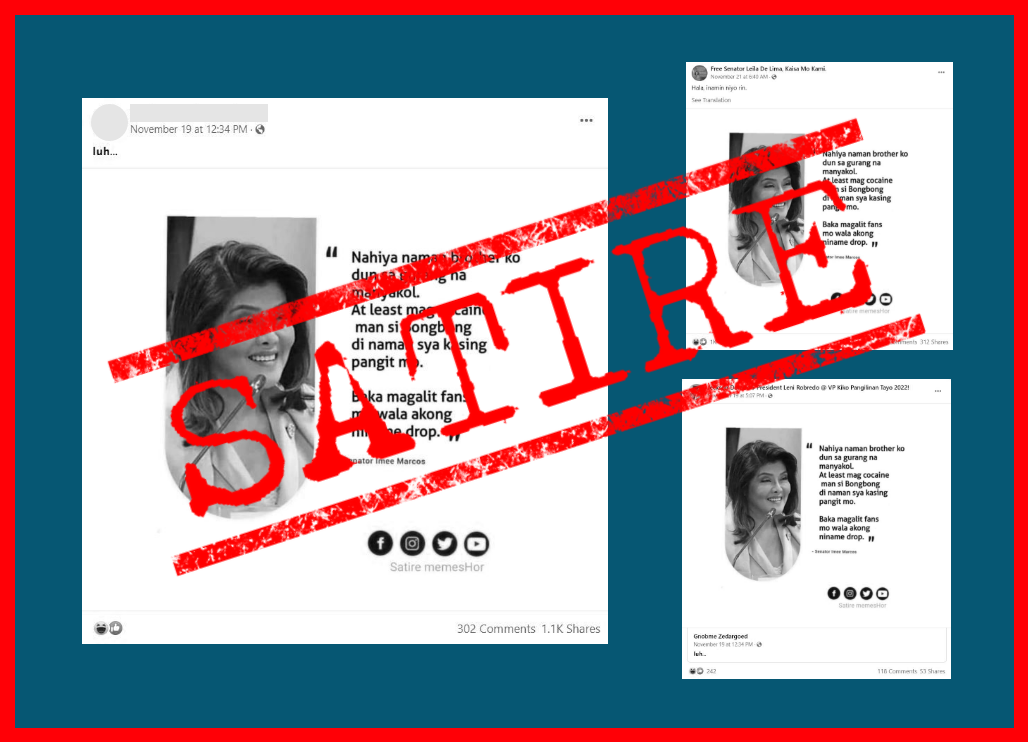 It said: "Nahiya naman brother ko dun sa gurang na manyakol. At least mag cocaine man si Bongbong, di naman sya kasing pangit mo. (My brother was shamed by that old maniac. At least if Bongbong is into cocaine, he's not as ugly as you)."
While a handful of netizens commented that it was a satire, and a few called it 'fake news,' others believed the post and said Duterte's accusation was true after all. Some said a fight was brewing between the Marcoses and the Dutertes.
In an off-script rant during a speech at a public event last Nov. 18, Duterte said the candidate who uses cocaine is from a wealthy family and is popular because of his father, prompting speculations he was referring to Bongbong Marcos, who is eyeing the presidency.
Since then, two other fabricated quote cards exploiting the issue have spread online, deceiving netizens (See VERA Files Fact Check: Sandro Marcos quote card on Duterte's cocaine blind item is FALSE and VERA Files Fact Check: Marcos Jr did NOT admit to being an 'addict' nor accuse Duterte siblings of shabu use).
The satirical quote card attributed to Imee was reuploaded by Facebook (FB) page Free Senator Leila De Lima, Kaisa Mo Kami, and had over 300 shares and a thousand reactions. The page, created on Feb. 23, 2017, has at least 10,000 followers.
FB group President Leni Robredo @ VP Kiko Pangilinan Tayo 2022!'s post has over 50 shares and nearly 250 reactions. The public group is joined by 21,000 members. Another personal account uploaded the quote card and had over a thousand shares.
Marcos Jr said on Tuesday that while he didn't feel alluded to by Duterte's statement, he went for a drug test and tested negative.
Have you seen any dubious claims, photos, memes, or online posts that you want us to verify? Fill out this reader request form.
(Editor's Note: VERA Files has partnered with Facebook to fight the spread of disinformation. Find out more about this partnership and our methodology.)