A couple of Facebook (FB) pages and a netizen posted a fabricated quote card showing the eldest son of presidential aspirant Ferdinand "Bongbong" Marcos Jr. condemning President Rodrigo Duterte for allegedly accusing his father of being a "cocaine addict."
The fake graphic published on Nov. 19 showed an image of Ferdinand Alexander "Sandro" Marcos, who is running for Congress as first district representative of Ilocos Norte, with this statement: "You are too much Mr. President! Kung talagang cocaine addict si dad (Bongbong Marcos), bakit di mo sya naisama sa drug matrix mo (If my dad was really a cocaine addict, why was he not included in your drug matrix)? All I can say your war on drugs was a failure like your face."
A cursory search on the Web did not yield any official interview or media report showing the young Marcos making such a statement.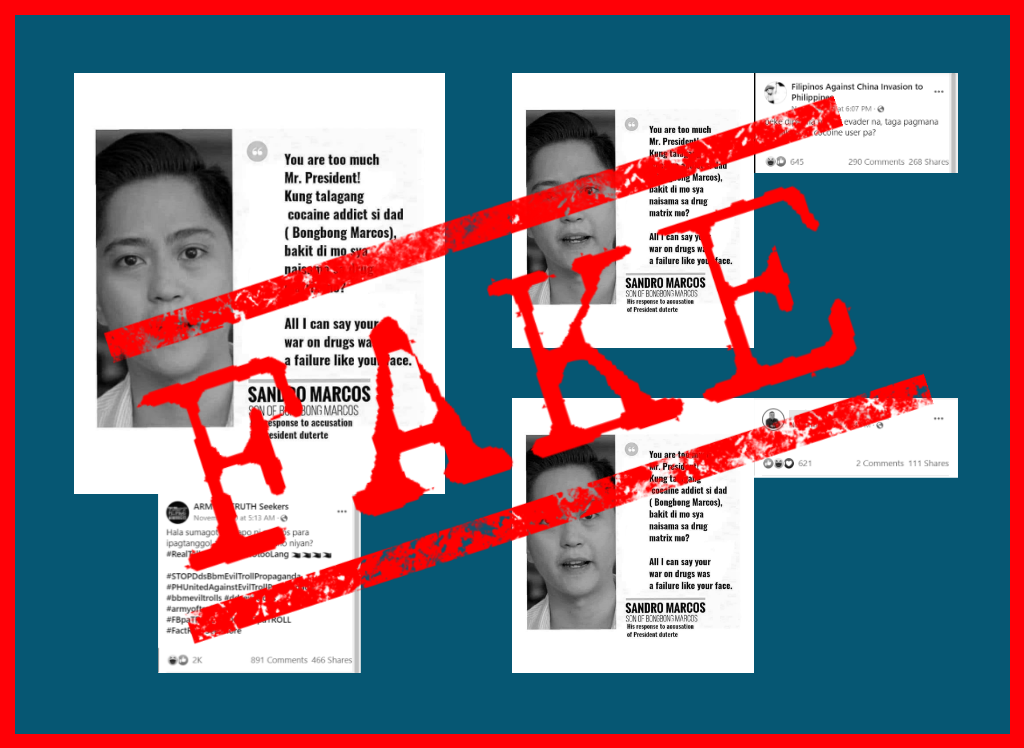 The circulating quote card was a manipulation of Iloilo Metropolitan Times' Sept. 28 graphic on FB featuring a remark Marcos made in The Kingmaker, a documentary on his grandmother, former first lady Imelda.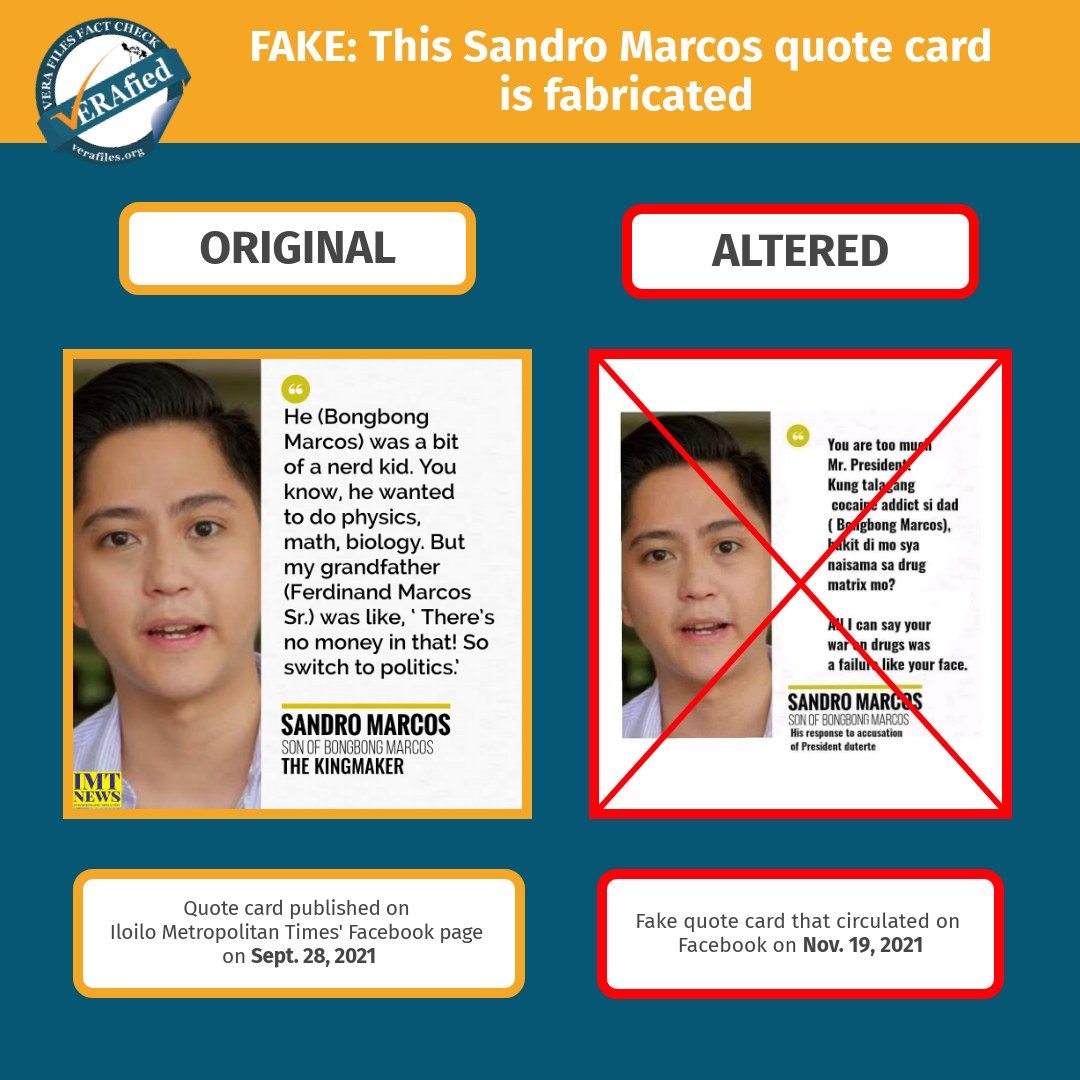 Marcos denounced the fake quote card in an FB post published on Nov. 19, and said it was not the first time he and his family were made victims of "false flag operations."
Duterte, in a Nov. 18 off-script rant during a meeting in Oriental Mindoro of the Joint National Task Force-Regional Task Force to End Local Communist Armed Conflict, alleged that a presidential candidate coming from a wealthy family was a cocaine user. He did not name the person nor provide evidence of the allegation.
Lawyer Victor Rodriguez, Marcos Jr.'s spokesperson, said in a DZRH interview on Nov. 19 that the Marcos camp did "not feel alluded to" by Duterte's claim, adding they have the "highest respect" for the president.
The fake graphic was posted by FB pages Army of Truth Seekers (created on March 5, 2017), Filipinos Against China Invasion to Philippines (June 8, 2013) and a netizen. Their posts have collectively garnered more than 3,200 reactions, 1,180 comments and 840 shares.
Have you seen any dubious claims, photos, memes, or online posts that you want us to verify? Fill out this reader request form or send it to 'VERA, the truth bot' on Viber.
(Editor's Note: VERA Files has partnered with Facebook to fight the spread of disinformation. Find out more about this partnership and our methodology.)