A bogus YouTube channel posing as a Department of Social Welfare and Development (DSWD) account claims that solo parents and beneficiaries of the Pantawid Pamilyang Pilipino Program (4Ps) will each receive a one-time cash aid amounting to P15,000.
This is misleading because solo parents or 4Ps beneficiaries are not outright recipients of the cash assistance. There are eligibility requirements under the DSWD guidelines for the Livelihood Assistance Grants (LAG).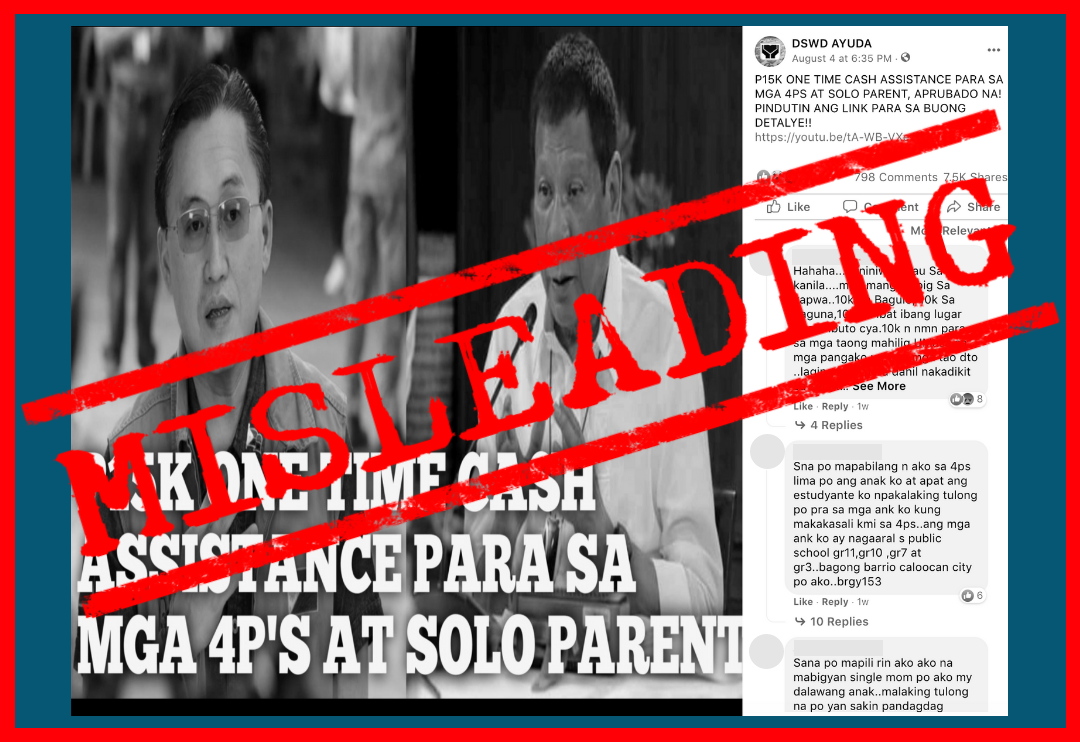 According to DSWD Memorandum Circular (MC) No. 9, a one-time cash aid "not exceed[ing] P15,000" shall be granted to families with at least one member who is an informal worker "and whose livelihood, occupation, or work, has been affected by the declaration of state of calamity" due to the pandemic.
DSWD PH TV posted on Aug. 4, a video that carried the title: "P15K ONE TIME CASH AID PARA SA LAHAT NANG 4P'S AT SOLO PARENT (P15K one time cash aid for all 4Ps and solo parents)". Its thumbnail bore a similar text superimposed on the juxtaposed photos of President Rodrigo Duterte and Sen. Bong Go.
The video's title and thumbnail twisted the information presented in its content about DSWD's LAG program.
The LAG is one of the social amelioration programs (SAP) put in place by the DSWD to support families whose livelihood was affected by the COVID-19 pandemic. Its creation was mandated under both Republic Act 11469 or Bayanihan 1, and R.A. 11494 or Bayanihan 2.
Aside from DSWD MC No. 9 signed in April last year, two other memorandum circulars numbers 19 and 22 further list the guidelines on the issuance of the LAG. DSWD MC No. 19 breaks down the eligibility criteria for the LAG. Aside from falling under any of the categories enumerated in Section 3 of the circular, a family shall also fulfill the following requirements to qualify for the grant:
if the family is a 4Ps beneficiary, it should be in the 4Ps database;
if the family is not a 4Ps beneficiary, it should be certified by the local government unit through the Social Amelioration Card;
it should have an employment or a livelihood before the community quarantine was imposed; and
it should not be a beneficiary of other "livelihood recovery or rehabilitation projects" by other government agencies.
The same guidelines were adopted by MC No. 22 for the distribution of livelihood cash subsidies under Bayanihan 2.
Nowhere in the three circulars did it say that being a solo parent or a 4Ps beneficiary automatically makes one eligible for a cash aid of P15,000, contrary to DSWD PH TV's claim.
Data obtained by VERA Files Fact Check shows that as of July 11, over 93,700 families already benefited from the LAG, amounting to around P981.1 million of utilized funds. Recent news reports suggest that the nationwide distribution of cash subsidies under the program is still ongoing.
DSWD PH TV's misleading video came just a day after Palace Spokesperson Harry Roque confirmed in a press briefing that families residing in Metro Manila would receive cash assistance worth P1,000 to P4,000 each, following the July 30 announcement that the region would be put back under Enhanced Community Quarantine starting Aug. 6.
The video was already viewed 37,700 times by netizens. Social media monitoring tool CrowdTangle shows it has received almost 8,000 engagements and could have reached around 19,000 Facebook (FB) users. Traffic to the video came largely from two posts published by FB page DSWD SAP 3RD WAVE.
A second page — DSWD AYUDA — also shared the video's link and thumbnail in its Aug. 4 post. It now has 1,300 reactions, 900 comments, and 8,700 shares from netizens.
Two other posts by the same page, both published on Aug. 11, bore the misleading video's thumbnail but carried a different video link. The two posts collectively got 1,100 reactions, 420 comments, and 750 shares.
DSWD PH TV joined YouTube in May last year while FB page DSWD SAP 3RD WAVE was created two months later. DSWD AYUDA was made just last April 19.
(Editor's Note: VERA Files has partnered with Facebook to fight the spread of disinformation. Find out more about this partnership and our methodology.)