On May 10, a Facebook (FB) page posted old photos of a lighted Kuwait Tower to claim that Kuwait celebrated the victory of presumptive president Ferdinand "Bongbong" Marcos Jr. and  vice presidential running mate Sara Duterte-Carpio. 
"The photo of the Kuwait Tower lit red and green was originally captured in 2016 to celebrate UAE National Day and not the victory of Marcos and Duterte-Carpio. Meanwhile, the photo of fighter jets that flew with plumes of red, green, and white were likely captured during an Italian aerobatics team's performance, reverse image search results show.
Reverse image search shows that the photo of the towers was originally uploaded to Twitter on Dec. 2, 2016, during the 45th anniversary of United Arab Emirates (UAE) National day. 
The tower lights also flashed images of the UAE's national flag, and had nothing to do with the political campaign in the Philippines.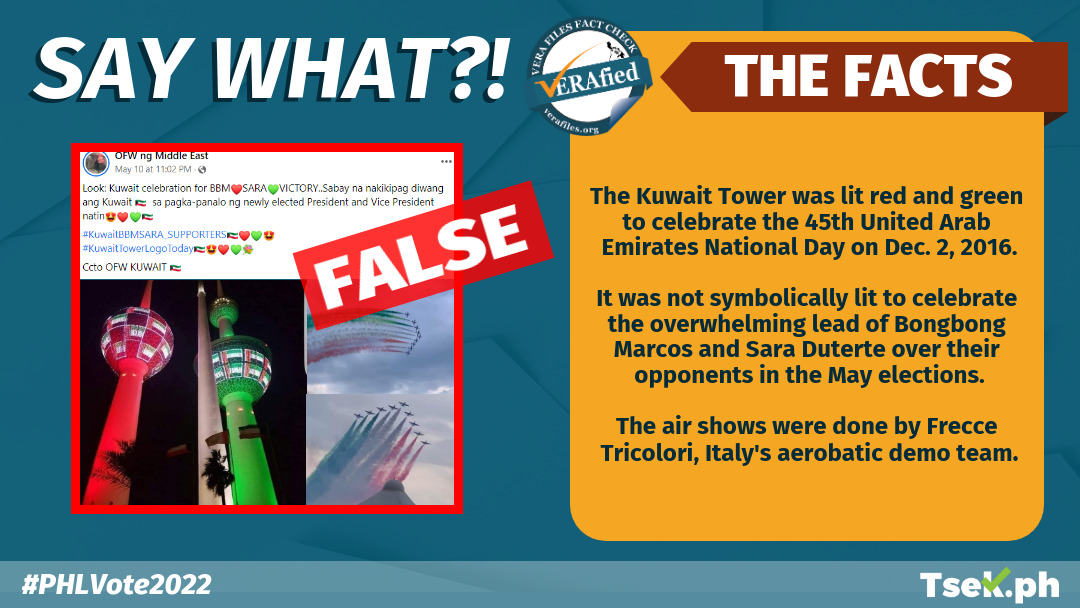 VERA Files Fact Check could not find the original versions of the air show photos, but reverse image search suggests these are similar to photos captured during the performances of the Frecce Tricolori (Italian Airforce's aerobatic demonstration team.) 
Red and green are the political colors of Marcos and Duterte-Carpio under the UniTeam campaign. The UAE's  flag also uses the color red to symbolize blood on swords and green to refer to the fields of the Arabs as described in a 13th-century poem by Ṣafī ad-Dīn al-Ḥilli, according to Encyclopedia Britannica.
FB page OFW ng Middle East (created on Oct. 3, 2019) got 30,000 reactions, 3,200 comments, and 23,000 shares for the erroneous post. 
Other FB pages such as Hello Kitty Lover (created on Nov. 17, 2016) Madam Balita (July 29, 2018), Unteam BBM-Sara (March 30, 2022) and Mr Mark (Oct. 8, 2017), as well as three netizens, made copies of the incorrect post that got a total of over 19,900 interactions. 
Some supporters of the Marcos-Duterte tandem thought the claim was true, while others incorrectly pointed out that the photo of the towers was captured during Kuwait's National Day. 
Tsek.ph partner FactRakers previously debunked the claim.
Have you seen any dubious claims, photos, memes, or online posts that you want us to verify? Fill out this reader request form.
(Editor's Note: VERA Files has partnered with Facebook to fight the spread of disinformation. Find out more about this partnership and our methodology.)