There is no truth to the claim that President Rodrigo Duterte ordered the arrest and imprisonment of Manila Auxiliary Bishop Broderick Pabillo over sexual harassment charges, contrary to what two videos posted May 31 by the YouTube channel PH BREAKING NEWS are saying.
One video, which played for nine minutes, was titled, "KAKAPASOK LANG (Just In): BREAKING NEWS PANGULONG DUTERTE AARESTOHIN SI BISHOP PABILLO RAPIST NA PARI BUKING (President Duterte will arrest Bishop Pabillo, rapist priest caught)."
The other, spanning over 10 minutes, bore the headline, "KAKAPASOK LANG : PRESIDENT DUTERTE IKUKULONG NA SI BISHOP PABILLO AT MGA MANYAK NA PARI BUKING (Just In: President Duterte will imprison Bishop Pabillo and perverted priests, caught)."
Both are fabricated. The president has made no such orders against Pabillo. There are also no news reports about any sexual assault allegations against the clergyman.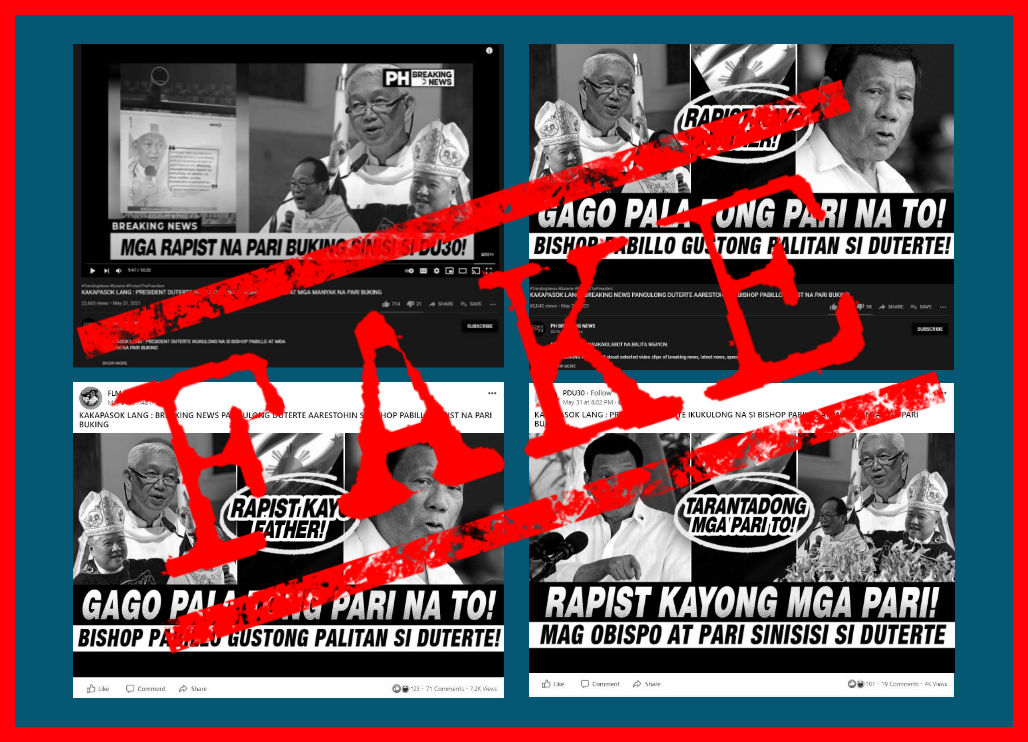 The two untrue videos both featured short clips from a 95-minute tirade on May 28 by pro-Duterte vlogger Niño Barzaga, in which he dragged Pabillo's name alongside other priests who figured in old sexual harassment cases.
The vlogger has a history of making erroneous claims. (Read: VERA FILES FACT CHECK: Pro-Duterte vlogger makes MISLEADING claim about CHR expenses in online post)
Barzaga brought up the case of retired Bishop Teodoro Bacani, whose secretary accused him of sexual harassment in 2003. The vlogger cited a BBC News report, a South China Morning Post story, an article on Newsflash.org and an opinion piece from the Philippine Star about the case.
The vlogger also mentioned Msgr. Arnel Fuentes Lagarejos who, according to police, abused a 13-year-old girl twice, and was caught in 2017 in an entrapment operation in Marikina City. Lagarejos was removed from his post while the incident was being probed.
The third priest mentioned by Barzaga in the video was Fr. Paul Mart Tirao, accused of the murder of 28-year-old Jeraldyn Rapiñan who was found lifeless in Camarines Sur in 2018. His case was eventually dismissed for lack of probable cause.
Pabillo was not mentioned in any of the vlogger's reports involving the three Catholic priests.
The two false videos emerged after Pabillo, an outspoken critic of the Duterte administration, said during a May 23 homily that those who criticize the government are easily branded as "communists, rebels and drug coddlers." Barzaga used a News5 quote card of Pabillo's statement as fodder for his attack on the clergyman.
PH BREAKING NEWS was created on July 18, 2013. Its video on Pabillo's "imprisonment" has over 60,000 views. It was re-uploaded by the Facebook (FB) page FLM, created in July 2014, gaining 7,000 more views.
The video about Pabillo's "arrest" was viewed over 22,000 times on Youtube. FB page PDU30 reposted the clip, attracting an additional 4,000 views. PDU30 was created on Feb. 29, 2020.
PH BREAKING NEWS has been flagged by VERA Files Fact Check at least twice for publishing disinformation.
(Editor's Note: VERA Files has partnered with Facebook to fight the spread of disinformation. Find out more about this partnership and our methodology.)