A two-year-old Facebook (FB) post by page Camanava News about the arrest of two altar servers in Spain is gaining traction among social media users this month. The piece that says the two altar servers placed marijuana in an incense burner used during mass is a satire, not real news.
Camanava News is an information page that mainly publishes news concerning the region of Caloocan, Malabon, Navotas and Valenzuela. It gave no indication that its post is satirical.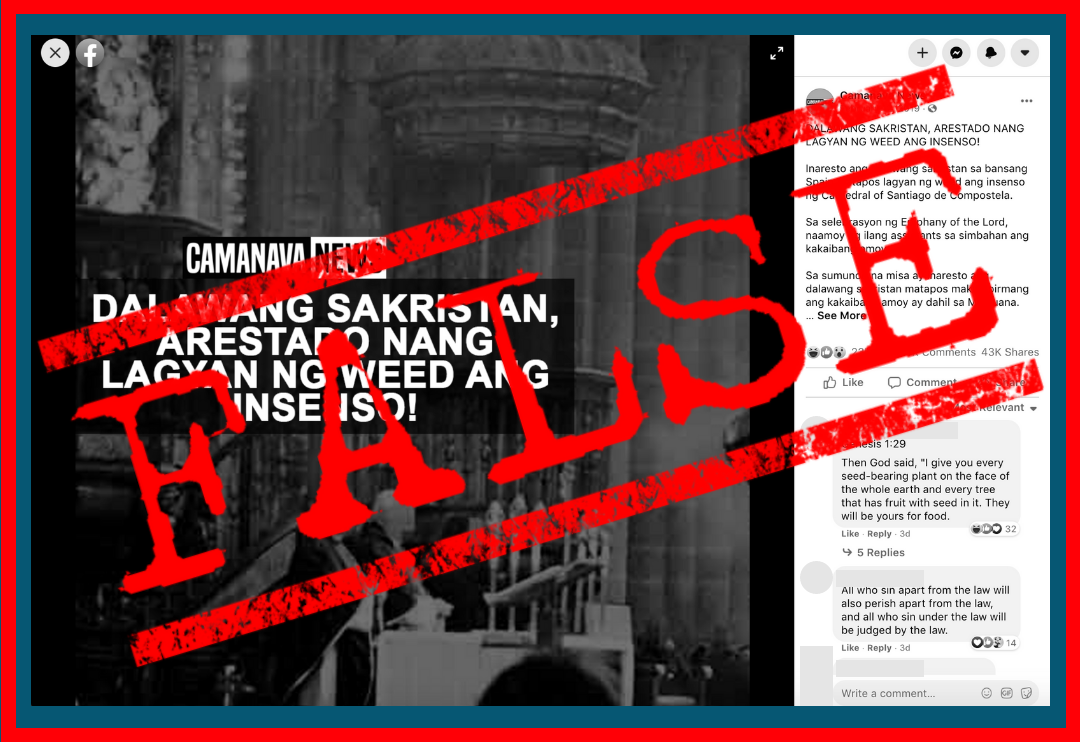 The roots of the story, which supposedly took place at the "Cathedral of Santiago de Compostela," could be traced to an article published in January 2018 by Spanish-language website Hay Noticia (haynoticia.es). It has since been taken down, but a copy uploaded in December that year remains live on the site.
The story's title, translated from Spanish, read: "2 Galician altar boys arrested for putting marijuana in the botafumeiro."
Hay Noticia, in its "aviso legal" or legal warning page, refers to itself as "a humor site whose purpose is entertainment." It also explicitly states that the content it publishes "is fiction and does not correspond to reality." Its tagline is "No son reales pero si divertidas (They are not real but they are fun)."
The same satire but with different actors — priests, instead of altar servers — was fact checked by VERA Files in 2018. (See VERA FILES FACT CHECK: RMN posts FAKE report, uses SATIRE as real news)
Camanava News accompanied its post with a photo originally featured in Hay Noticia: a March 2017 photo taken inside the Catedral de Santiago de Compostela in Galicia, Spain, uploaded on Flickr by a user named subherwal. The large censer visible in the image is the Botafumeiro, a famed symbol of the Catedral.
Social media monitoring tool CrowdTangle revealed that FB pages Lakastama2021, Lakastama2020 and Presko life drove the most traffic to Camanava News's post this year, and was revived beginning Feb. 18.
The resharing started a day after Ash Wednesday, which officially marked the first day of Lent this year. The revival of the post also came the same day marijuana bricks worth P19.5 million were seized by authorities during a buy bust operation in Concepcion, Tarlac.
The spurious FB post already got over 24,000 reactions, 5,500 comments, and 44,000 shares from social media users, and could have reached nearly 2.4 million netizens.
Camanava News was created on May 2, 2018.
(Editor's Note: VERA Files has partnered with Facebook to fight the spread of disinformation. Find out more about this partnership and our methodology.)