A Facebook (FB) page has posted an announcement that IKEA is donating couches that cannot be sold due to "minor damage" to anyone who registers with the website it linked. This is a scam.
The bogus giveaway posted on Nov. 17 and 19 came with photos of several sofa sets. It also had the caption: "We are happy to announce that we will be donating dozens of sofa chairs that cannot be sold due to minor scratches and minor damage, all working fine, so we will randomly send them to someone who types 'done' until November 25th! hopefully useful for you and your family. And register here."
The post asks users to comment "ready" or "done" and tells netizens that they need to share the post with seven to 10 active FB groups in order to complete their registration for the giveaway.
This is a fraud. The uploaded photos were not from IKEA, nor were they taken in the Philippines. IKEA has warned its customers against entertaining these raffle contests.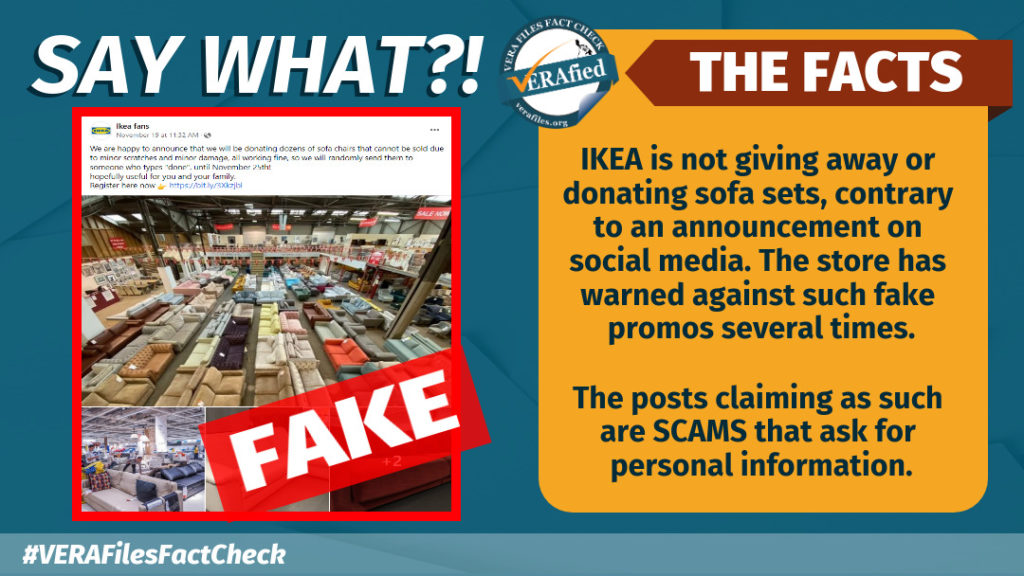 In September, IKEA Singapore cautioned people against falling for a scam post published by the same FB page and asked them to report the circulating post if they encounter it. Last year, IKEA Philippines dissuaded people from sharing their personal details to such scams and also reminded them to report such "fraudulent activities" to their customer service center.
The IKEA website has put up a dedicated page warning against fake promotions that use their name, saying their company never partakes in such activities.
Except for one, the photos used in the scam were not from IKEA stores. A reverse image search shows that the picture of a woman checking out a sofa is a 2016 stock image from ShutterStock captured in an IKEA shop in Bangkok, Thailand.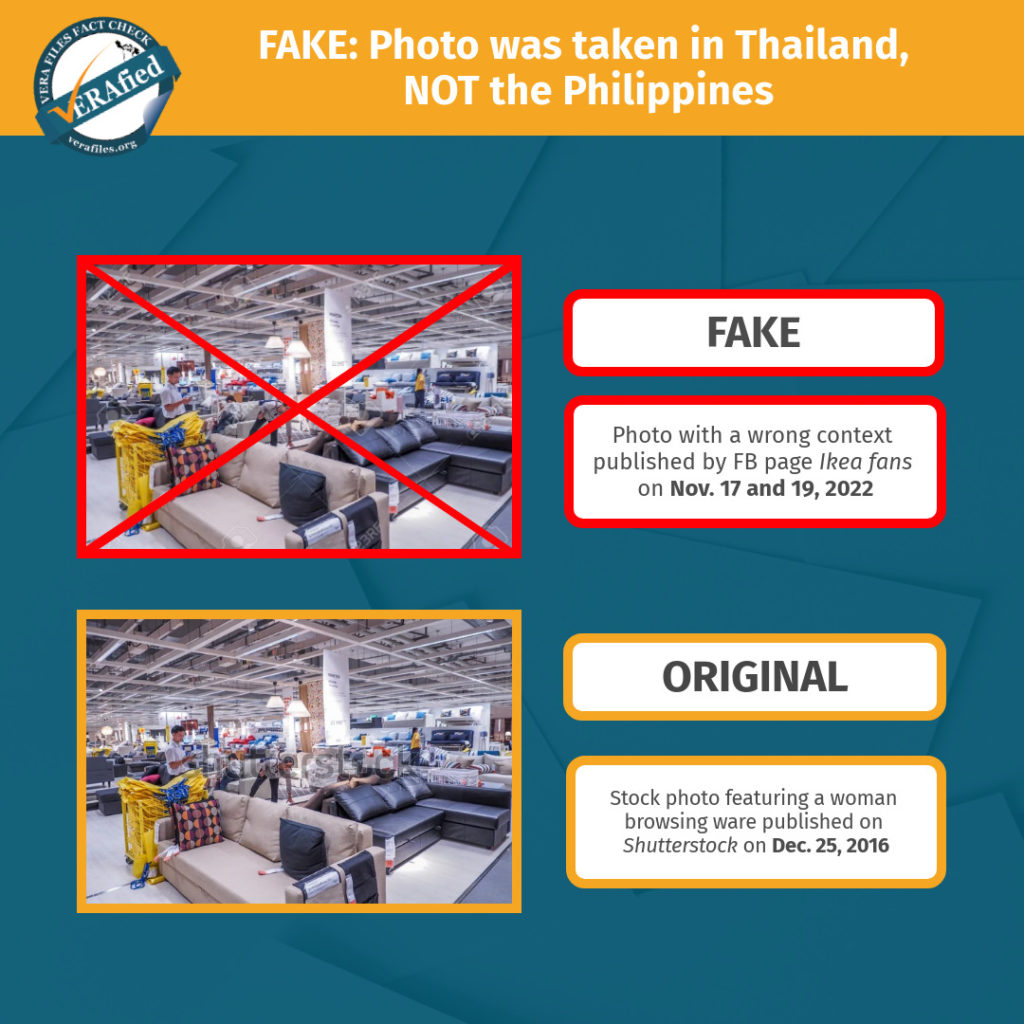 But one photo featuring lines of sofa beds shows an American Freight store that opened in Salem, United States. A similar image spotted via reverse image search shows that the wide shot of couches was taken inside a Trade Secret Furniture Warehouse in the United Kingdom.
The posts continue to spread as IKEA Philippines celebrated its first anniversary with limited deals in-store and online from Nov. 21 to 25.
FB page Ikea fans (created on Sept. 20) published the two posts, garnering over 710 reactions, 2,900 comments and 1,400 shares. It also received more than 600,000 recent views, according to FB.
Have you seen any dubious claims, photos, memes, or online posts that you want us to verify? Fill out this reader request form or send it to 'VERA, the truth bot' on Viber.
(Editor's Note: VERA Files has partnered with Facebook to fight the spread of disinformation. Find out more about this partnership and our methodology.)