Several links being shared through Facebook (FB) posts and via private messages redirect to imposter websites claiming to be the Philippine Postal Corporation (PHLPost) and that the agency is giving away a "national government subsidy" worth P7,000.
The bogus web pages urge netizens to join a fake raffle by stating: "Congratulations! | PHLPost National government subsidy! | Through the questionnaire, you will have a chance to get 7000 Peso."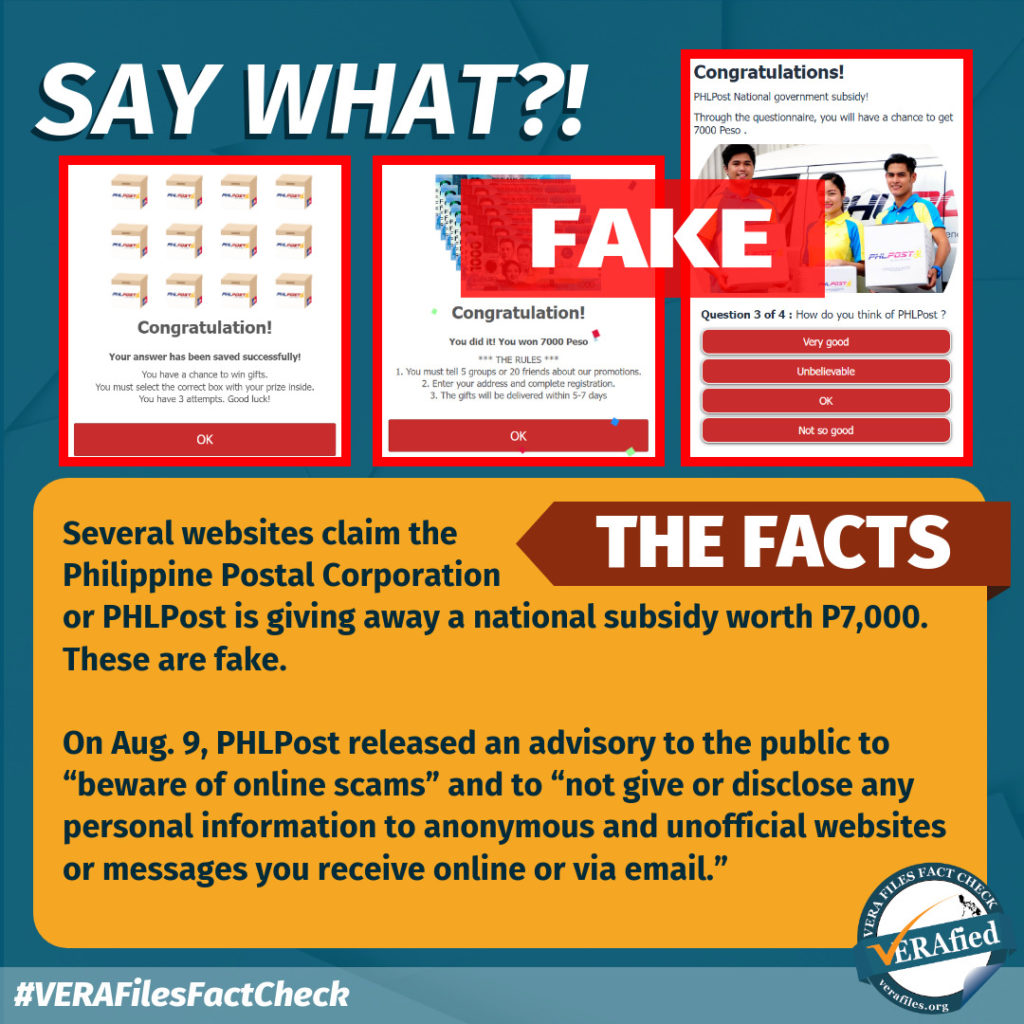 It is a scam. On Aug. 9, PHLPost's official Facebook page issued an advisory warning the public to "beware of online scams" and to "not give or disclose any personal information to anonymous and unofficial websites or messages you receive online or via email."
PHLPost also asked people to follow its announcements through its official Facebook page and website, phlpost.gov.ph.
The bogus subsidy giveaway asks netizens to answer a four-question survey about their age, gender, and what they think of PHLPost. 
After answering the questions, nine package boxes appear then netizens have three chances to win the non-existent P7,000 prize. A prompt then appears, telling them they can claim the cash by sharing the link with five to 20 people and entering their address and other personal information on another scam site. 
Among the website URLs flagged by VERA Files Fact Check for carrying the scam were m.porkadolescence.top, juvenilebarracks.top, subscriptionsaddle.top.
When clicked, all redirect to a different site with a Chinese web domain name: pjc0pq.cn. Others take users to ddwuupn.cn and 0olut8.cn.
A total of 312 posts containing links that redirect to this scam — which collectively garnered 117 interactions — were posted on several FB pages and groups, according to the social media monitoring tool CrowdTangle. These fraudulent links appeared on FB beginning on Aug. 6. 
A cursory search on FB shows that several netizens had received bogus links to the scam via private message and warned others not to fall for its modus.
Have you seen any dubious claims, photos, memes, or online posts that you want us to verify? Fill out this reader request form or send it to 'VERA, the truth bot' on Viber.
(Editor's Note: VERA Files has partnered with Facebook to fight the spread of disinformation. Find out more about this partnership and our methodology.)