A YouTube video featured a vlogger who said former vice-president Leni Robredo claimed that Angat Buhay foundation would serve the public better than the government of President Ferdinand "Bongbong" Marcos Jr.   
This needs context. While Robredo did say that the non-government organization (NGO) aims to become the largest volunteer network in the country, she said nothing about outdoing the national government, as the vlogger claimed.
YouTube channel IDØL CÀLØY (created on Feb. 23, 2019) uploaded the misleading video on July 31 with the title:  "LENI BISTAD0 NA SA M0DUS NA GUL0HIN ANG PAMAHALAAN NI PRES BBM | LENI WALANG TOTOONG NAITULONG (Leni Robredo's modus to interfere with President Bongbong Marcos' government exposed! | Leni had no real contributions)."
This video featured vlogger Badong Aratiles who said in a separate Facebook video that he has exposed Angat Buhay's false projection of surpassing the Marcos administration in terms of improving the lives of Filipinos.
"We look at Angat Buhay to expose what they are projecting – that the Angat Buhay will uplift the lives of Filipinos and not the government – has no truth at all," the vlogger said in Filipino.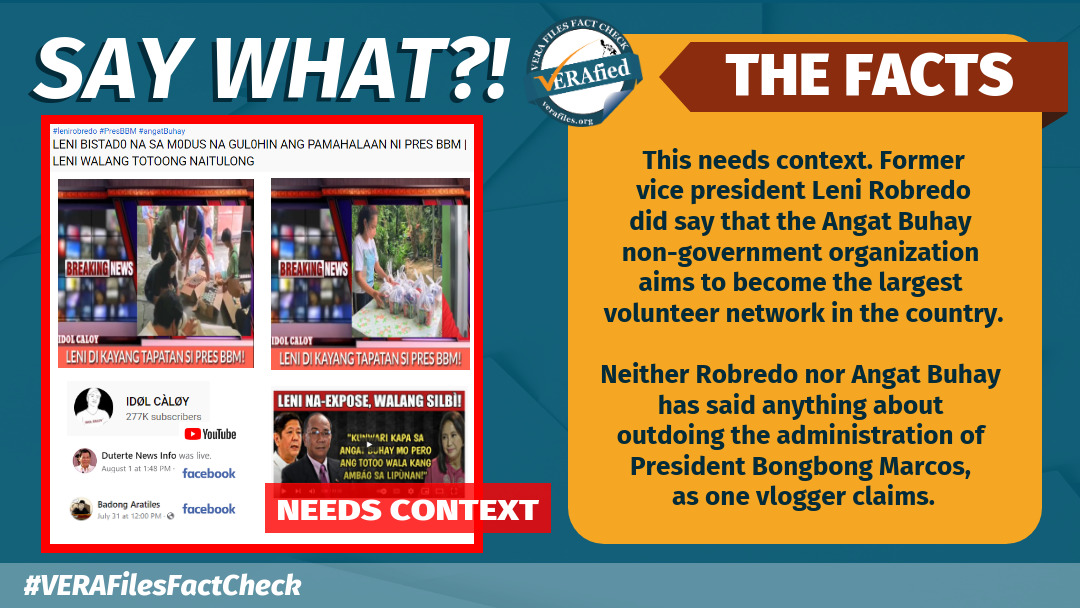 During a May 13 thanksgiving party, Robredo said that the Angat Buhay, once an initiative under the Office of the Vice President, aims to be the "largest volunteer network in the history of the country." She said that the NGO will continue helping those who are in the margins of society without prejudice. 
To support his argument that the Angat Buhay is incapable of outperforming the Marcos administration in relief efforts, Badong Aratiles flashed two photos from two tweets of Angat Buhay's official Twitter account dated July 28 which showed only a small part of the NGO's relief efforts in Ilocos Norte and Abra affected by a recent earthquake. 
Cursory search on Facebook, however, shows that Angat Abra and Angat Buhay Ilocos Norte, the NGO's local chapters in the earthquake-affected areas, have conducted multiple relief operations, showing more relief goods and volunteers than the vlogger claimed. 
IDØL CÀLØY's YouTube video got a total of over 71,400 views, while its reuploaded version by FB page Duterte News Info (created on Aug. 15, 2021) had 8,000 reactions and 1,100 comments. FB page Badong Aratiles' (created on March 30, 2020) video, meanwhile, garnered over 146,400 interactions. 
All three videos appeared a few days after a magnitude 7.0 earthquake shook Abra and the northern region on July 27, and was also felt in the capital and nearby provinces.
Have you seen any dubious claims, photos, memes, or online posts that you want us to verify? Fill out this reader request form.
(Editor's Note: VERA Files has partnered with Facebook to fight the spread of disinformation. Find out more about this partnership and our methodology.)