A video circulating on Facebook (FB) is claiming that President Ferdinand "Bongbong" Marcos addressed former senator Leila De Lima over her comment on his administration's refusal to rejoin the International Criminal Court (ICC). Marcos did no such thing.
On Aug. 6, a video was published by several FB pages bearing the headline: "Just In: matindi Top duterte Pres Marcos Harap Harapang Sinagot Si Delima Nilantad rappler Fake News (Intense Duterte, Pres Marcos confronted De Lima exposed Rappler fake news)."
No clip of Marcos supposedly confronting De Lima was shown in the video.
Marcos has made no statement or comment on De Lima's Aug. 2 tweet urging the president to "reconsider his decision" on his refusal to rejoin the ICC. Nor are there any news reports about Marcos personally talking to the former senator over the matter.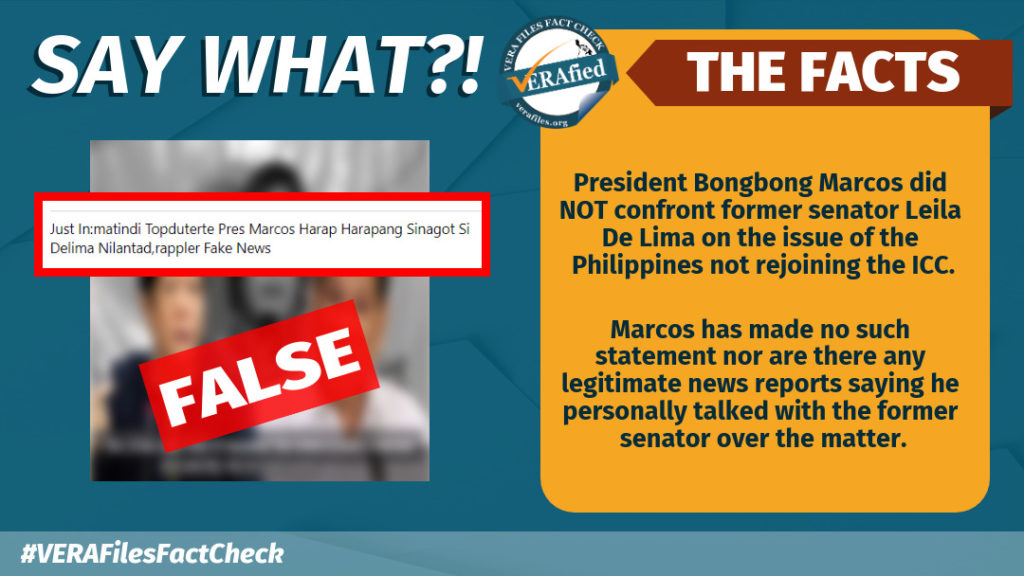 The eight-minute video only featured the monologue of a pro-Duterte vlogger criticizing De Lima and Rappler.
The audio used on the FB video with the false headline was from an Aug. 3 video published by YouTube channel Badong' Aratiles Vlogs. The pacing of the voice-over in the FB version was faster and made noticeably deeper when compared to the original.
The fabricated video appeared after Marcos said in an Aug. 1 press briefing that "the Philippines has no intention of rejoining the ICC" after meeting with his legal team.
The Hague-based court is seeking to resume its probe into the killings committed under the past administration's war on drugs.
FB pages Duterte News Info Live. (created on March 14, 2021), Bong bong Marcos tayo sa 2022 (Dec. 8, 2021) and Philippines News TH (May 6, 2020) published the video with the spurious headline. Their posts have collectively garnered more than 5,200 reactions, 1,500 comments, 580 shares and 115,000 views.
Have you seen any dubious claims, photos, memes, or online posts that you want us to verify? Fill out this reader request form or send it to 'VERA, the truth bot' on Viber.
(Editor's Note: VERA Files has partnered with Facebook to fight the spread of disinformation. Find out more about this partnership and our methodology.)