A misleading video circulating online is implying that the Commission on Audit (COA) was looking for P25 million "hidden" by former vice president Leni Robredo.
Nothing was hidden from COA. The funds in question were not missing as incorrectly implied, but were flagged for being used for a different purpose.
The July 22 video posted by the YouTube channel Snatched TV and its Facebook (FB) page carried a headline and in-video text which read: "Leni Robredo may tinatagong lihim sa COA 25 Million hinahanap (Leni Robredo hiding a secret from the COA, P25 million being searched)."
The COA flagged the Office of the Vice President (OVP) in its 2021 audit report, published July 15, for realigning and utilizing P25 million to bankroll COVID-19 projects and regular social services, instead of using it to measure and assess the impact of the OVP's Angat Buhay Program, as originally intended.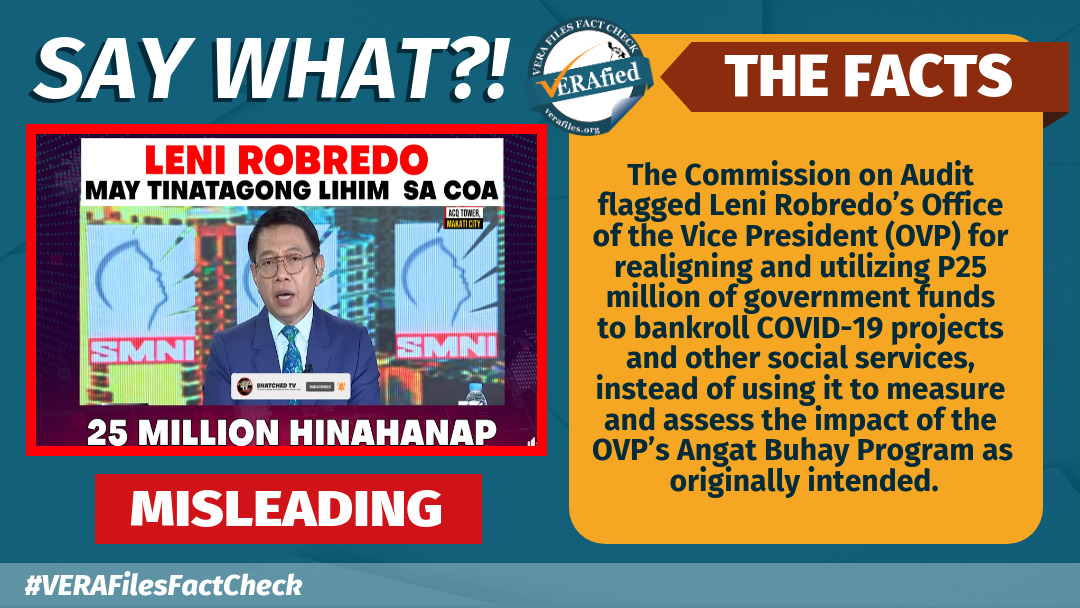 In response, the OVP stated that the budget was not used as originally allocated because it could not obtain a suitable project proposal. It justified that modifications in allocating the budget in question were authorized under Sec. 72 of the general provisions of the FY 2021 General Appropriations Act. 
The content used to support the misleading video was a four-minute excerpt from a two-and-a-half hour episode of SMNI's Usaping Bayan program aired on July 22. In it, hosts Mike Abe and Jade Calabroso mentioned COA's flagging of the OVP's use of the P25 million. 
The video got over 137,000 views, while the YouTube version got only 12 views. Some netizens on FB who believed the post said that the claim should be investigated, while others called Robredo a thief. 
Snatched TV's FB page was created on Aug. 23, 2019 under the name G e m i n i, while its YouTube channel was created on Sep 21, 2012. Both videos appeared hours after the SMNI Usaping Bayan episode aired, and a week after COA published its annual audit reports.
Have you seen any dubious claims, photos, memes, or online posts that you want us to verify? Fill out this reader request form.
(Editor's Note: VERA Files has partnered with Facebook to fight the spread of disinformation. Find out more about this partnership and our methodology.)