A headline of a YouTube video claims that Sen. Imee Marcos recently revealed the identity of a traitor in Malacañang. 
Its title read: "KAKAPASOK LANG HALA KA! Pres MARCOS Sen.IMEE DI NAKA-PAGPIGIL NILANTAD na ang TRYD0R sa MALACANANG (Just in, oh no! President [Bongbong] Marcos Sen. Imee could not stop herself, exposes the traitor in Malacañang)!"
However, there is nothing in the video supporting that claim. Neither did the senator reveal anything akin to what the headline states. The video misled netizens by using a headline similar to that of a Dec. 7, 1984 New York Times story titled, "Marcos Daughter Calls The Palace a 'Snake Pit'."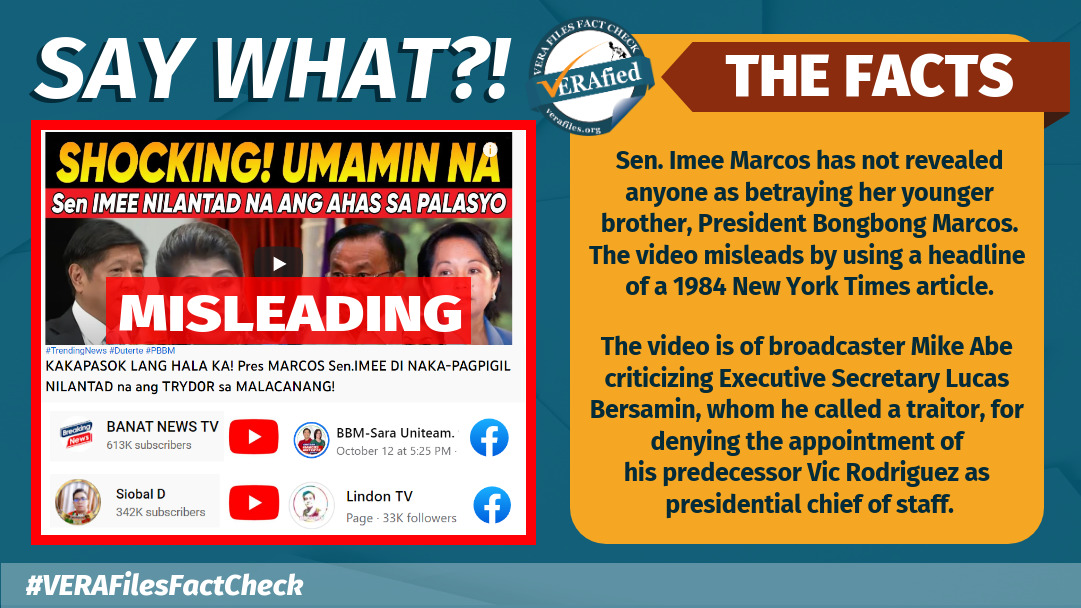 Aside from the snake pit metaphor, Marcos said that abuses had been "committed by people close to her family." But she did not call anyone a traitor in that article. 
A good portion of the nine-minute video showed part of a 58-minute video commentary from broadcaster Mike Abe attacking Executive Secretary Lucas Bersamin and branding him a "traitor" working against President Ferdinand Marcos. 
In his commentary, Abe criticized Bersamin for saying the relationship between former executive secretary Vic Rodriguez and the president has ended. 
The misleading video and Abe's commentary appeared a day after Bersamin told the media that Administrative Order 1 designating his predecessor Rodriguez as presidential chief of staff did not exist. 
YouTube channel BANAT NEWS TV (created Dec. 26, 2015) posted the deceptive video, which was re-uploaded by Facebook (FB) page Lindon TV (Oct. 28, 2020). These videos got over 529,590 interactions. 
Another YouTube channel, Siobal D (April 17, 2013), created a commentary about the BANAT NEWS TV video and used the same misleading headline. FB page BBM-SARA (Sept. 5, 2022) uploaded the Siobal D video. The two videos received 967,630 interactions in total.
Have you seen any dubious claims, photos, memes, or online posts that you want us to verify? Fill out this reader request form.
(Editor's Note: VERA Files has partnered with Facebook to fight the spread of disinformation. Find out more about this partnership and our methodology.)