A YouTube channel that has repeatedly published disinformation uploaded yet another misleading post on Sept. 14, maliciously insinuating in its headline that the Commission on Audit (COA) is "filing charges" against Vice President Leni Robredo for not utilizing P195 million of her office's budget.
Its clickbait title read: "VP LENI ROBREDO TINUTUGIS at KAKASUHAN NA ng COA?!| P195 MILLION hindi ITINULONG sa MAHIHIRAP (VP Leni Robredo hounded and will be sued by COA?! P195 million was not used to help the poor)!"
COA made no such claim in its 2019 audit of the Office of the Vice President (OVP). Neither was it reported in the Sept. 6 Inquirer.net report which YouTube channel Showbiz Fanaticz used as a source.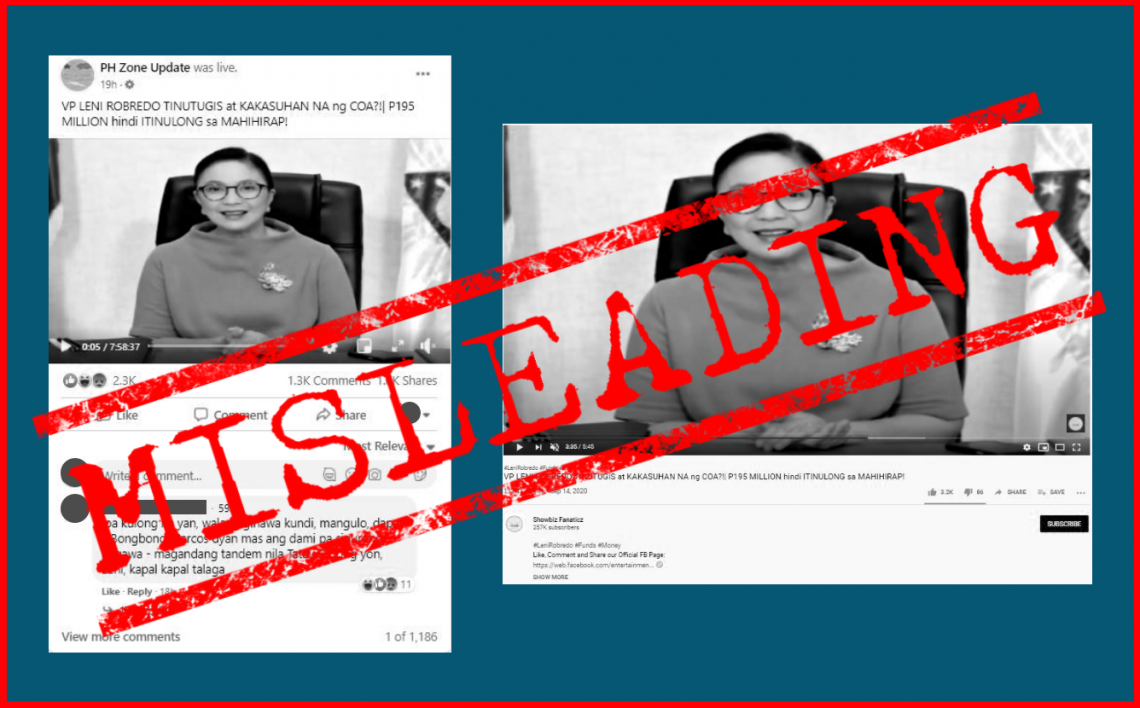 In its audit report published this month, COA flagged the OVP's idle Medical Assistance Program (MAP) funds which had amounted to over P195 million as of Dec. 31, 2019. It was supposed to be used to help cover the healthcare costs of the poor.
State auditors said this non-utilization was contrary to the efficient management of funds mandated by Presidential Decree 1445 or the Government Auditing Code of the Philippines, also noting that only 38.46% of the total P318-million MAP budget reached beneficiaries last year.
COA made several recommendations for Robredo's office: such as expanding the OVP's service network to reach far-flung areas, streamlining its processes and requirements for requests of medical assistance, and transferring funds to Hospitals-Implementing Agencies on time.
COA's Observation and R… by VERA Files
The Commission on Audit's recommendations on the OVP's MAP begin at Page 40.
Showbiz Fanaticz's misleading video was presented in a news-package-style format, where the narrator also slipped in some false and unsupported claims in his voiceover. Among them, that Robredo's office "could not explain" the non-distribution of over P100 million to Filipinos.
In the OVP's reply to the state auditor, also reflected in COA's report, the OVP did explain why the funds had not been utilized. It cited, among others, the suspension in the grant of medical assistance during the 2019 midterm polls, the office's change in guidelines for healthcare assistance application, and the access of OVP's medical assistance being limited to mostly Metro Manila hospitals and a few provinces.
The misleading video was published a week after the OVP, for the second year in a row, received the highest audit rating from COA—an "unqualified opinion" on the fairness of the presentation of its financial statements.
Showbiz Fanaticz's inaccurate video has been viewed over 170,000 times. It joined YouTube on Nov. 9, 2017.
(Editor's Note: VERA Files has partnered with Facebook to fight the spread of disinformation. Find out more about this partnership and our methodology.)