A Facebook (FB) post published Sept. 6 is warning the public that using face masks will reduce oxygen in the brain and blood, cause body weakness and may even lead to death. This is false and exaggerated.
The post assumes face masks decrease the amount of oxygen entering one's body. However, properly designed masks are porous, allowing oxygen and carbon dioxide to travel in and out of it, health experts have told VERA Files Fact Check.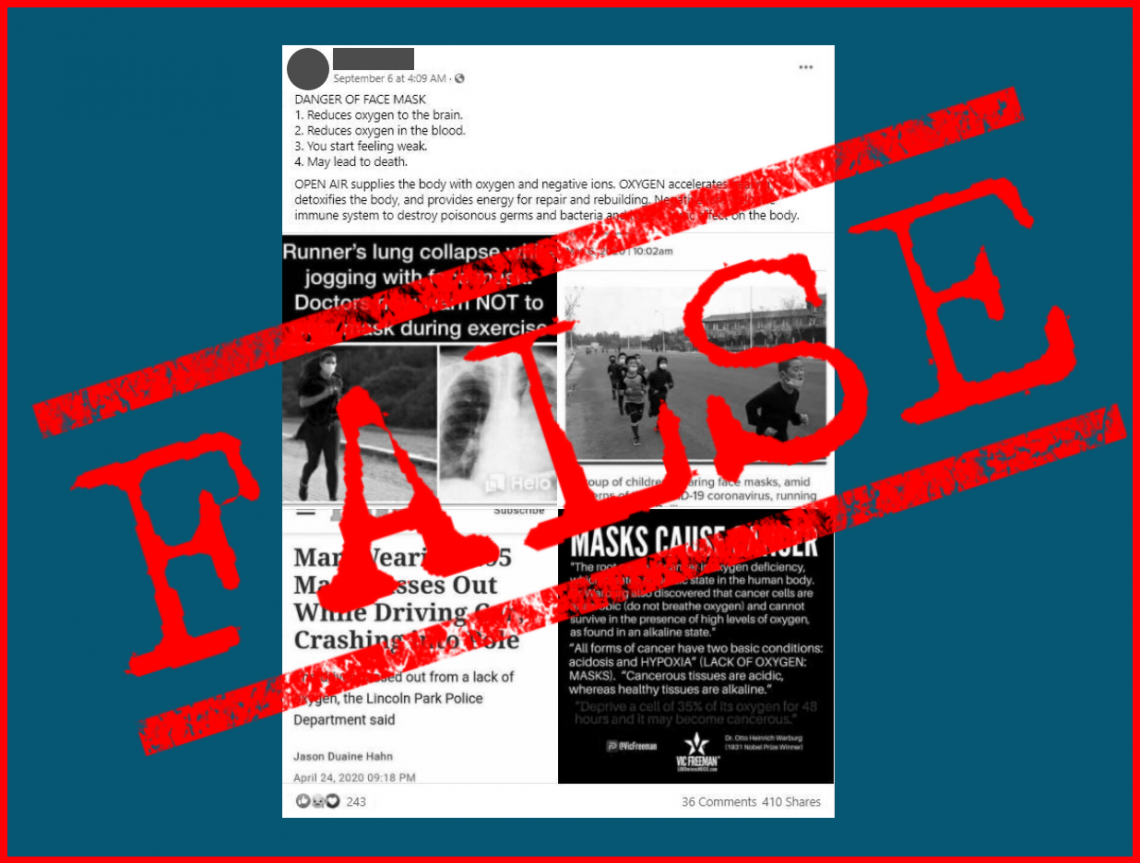 "While masks are restrictive and can feel like they impede airflow, properly designed masks do allow for air flow—the tiny size of oxygen and carbon dioxide molecules makes it easy for the molecules to travel freely in and out of the mask," according to a Sept. 12 email interview of Vera Files Fact Check with a team of public health experts convened by international nonprofit Meedan.
They added that hypercapnia, or having too much carbon dioxide in the blood, is also unlikely to happen as a result of wearing a properly designed mask or face covering.
Unless a person is wearing a plastic mask that "does not allow oxygen or any gas to get through," gases will pass through medical masks and filtering facepiece respirators as they only filter particles, according to pulmonologist Camilo Roa, former president of the Philippine College of Chest Physicians.
Claims that face masks cause dizziness and exhaustion, among others, have also been previously debunked by Vera Files Fact Check. (See VERA FILES FACT SHEET: Face masks misconceptions debunked, VERA FILES FACT CHECK: Prolonged mask use DOES NOT cause hypoxia)
Apart from its text claim, the false FB post also carried four images, including two screenshots of news articles: one is a May 6 story from the New York Post about two boys in China wearing face masks who died during gym class, the other is an April 24 People magazine report about a man wearing an N95 mask who passed out while driving and crashed into a pole.
In both instances, it was indicated that it was not confirmed whether the masks played a role in the deaths.
In the first story, no autopsy was done on the first boy. And while his father believed the mask caused his death, a doctor said it was "unlikely." It was unclear if an autopsy had been ordered for the second boy.
The People story, meanwhile, quoted police emphasizing in a follow-up note that "they do not know yet if the N95 mask was the reason the driver lost consciousness."
A third picture claims a jogger's lung collapsed while wearing a face mask. A reverse image search shows it is a Getty Images picture of a mask-clad woman jogging in Lisbon, Portugal on March 29. However, there are no legitimate news reports supporting the claim that her lung collapsed.
The last photo in the post claiming mask-wearing causes cancer has already been debunked by Vera Files Fact Check (See VERA FILES FACT CHECK: Wearing a face mask DOES NOT cause cancer).
The use of face masks is recommended by the World Health Organization as part of a comprehensive strategy to prevent transmission of COVID-19, coupled with physical distancing and handwashing.
"There are only a few exceptions to this public health recommendation, mostly focused on children under 2 years of age and people with serious medical conditions that can make it difficult to breathe through a mask or remove a mask if necessary. Otherwise, wearing a mask is safe and helpful for preventing the spread of COVID-19," said Meedan's team of experts.
The false post, authored by a foreigner but shared multiple times by Filipino netizens on FB, has received nearly 700 interactions.
As of Sept. 22, the Philippines has recorded over 291,000 cases of COVID-19 in the country, about 56,000 of which are active.
(Editor's Note: VERA Files has partnered with Facebook to fight the spread of disinformation. Find out more about this partnership and our methodology.)