A vlogger supporting former senator Ferdinand "Bongbong" Marcos Jr. made an incorrect claim that Vice President Leni Robredo skipped a presidential debate because an advance copy of questions was not provided to her.
This is not true. In a Viber message to VERA Files, Robredo's spokesperson Barry Gutierrez cited a "conflict of schedule" as the reason for the vice president's non-attendance of the Feb. 15 debate organized by Sonshine Media Network International (SMNI).
The false claim was made by vlogger Pepz Santiago in an 11-minute video published on both his Facebook (FB) page Pepz Tv 2.0 and YouTube channel Pepz TV. Santiago openly expressed support for the tandem of Marcos and his running mate Sara Duterte-Carpio in the About section of his FB page.
A reader asked VERA Files Fact Check to look into the claims made by the vlogger against Robredo, who is running against nine other presidential bets, including Marcos, in the May polls.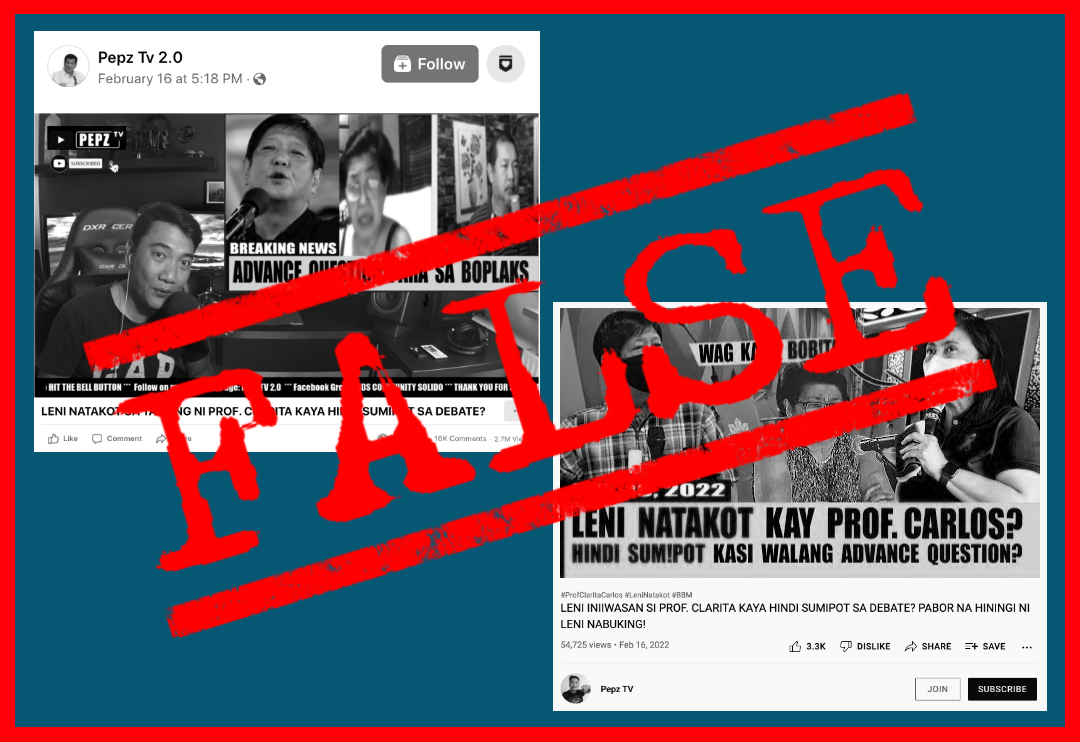 In his Feb. 16 vlog uploaded a day after SMNI's event, the vlogger played a clip from a Feb. 15 Abante Radyo Tabloidista interview with retired political science professor Clarita Carlos, one of the panelists of the SMNI debate. Carlos revealed that there were discussions that panelists should provide their questions ahead of time to avoid duplication, which she refused.
Without dropping any names, Carlos took a jab at election candidates who, before a forum, ask for an advance list of questions. She called them "bobo" or stupid.
After playing the clip, Santiago commented:
"Dito po mapapatunayan na hindi po nagbigay ng advance questions si Prof. Carlos sa mga kandidato. Tapos 'yun 'yung nirarason kaya hindi po nakapunta 'yung kampo po ni Mama Lugaw?"
(This will prove that Prof. Carlos did not provide the candidates with advanced questions. And this is what they cite as the reason for the absence of Mama Lugaw's camp?)
Lugaw (porridge) is a term used by critics when referring to Robredo.
Santiago also echoed an erroneous claim by SMNI anchor Mike Abe, who accused Robredo of "demanding" for a specific "media personality" to ask her questions during the debate in exchange for her attendance.
(READ: VERA FILES FACT CHECK: SMNI anchor falsely claims Robredo laid conditions for attending debate)
Santiago's spurious video on FB has been viewed over 2.7 million times and has garnered 190,000 reactions, 16,000 comments, and 62,000 shares from netizens. It could have reached more than 12 million FB users, with traffic mostly from public groups Private Security Guard HIRING !!!!!, Tik Tok WIn, and Mike Defensor for Senator, according to social media monitoring tool CrowdTangle. Its copy on YouTube now has over 54,000 views.
FB page Pepz Tv 2.0 was created in April 2021, while YouTube channel Pepz Tv has been around since May 2015.
Have you seen any dubious claims, photos, memes, or online posts that you want us to verify? Fill out this reader request form or send it to 'VERA, the truth bot' on Viber.
(Editor's Note: VERA Files has partnered with Facebook to fight the spread of disinformation. Find out more about this partnership and our methodology.)